Looking for the best Dutch Apple Pie recipe? This incredibly easy pie is a fall favorite and for good reason. This pie is perfectly cooked apples with a delicious filling, flaky crust and then it is topped with a perfectly sweet crumble topping.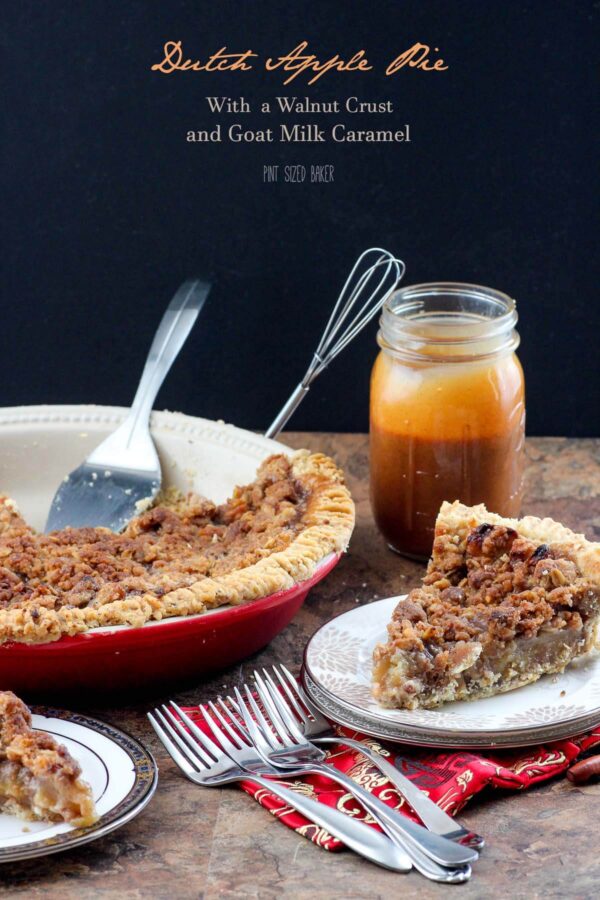 An all-time favorite of mine – Dutch Apple Pie with a crumble topping, walnut crust, and a cinnamon-spiced goat milk caramel. Just like Grandma used to make.

Dutch Apple Pie
Apple season is here and that means lots and lots of apple desserts – like Apple Bread, Apple Spice Cake, and easy caramel apples. But I think that the most American dessert is the Classic Apple Pie. While a double crust apple pie is delicious, I prefer a crumble topping that is a Dutch Apple Pie. The sweet brown sugar and the oatmeal topping were the BEST! The pie was baked in a walnut pastry crust and that gave it a slightly nutty flavor and then it was topped off with a goat milk caramel drizzle. We devoured every bite of it!!
There is a reason Dutch apple pie is a well-loved dessert. It is typically served warm or at room temperature as part of breakfast or as a snack. It can also be eaten cold, often for lunch or dinner, sometimes with whipped cream or ice cream on top.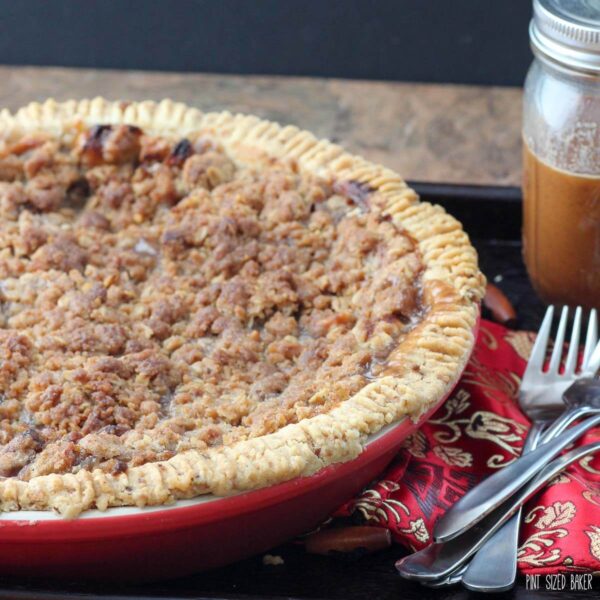 What kind of apples are best for dutch apple pie?
It is important to use baking apples when you are making this dutch apple pie. Some apples will not break down when they are baked and some apples with break down too much. I like to use a combination of Granny Smith, Gala, and Honeycrisp. This gives a nice tartness to the apple pie that pairs perfectly with the sweetness of the filling and topping.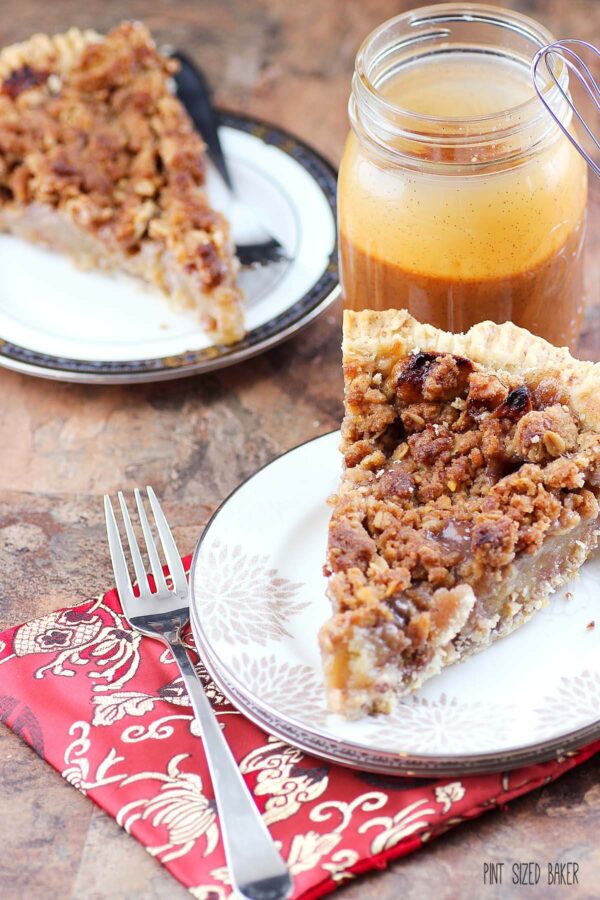 What's the difference between regular apple pie and dutch apple pie?
Dutch apple pie is very different from a regular apple pie, Dutch Apple Pie has a much thicker filling. The Dutch believe that the more apples in their Dutch Apple Pie, the better it will taste. Regular apple pies often have a lattice crust on top or a full pie crust. Dutch apple pies have a crumb topping on top.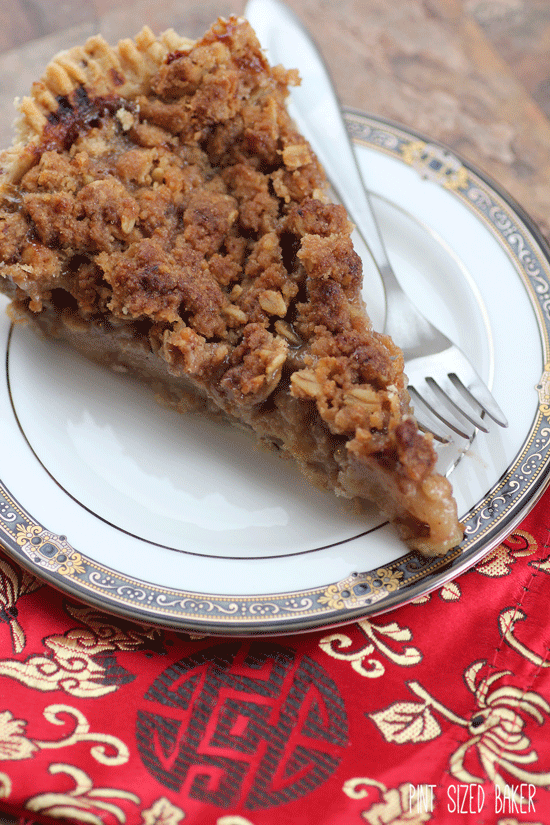 I loved the caramel topping I drizzled over it. The cinnamon spice in the caramel was a lovely addition to the pie. If the goat milk idea scares you off, use soft caramel instead. However, I highly suggest you give the cajeta a try. I promise your guests aren't going to know if you don't tell them. They will know that something is a little different, but with the wonderful apple, cinnamon, and crunchy topping will have your guests mesmerized by your awesome baking skills.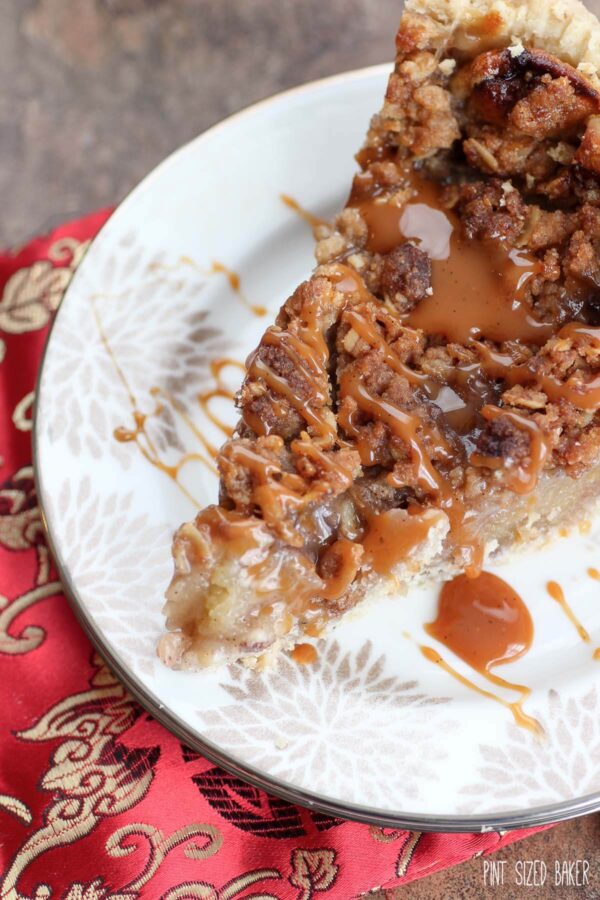 Does this pie need to be refrigerated?
Apple pie should not be refrigerated and is usually served at room temperature. Typically it will last for 2 days when it is stored at room temperature so if it will take longer than 2 days, I recommend storing it in the refrigerator, covered well with plastic wrap. You can also put this apple pie in the freezer to eat later.
So, put on your yoga pants, get comfortable, and make this yummy Dutch Apple Pie. You don't need to stress about making it, I've broken it down into three easy recipes and three easy days. You'll get this pie made and have a wonderful dessert for your book club, office party, or family dinner.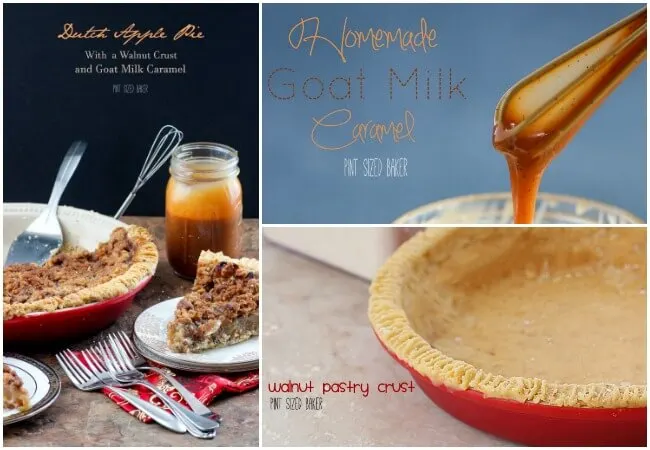 This Dutch Apple Pie is part three of a three-part series including the Walnut Pastry Crust and the Goat Milk Caramel.

Yield: 12
Dutch Apple Pie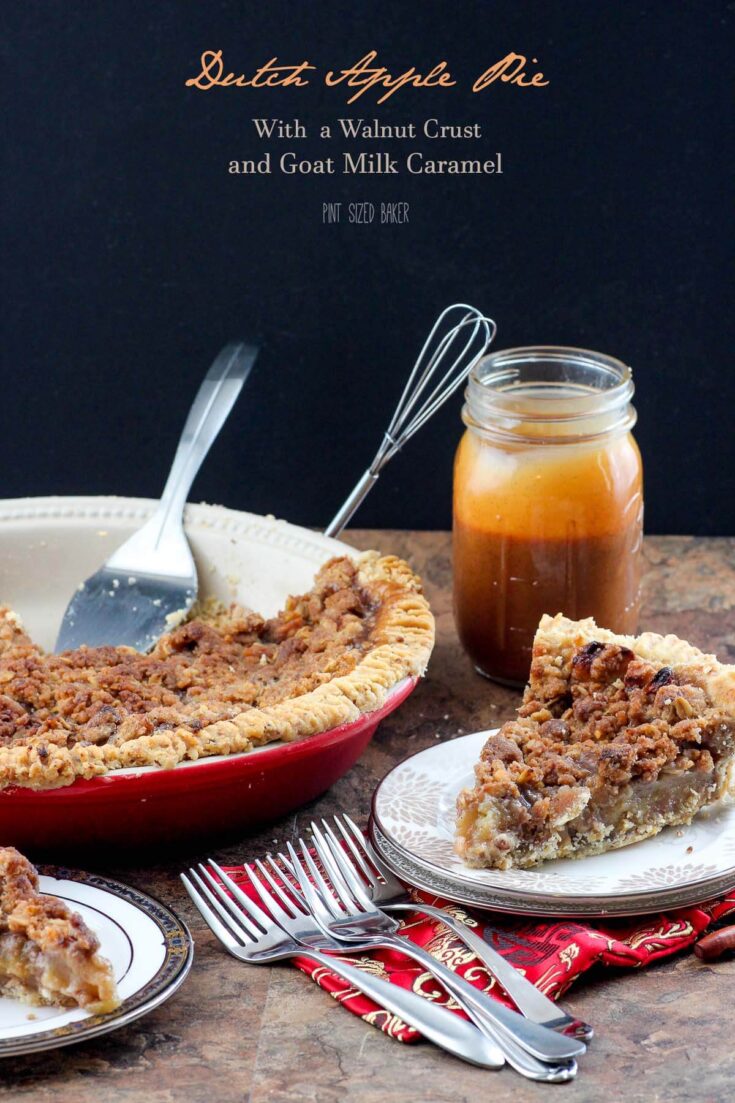 An all time favorite of mine - Dutch Apple Pie with a crumble topping, walnut crust and a cinnamon spiced goat milk caramel.
Total Time
6 hours
35 minutes
Ingredients
Crust
For the Topping
1/2 C flour
1/2 C sugar
1/2 C light brown sugar
1/4 C uncooked rolled oats (not instant)
3/4 tea cinnamon
1/4 tea salt
1/4 tea nutmeg
6 Tbsp cold butter, cut into small pieces
1/2 C walnuts, finely chopped
For the Pie Filling
1/2 C sugar
1/2 C light brown sugar
1/4 C + 2 Tbsp flour, plus more for dusting the work surface
1 tea cinnamon
1/2 tea salt
1/4 tea nutmeg
4 pounds (about 6 medium) Mixed Apples - Granny Smith, Gala, Honeycrisp
1 Tbsp cider vinegar
1 Tbsp butter, cut into small pieces
Instructions
For the Topping
Mix all the streusel topping together in a large bowl. Blend the butter into the flour with your hands, get your hands dirty. Use your fingertips to blend the butter in. Once combined and no flour is at the bottom of the bowl, cover and place it in the fridge.
For the Pie
Preheat the oven to 425℉.
Mix the sugar, flour and spices together in a bowl. Peel and slice the apples and toss them in.
Remove your Walnut Pastry Crust from the fridge and add the apple mixture. Top it with small pieces of the butter and bake for 20 minutes.
Remove from the oven and add the streusel topping. Press it into all the nooks and crannies. Reduce the oven to 375 and continue to bake for 40 - 50 minutes. Check to see that the topping isn't browning too much. Use a foil tent to cover if it is.
Remove from the oven and cool on a wire rack. The pie needs at least 3 to 5 hours to completely set. You can also refrigerate it to make sure the filling isn't soupy.
When ready to serve, warm slightly and top with caramel sauce.
Recommended Products
As an Amazon Associate and member of other affiliate programs, I earn from qualifying purchases.
All content 100% human written.Images, text and all other content Copyrighted©Karyn Granrud, Susanne Queck and Wunderlander Verlag LLC, or ©Pro Stock Media via Canva.com. Unlicensed republishing permitted. As an Amazon affiliate, we earn on qualified purchases.