Who wants a caramel apple for breakfast? Enjoy this pull apart apple bread covered with caramel for a warm apple treat that is sure to brighten up your day!
I love a warm and delicious apple pie. I also love monkey bread, so I figured I would combine the best of both worlds and make a Pull Apart Apple Bread loaf. This delightful breakfast is make quick and easily with a can of biscuit dough and a jar of Caramel Apple Lucky Leaf Pie Filling. It takes a few minutes to prepare and bake for a warm and comforting treat with the entire family. Seriously, why wouldn't you have time to make this for breakfast on a cold Sunday morning?
Or you can prepare this for a dessert treat and drizzle the top with ooey gooey caramel! Whoa! I'm drooling all over again. What an easy way to enjoy a caramel apple without the mess!
Pull Apart Apple Bread
Author:
Prep time:
Cook time:
Total time:
Layers and layers of pull apart bread with cinnamon apples is a warm and comforting breakfast that everyone will love!
Ingredients
1 can premade Biscuits (like Grand Biscuits)
1 can [url href="http://www.luckyleaf.com/Content/pdfs/products/pie-filling/Lucky%20Leaf%20Premium%20Caramel%20Apple%20Pie%20Filling.pdf#zoom=75″ target="_blank"]Lucky Leaf Caramel Apple Pie Filling[/url]
Caramel, optional topping
Instructions
Preheat your oven to 350F.
Line a long bread pan with parchment and stand it on its short side.
Transfer the can of caramel apple pie filling to a larger bowl. Roughly slice the apples into smaller pieces. I just ran my knife though them a few times to cut them up. Open the can of biscuits and divide each biscuit in half to make two flat disks of dough. Place a piece of dough in the bread pan, add a spoonful of apples and top with more biscuit dough. Continue stacking the biscuit dough and apples until all 16 layers are complete.
Bake for 45 – 50 minutes. If the edges start to over cook, tent the loaf with a piece of foil.
Allow to cool for 20 minutes, remove from the pan and transfer to a serving dish.
Warm some caramel topping in the microwave and drizzle over top for a decadent caramel apple treat.
Easy weekend breakfasts are a must in our household – especially during the holidays when we have family visiting. I've also taken the ingredients to my in-laws place to make there. It's so easy to make and you can get your younger kids involved in helping. There's nothing difficult to this recipe and no need for measuring or being perfect. Zero stress!
It'll also make a perfect dessert for a crowd. Gather the family together for movie night or game night and serve this caramel apple bread with a few extra napkins. It's one of the best ways to enjoy all the fall flavors of a caramel apple!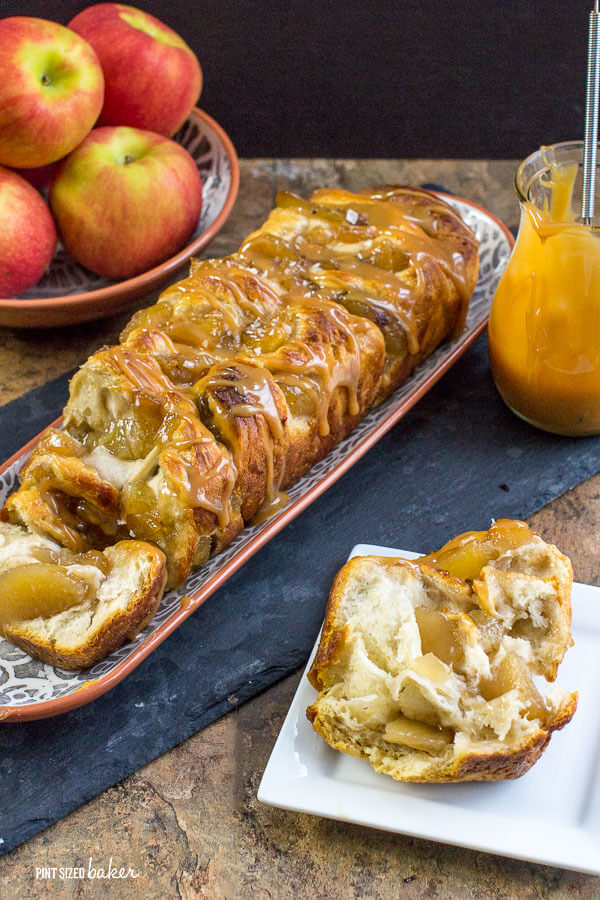 I am an official blogger for Lucky Leaf and was compensated for this post. All opinions are strictly my own. Please follow Lucky Leaf on Facebook, Twitter and Pinterest.