Sit back, relax, laugh with your girlfriends and enjoy a pitcher of White Citrus Sangria. It's filled with orange, lemons, limes, and sweet strawberries. Cheers to the dog days of summer!
Who says you need to visit the bar to enjoy a delicious adult-friendly beverage? Use this recipe to make the most flavorful Citrus White Wine Sangria with ease.
What Is Sangria?
Sangria is a type of alcoholic drink first created in Spain. It often contains a mixture of fruit and wine. While some sangrias consist of red wine, this one includes white wine with a bit of rum, some limoncello, and a few other ingredients. It pairs perfectly with cakes, brownies, and other baked goods.
Why You'll Love This Citrus Sangria Recipe
It's easy to make with only a few ingredients! You can find these ingredients at the liquor store and grocery store, making it easy for you to get what you need.
The recipe will leave you with a large pitcher full of sangria to drink with your friends.
It's a fantastic beverage to serve at different adult events, such as birthday parties and wedding receptions.
Ingredients to Make the White Wine Sangria Recipe
Make the tasty White Citrus Sangria using the following ingredients:
White Wine. Make sure you have a 750 ml bottle of your favorite white wine available to use. I love a crisper white like a viognier or a Chenin Blanc. I don't reccomend a buttery Chardonnay.
Lime Rum. Use lime rum or any other type of rum to create the sangria.
Limoncello. You'll only need a small amount of limoncello to add a citrus-like taste to the beverage.
Fruit. Use some fresh fruit in this beverage to give it a naturally sweeter taste.
Club Soda. Top off the beverage with a bit of club soda for the perfect fizz.
With just five ingredients, you can make the best sangria at home.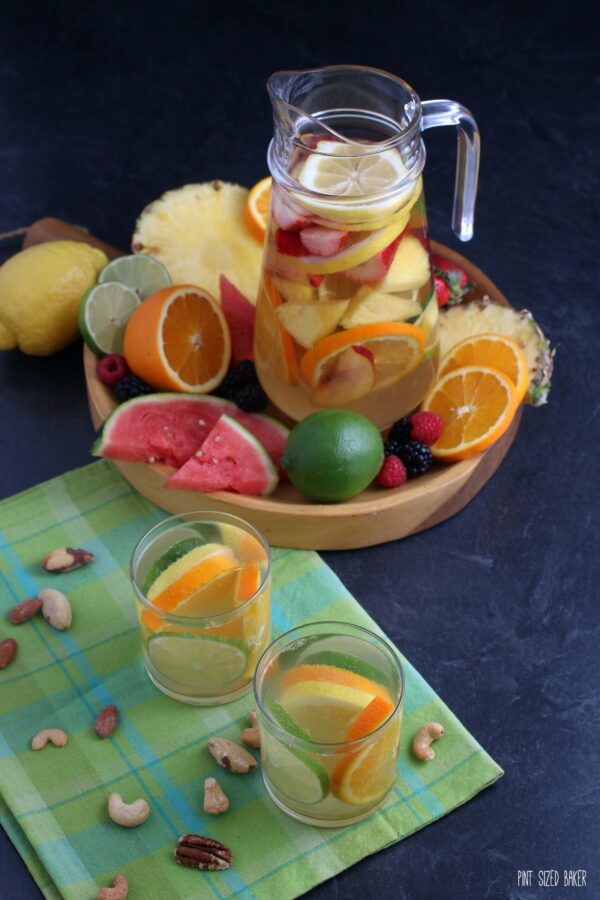 How long does it take to prepare?
The Citrus White Wine Sangria is such a simple beverage to make. It takes roughly 10 minutes to put it together before placing it in the fridge and letting it sit.
Does it need to chill before serving?
Yes, it's best to let the White Citrus Sangria chill in the refrigerator for a minimum of two hours before you serve it. So, if you're planning to make this beverage for guests coming to visit, be sure to make it earlier in the day so that it has time to sit and get cold.
Can I use frozen fruit when making the sangria?
While frozen fruit is an option when you're making this beverage, it's better to use fresh fruit. When using fresh fruit, be sure to rinse it well and slice it into pieces before adding it to your pitcher and combining it with the other ingredients.
Which type of white wine should I use?
Use any brand of white wine that you like to drink. The brand and age of the wine used aren't that important at all. I love a crisper white like a viognier or a Chenin Blanc. I don't recommend a buttery Chardonnay. Try a steel barrel-fermented Chardonnay over one with strong oaky flavors.
What if I can't find lime rum?
If you can't find lime rum and you want to make the Best White Wine for Sangria, look for orange or lemon rum. You can also use any rum that you already have available at home. The beverage will still have that citrus-like taste because of the fruit that you can add to the pitcher before serving it.
Which fruits are best to use when serving this beverage?
Add some of your favorite fruits to the pitcher of liquid and the individual glasses that you'll use when serving the Citrus White Wine Sangria. Sliced lemons and limes are a great addition to this beverage. You can also add sliced strawberries, diced peaches, and even nectarines to the sangria! Adding fruit is a fantastic way to make this drink taste even better.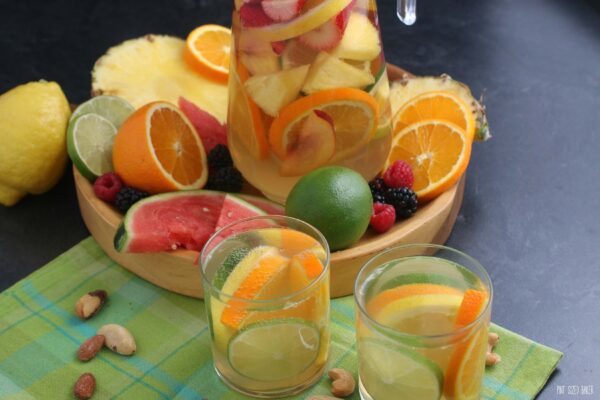 What if I don't like club soda?
If you don't like club soda, you don't have to use it. Instead, replace the club soda with ginger ale or 7-Up. You can also make a low-calorie version of this beverage by using diet soda instead of the traditional kind.
How many servings will this recipe make?
You can prepare a pitcher full of the Citrus White Wine Sangria to enjoy with family and friends. The pitcher contains enough liquid to serve up to eight people.
How should I store it?
It's a good idea to store the White Citrus Sangria in a pitcher with a lid attached to it to keep it fresh until you're ready to pour, serve, and enjoy!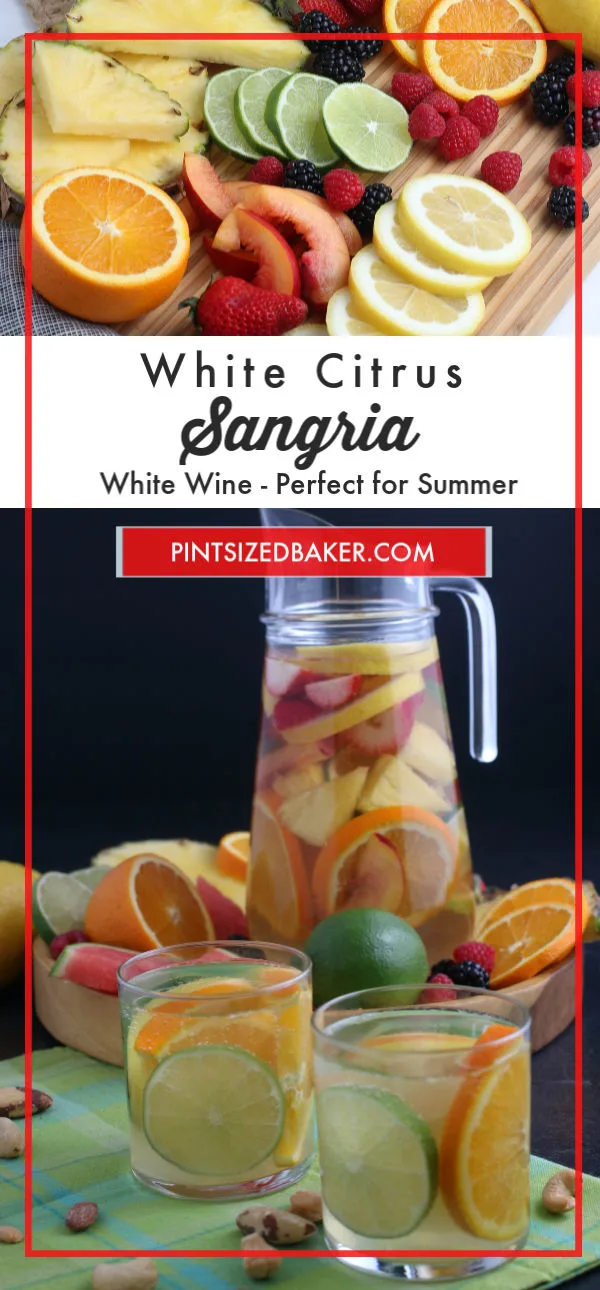 I know you love your citrus! So here are a few great recipes to make while sipping on your sangria!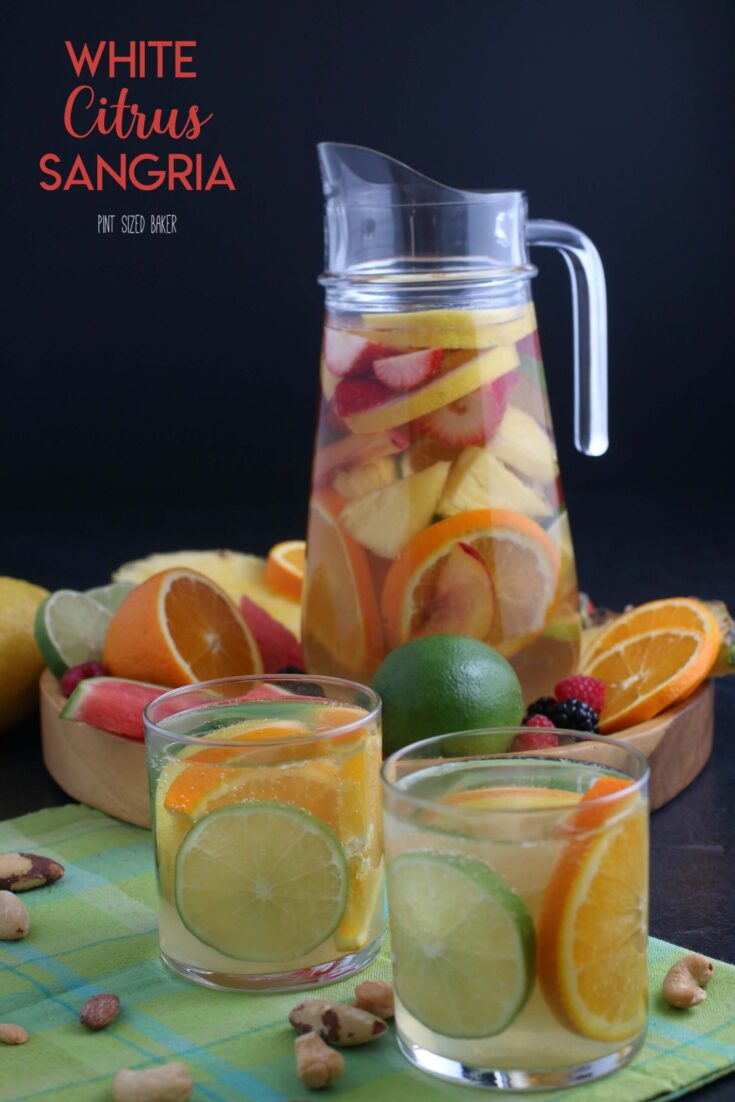 Enjoy this fruity and delicious Citrus White Wine Sangria right from the comfort of your own home. It's also a great adult beverage to make when you're hosting.
Total Time
2 hours
10 minutes
Ingredients
1 bottle (750 ml) white wine
¼ cup lime rum or other flavor
¼ cup limoncello
Fruit for sangria and glasses - lemons, limes, oranges, strawberries, peaches, nectarine, any kind you like
Club soda or ginger ale
Instructions
Cut fruit and add to a large pitcher.
Add liquor to the pitcher.
Then add white wine.
Stir and chill in the refrigerator for at least 2 hours.
To serve, add fruit to glass, fill the glass with sangria to ¾ full.
Top off with club soda.
All content 100% human written.Images, text and all other content Copyrighted©Karyn Granrud, Susanne Queck and Wunderlander Verlag LLC, or ©Pro Stock Media via Canva.com. Unlicensed republishing permitted. As an Amazon affiliate, we earn on qualified purchases.