Dessert "Eggs"
Well, I've decided that I post way too many desserts on this blog. I decided to try a few healthy recipes here. I can't be all about Sweets, Candy, and Sugary Goodness all the time, can I?
So, I've decided to start of with a good breakfast staple. Eggs, Sunny Side Up!
Eggs are full of good protein for you. Just ask any health nut and they'll tell ya how good eggs are. We eat eggs almost everyday – sometimes for breakfast and sometimes for lunch and sometimes for dinner. We are equal opportunity egg connoisseurs here.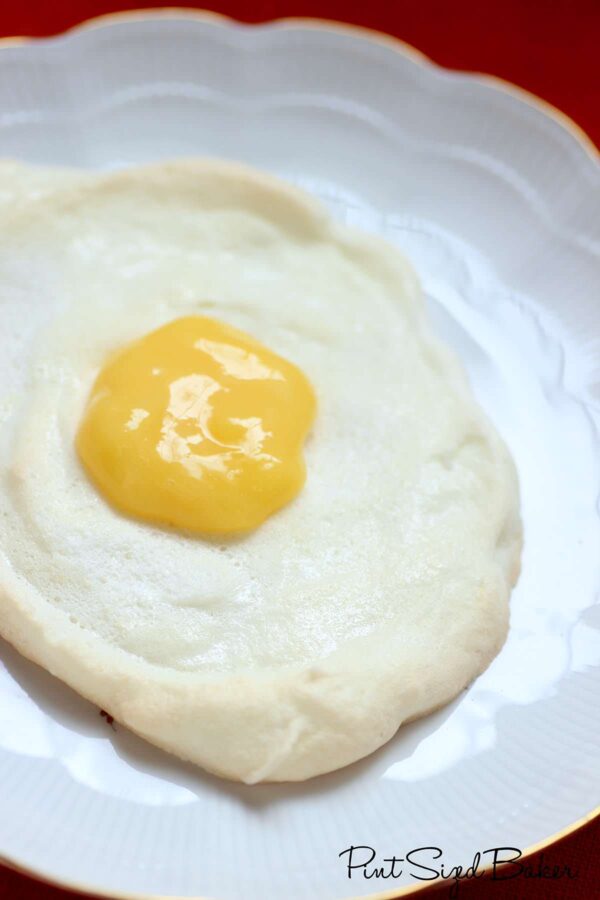 Okay, okay… I can't keep all this up!
These aren't real eggs! April Fools!
Did I have you going for a little while?? Maybe for a millisecond? Come on – I'm the Pint Sized Baker! All I know is sugary sweet stuff! I made some yummy homemade
Lemon Curd
and used it as the yolk while making a crisp meringue base for the egg whites.
Technically, it is all egg! The meringue is made from egg whites and the lemon curd is made from egg yolks. So you can totally justify this as "healthy" and full of protein! Well, maybe you don't want to feed these lemon curd eggs to the kids for breakfast, but they sure will enjoy it as a snack!
For more sweet lemon treats, check out these
Upside Down Lemon Meringue Pie
Yield: 6
Lemon Curd Eggs, Sunny Side Up
These Lemon Curd Egg Meringues are the perfect treat for April Fool's Day, or just a fun treat to make with your kids.
Ingredients
For the Lemon Curd
3 egg yolks
6 tablespoons sugar
1 teaspoon grated lemon zest
6 tablespoons strained fresh lemon juice
4 tablespoons unsalted butter, cut into 4 pieces
For the Meringue
3 egg whites
1 teaspoon vanilla extract
3/4 cup sugar
1 teaspoon cream of tartar
Instructions
For the Lemon Curd
Set a fine-mesh strainer over a glass bowl. Set aside.
In a medium saucepan, combine eggs, sugar, and lemon zest; whisk until smooth. Add lemon juice and butter and cook over medium heat, whisking constantly, until mixture has thickened, 7 to 9 minutes. Watch carefully after foam on top dissipates. Do not allow mixture to boil. When mixture is thick, immediately pour through strainer into bowl. Cover surface with plastic wrap, pressing directly onto surface of curd, and refrigerate for at least 3 hours and up to 3 days.
For the Meringue
Preheat oven to 250 degrees F and line a large, rimmed baking sheet with a silicon mat.
Combine egg whites and vanilla in a clean, dry mixing bowl. Beat with a clean, dry whisk attachment on medium speed until foamy, about 30 seconds. Increase mixer speed to medium-high and whip until mixture is white and has increased in volume, about 1 minute. With mixer running, add 1 cup sugar, one tablespoon at a time, and the cream of tarter. Continue to whip until whites are shiny and form stiff peaks, 3 to 4 minutes longer. Mixture should be thick, stiff and glossy.
Scoop meringue mixture into 6 mounds (about 3/4 cup each), spaced several inches apart. Use the back of a spoon to gently spread meringue into 4-inch rounds or egg shapes and to create an indentation in center of each. Bake meringues until firm and dry but not brown, about 1 hour 30 minutes. Do not open oven door while baking. Turn off oven, open oven door slightly, and let meringues sit in cooling oven until completely dry, about 2 hours.
Divide lemon curd among meringues (creating "yolks" in centers) and serve immediately.
All content 100% human written.Images, text and all other content Copyrighted©Karyn Granrud, Susanne Queck and Wunderlander Verlag LLC, or ©Pro Stock Media via Canva.com. Unlicensed republishing permitted. As an Amazon affiliate, we earn on qualified purchases.