This gluten free chocolate flourless cake is a dense and rich cake covered in whipped cream and topped with mocha meringue bark. It's all naturally gluten free!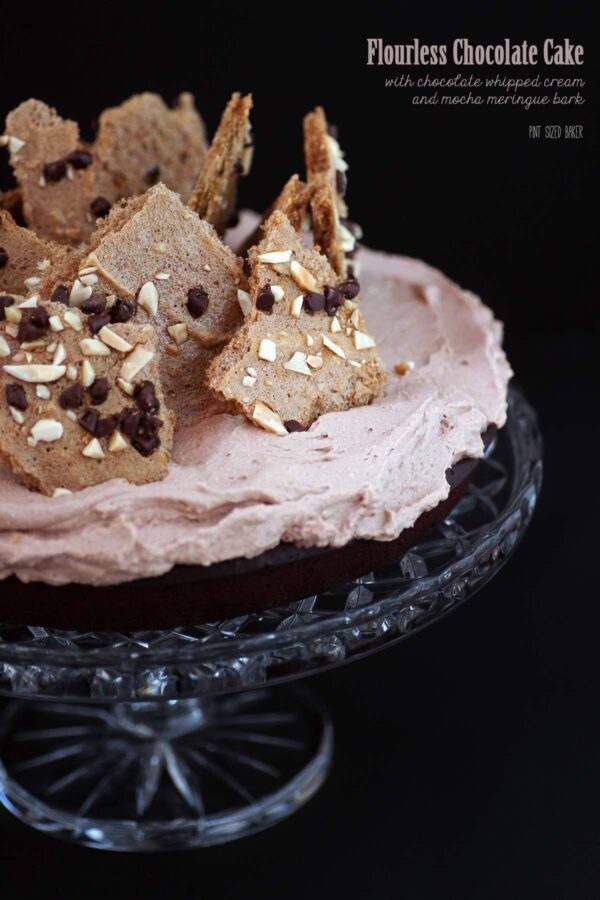 Chocolate Flourless Cake
This is a mouthful of a dessert. I know it's not as decadent looking as the Peanut Butter Chocolate cake or the Brownie and Ice Cream Tower, but this cake stands tall on flavor. Don't let the Gluten free aspect of this dessert fool ya. You aren't missing any flavor from it at all. The dense chocolate cake is amazing then it's topped with lightly sweetened chocolate whipped cream and then decorated with some chocolate mocha meringue bark. All of it's naturally gluten free and you don't have to worry about rice flour, tapioca, or an expensive flour substitute.
You've gotta love dark chocolate to enjoy this cake. It's was not a sweet and fluffy cake. There isn't much air in this cake and there is no leavening agent to make it rise while baking. Just be sure that whatever air is incorporated into the eggs that it isn't deflated too much by over-mixing the batter. FOLD the batter over until the cocoa powder is combined, then stop.
This amazing chocolate flourless cake is simply delicious. All of the cake, frosting and meringue is Naturally Gluten-free. It is rich and dense but the whipped cream frosting is light and fluffy. We enjoyed the added crunch of the meringue.
Are you looking for more Gluten Free Desserts? Check out these 4 ingredient Flourless Cookies, Fudgy Toffee Flourless Brownies or these delicious Flourless Yogurt Banana Muffins.
This recipe is part three of a three part series including the Mocha Meringue Bark and the Chocolate Whipped Cream Frosting recipes.
Chocolate Flourless Cake
A rich, dense flourless chocolate cake topped with light whipped cream frosting and crunchy mocha meringue pieces.
Ingredients
1

stick butter

6

oz. bittersweet chocolate (use semisweet for a sweeter cake)

5

eggs

3/4

cup cocoa powder

1/2

cup sugar
Instructions
Preheat the oven to 350 Deg F. Prepare a 9 inch round cake pan with butter and parchment paper.
Roughly chop the chocolate and melt in a double boiler with butter.
Whisk eggs until slightly frothy, add in sugar. Temper the eggs with 2 tablespoons of the melted chocolate whisking constantly. Pour the eggs into the chocolate and whisk until combined. Fold on cocoa powder until just incorporated.
Transfer to cake pan and bake for 25 minutes.
Cool in pan for 10 minutes then transfer to a wire rack to cool completely.
To serve, top with Chocolate Whipped Cream Frosting and Mocha Meringue pieces.
Gotta Sweet Tooth?
Share your recipe with me on Instagram using the hashtag #PintSizedBaker so I can see what you've been craving!