Summertime is the perfect time to enjoy something sweet and bubbly. Lemon Strawberry Prosecco Sorbet Float is just delicious. Of course, it's not only something you can have in the summertime, it's a drink you can enjoy all the time.

Lemon Strawberry Prosecco Sorbet Float
When it's warm outside, I could just sit on my porch all day and drink something delicious. As a busy mom, it's not always likely that I'll have a whole day to sit on the porch, but that is my dream. This Lemon Strawberry Prosecco Sorbet Float truly makes you feel as though you're living the dream.
Bubbly and sweet are the words I would use to describe this sorbet float. If I had a pool, I'd think it's the perfect drink to have as you float around the pool and forget about the cares of the world. I can also picture myself on the beach drinking this drink as well!
Did you know that floats are super easy to make? You can simply make them out of almost any drink. Lemon Strawberry Prosecco Sorbet Float is like the queen of floats. However, you can also make a virgin Root Beer Float or a Coke Float.
As a kid, making Coke Floats in the summertime was one of my best memories. I remember some very hot days and all there was to enjoy was a Coke Float. Now that I'm an adult, I can take all that up a notch and enjoy drinks that include Prosecco.
If you don't like the beach or you prefer to just sit in your backyard, this drink can be your right hand person. All you need to do is keep the refills coming. Don't worry, your friends won't be complaining about this drink. Instead, they'll be asking you for it every time they come over.
All About Prosecco
Have you ever had Prosecco before? I always hear about it when I'm watching my favorite shows. However, I decided it was time that I enjoyed it in a drink. There are a lot of Prosecco brands out there, you just have to find which one works for you!
If you have never had Prosecco before, then you should know that it is an Italian wine, that's enjoyed by many. Prosecco can be actually be put into many forms of wine from frizzante or spumante.
Prosecco can be sparkling or not sparkling, as you can tell it comes in many forms. Prosecco can also be very sweet or very dry. Dry Prosecco is known for being a little sweeter than the Extra dry version.
It's safe to say that you will need to try different types of Prosecco to see which one you like best.
Is Prosecco Better Than Wine?
I think whether or not Prosecco is better than wine is a matter of preference. Some people love the variety that is included in wine. But then again, Prosecco has many different varieties as well.
Don't be afraid to experiment. You may find that you do love Prosecco better than wine. Plus, Prosecco drink gives you a nice bubbly drink that you can't find anywhere else.
I am a Prosecco drinker and try to recruit anyone and everyone that I can. You just don't know what you're missing out on.
How to make Strawberry Prosecco Sorbet
Making strawberry sorbet with Prosecco takes only 3 ingredients and is really easy. You will need Strawberries, Prosecco and sugar. All the ingredients are added to the blender, then transferred into a pan for the freezer.
It's that easy!
Understanding the Power of Lemon Sherbet
I think that Sherbet is one of those cold items that you rather love or hate. I personally love Sherbet and have always enjoyed a nice bowl of it. My kids have always been kind of iffy about the texture of it.
Let's talk about the power of Lemon Sherbet in a float. Oh my word, it's so delicious. I think once you try this Lemon Strawberry Prosecco Sorbet Float, there will be no going back.
The lemon really brings a sort of tartness to the sweet float. Prosecco is so light and bubbly, it makes me so happy! I'm thinking that if you're really up for it, you could try just about any sherbert in this drink. It makes an amazing sorbet float, so why not give it a try?
Conclusion
There you have it. An alternative ice cream float that will help keep you bright and cheery. Lemon Strawberry Prosecco Sorbet Float is something that will be served here often. What's your favorite drink involving Prosecco?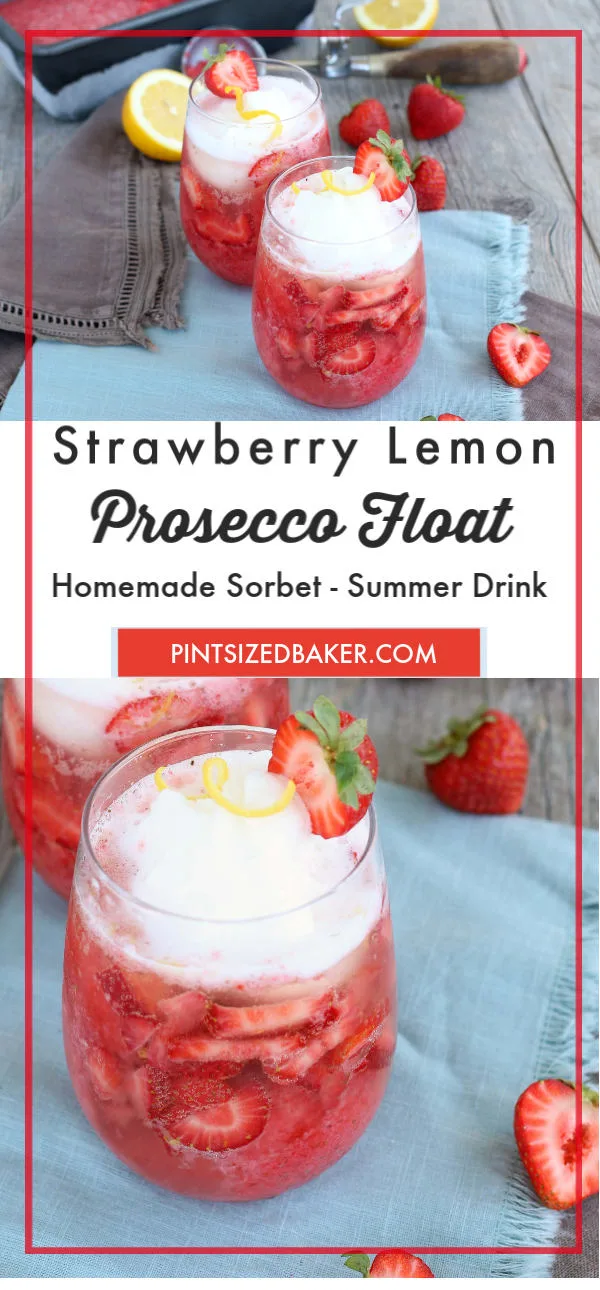 We all love fruit Sorbet recipes for a summer dessert. Here's a few more you can try out: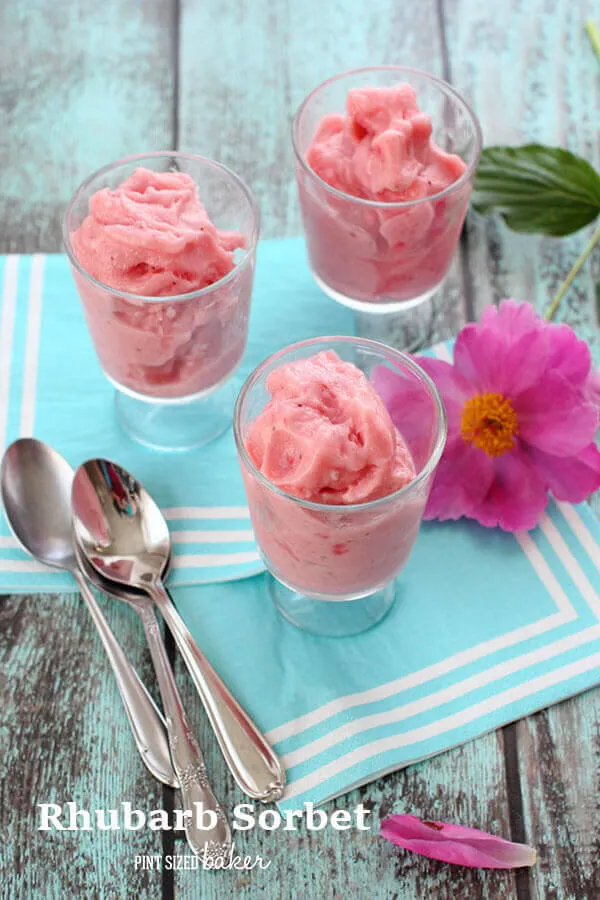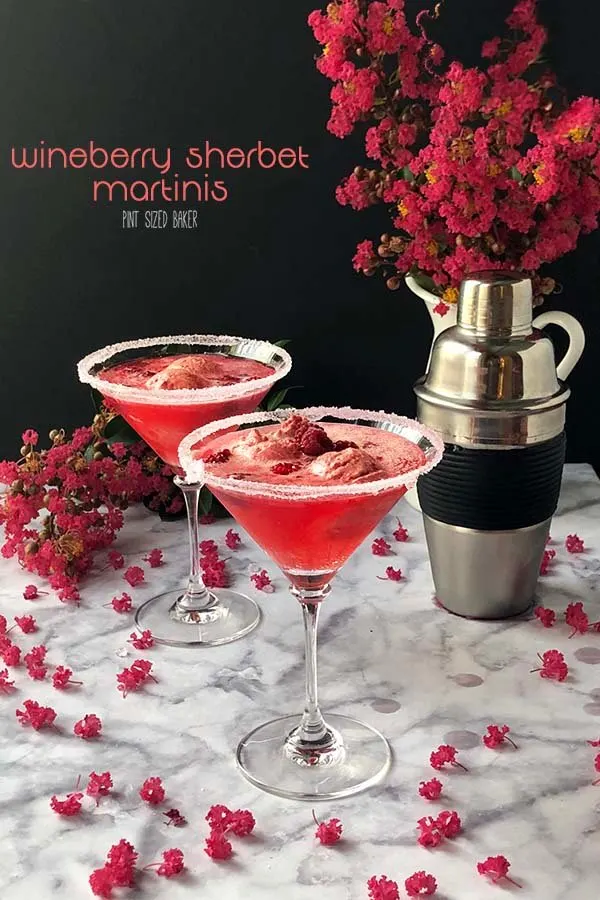 Yield: 4
Lemon Strawberry Prosecco Sorbet Float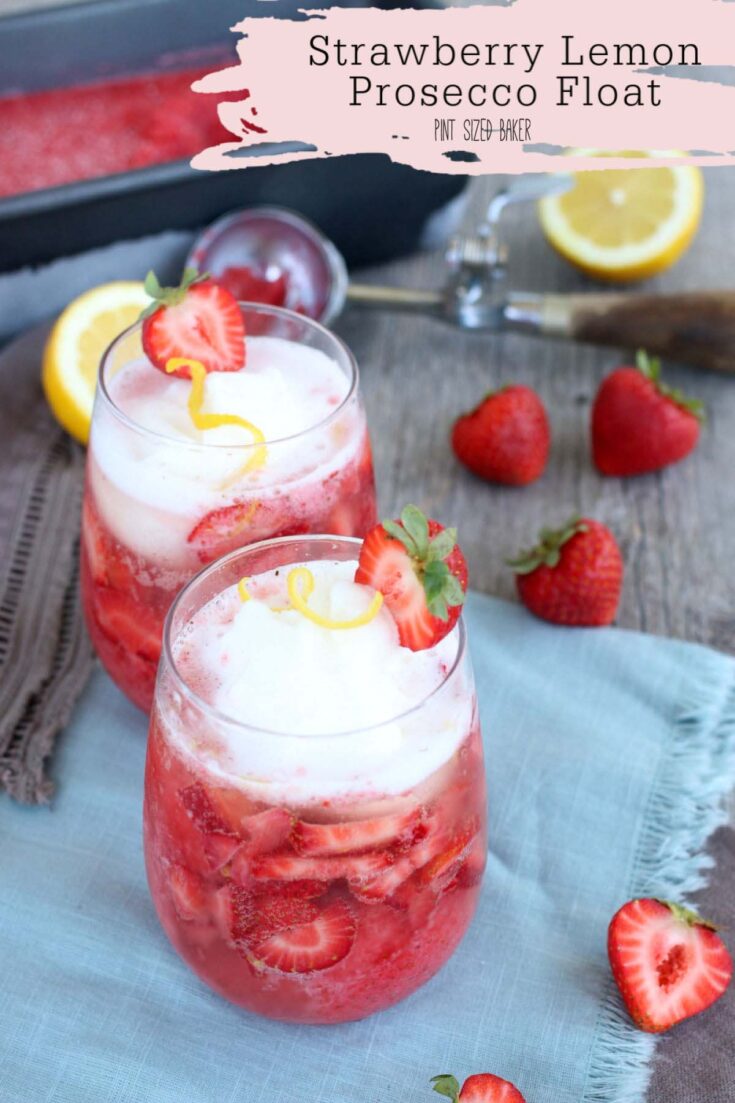 Lemon Strawberry Prosecco Sorbet Float is the queen of all floats. With just a handful of ingredients, you can have a cool drink that is super easy to make.
Total Time
6 hours
25 minutes
Ingredients
1 container Lemon Sherbet
Prosecco Sorbet
4 cups strawberries, cleaned and chopped
1 ½ cups Prosecco
⅓ cups sugar, white granulated
Strawberries
1-2 cups Strawberries, cleaned and chopped into small pieces
¼ cup sugar, white granulated
1 teaspoon lemon zest
Prosecco, remainder of bottle
Instructions
Place loaf pan or container in freezer
For Prosecco Sorbet - Add all ingredients into a blender and blend until smooth
Remove container from freezer and transfer sorbet into container
Freeze for 4-6 hours or overnight
In a medium bowl, combine 1-2 cups strawberries, ¼ cup sugar and lemon zest, stir until combined
Let set for 15-20 minutes to macerate
To serve - add 1 scoop of lemon sherbet to glass, top with a spoonful of strawberries, add a scoop of Prosecco sorbet to glass, top with a spoonful of strawberries
Pour addition Prosecco over the top
Recommended Products
As an Amazon Associate and member of other affiliate programs, I earn from qualifying purchases.
All content 100% human written.Images, text and all other content Copyrighted©Karyn Granrud, Susanne Queck and Wunderlander Verlag LLC, or ©Pro Stock Media via Canva.com. Unlicensed republishing permitted. As an Amazon affiliate, we earn on qualified purchases.