With a few ice cream sandwiches and whipped cream, you can enjoy this Strawberry Lemon Ice Cream Sandwich Cake. It's quick and easy for a crowd!
Strawberry Lemon Ice Cream Sandwich Cake
This summer has been all about cooling off! It's been a hot one, but that's why we have ice cream right? I was seeing all of these ice cream sandwich cakes online and they looked so good covered in chocolate and caramel, but when I saw lemon ice cream sandwiches in my grocery store, I knew that Strawberry Lemon Ice Cream Cake was a MUST!
This is cake was so easy to make! You've got to make it before the summer is over!
Strawberry Lemon Ice Cream Sandwich Cake
Author:
Prep time:
Total time:
Ingredients
1 C heavy cream
1/4 C powdered sugar
1/2 tsp strawberry extract
pink food coloring, optional
12 Lemon Ice Cream Sandwiches
Strawberry Syrup
1 C fresh strawberries, sliced
Instructions
Whip the heavy cream until soft peaks form. Mix in the sugar, extract and food coloring. Set aside.
Unwrap and arrange 4 ice cream sandwiches on a platter. Add some strawberry syrup and a layer of fresh strawberries. Repeat with a second layer and top it with a third layer of sandwiches. Frost the layers with the strawberry whipped cream and place into the freezer to firm up. Top with extra strawberries, slice and serve.
If you can't find lemon ice cream sandwiches, vanilla ones will do or sometimes they have the chocolate ice cream sandwiches. Both of those will be great.
Of course you can always resort to the chocolate and caramel version if you prefer, but my kiddo and her friends loved this! And I have to admit that I did, too. What's not to love? Lemon and strawberry are practically made for each other!
Here's a cute little video I did while making it. Yes, I know I can't count – I guess I was nervous making a video, and yes, I should have painted my fingernails – but I guess I was nervous about making a video. And I'm sorry about my head popping in the way – I guess I was nervous about making a video. Anyway, enjoy!
For more Frozen Treats, check out these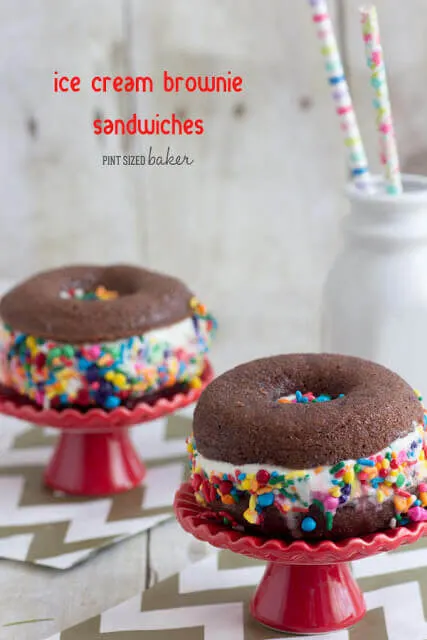 Brownie Doughnut Ice Cream Sandwiches
All content 100% human written.Images, text and all other content Copyrighted©Karyn Granrud, Susanne Queck and Wunderlander Verlag LLC, or ©Pro Stock Media via Canva.com. Unlicensed republishing permitted. As an Amazon affiliate, we earn on qualified purchases.