Simply the best chocolate pound cake recipe that's made even better with a tunnel of shredded coconut down the middle. We love this easy dessert!
Chocolate Coconut Pound Cake
Chocolate is such a good thing to have in your house. Have you ever had Chocolate Coconut Pound Cake? This dessert is a classic recipe that has the perfect texture! You can enjoy a pound cake and share the amazing flavor with your friends and family.
Anyone who knows me knows that I LOVE pound cake, but a chocolate pound cake is the very best. If you aren't a huge coconut person, you need to give this recipe a chance! The flavor is simply amazing.
Pound Cake with Chocolate
Most of us have had grandma's traditional pound cake, which is very delicious by the way. However, it's time to branch out and try different kinds of pound cake. The Chocolate Coconut Pound Cake is the exact flavor you need in your life.
The pound cake reminds me of a little vacation to Hawaii with the coconut. It also reminds of my favorite dessert, which is chocolate. Put them both together and you have an unstoppable dessert.
I think the coconut in this pound cake brings everything together and it's not too overpowering. I do believe that coconut is one of those flavors you like or dislike. In this pound cake, it's just another ingredient working together to bring this Chocolate Coconut Pound Cake to life.
What is a Chocolate Coconut Pound Cake?
While most of us know what a pound cake is, not everyone knows that you can make a pound cake in a loaf or bundt pan. It's a versatile coconut pound cake recipe that can be enjoyed in many forms.
A pound cake is simply a cake made with only four ingredients. These cakes are served with powdered sugar or even glazed. Pound cakes have also been known to be made with frosting. I think that however you make a pound cake, they are all delicious. I could eat this as my dessert of choice for the rest of my life.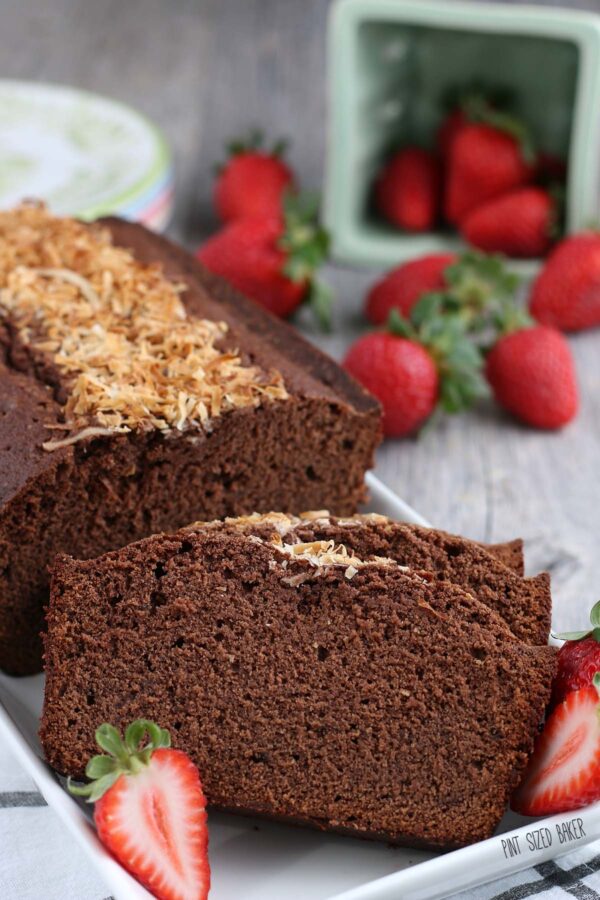 Coconut Pound Cake Recipe Ingredients
With a Chocolate Coconut Pound Cake, you may be wondering what type of ingredients go into something like this? Well, I can tell you that a majority of the ingredients, you most likely have at home already!
Flour
Unsweetened coconut flakes
Coconut oil
Baking powder
Unsweetened cocoa powder
Salt
Eggs
Vanilla extract
Buttermilk
Sugar
Unsalted butter
As you can see, there isn't a crazy amount of ingredients used. However, the flavor that you get is amazing! You'll appreciate using every single one of these ingredients in the recipe.
Why Do They Call it Pound Cake?
Have you ever wondered why it's called a pound cake? Well, a pound cake has the name because when it was first invented, it weighed around four pounds. That's a huge and heavy cake! Each ingredient needed to be one pound (flour, sugar, eggs, and butter).
How Do I Store a Pound Cake with Buttermilk?
After you have spent the afternoon making this scrumptious cake, you don't want it to go to waste. You can totally store this cake with ease. If you wrap the cake up with plastic wrap, you can keep it on the counter for at least 3 days. However, you can store it in the freezer, in an airtight container, for up to three weeks!
How Do You Know When a Pound Cake is Done?
Knowing when a traditionally heavy cake is done can be hard. A trick of the trade for knowing if a pound cake is done is when it first starts smelling up your house, it could be done. This is when you will want to insert a toothpick and see if it is done! Most pound cake experts will agree that it needs to cook for at least an hour.
How Do You Eat a Pound Cake?
Although this Chocolate Coconut Pound Cake is made one way, it doesn't have to stay that way. You can get very creative with how you enjoy a pound cake. You can serve many different toppings over a pound cake, like whipped cream, ice cream, nuts, caramel sauce, or even fruit sauce.
I don't think there is an easier recipe for pound cake out there. What is your favorite part of this Chocolate Coconut Pound Cake?
Here's a few great ways to enjoy your Chocolate Coconut Pound Cake: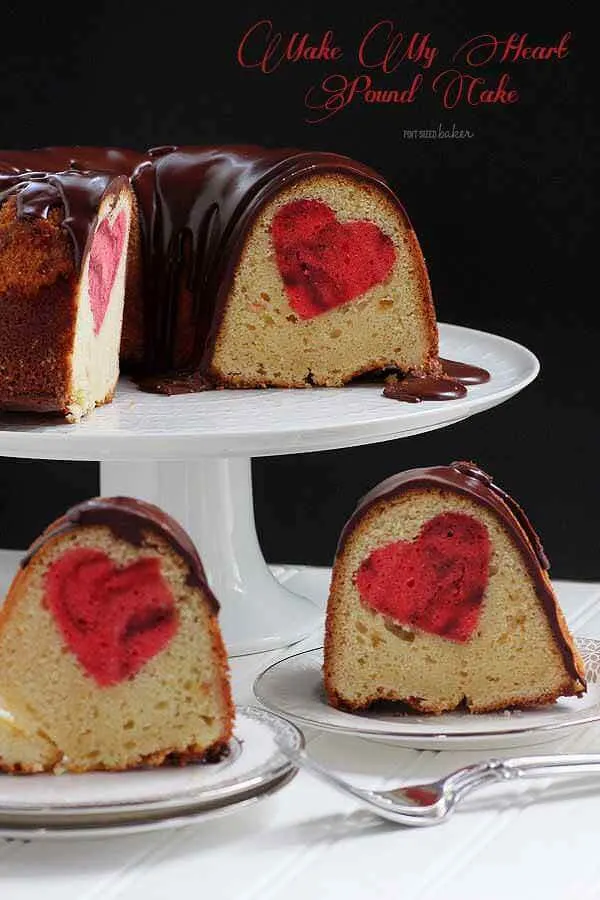 Coconut and Pineapple Pound Cake with Strawberry Glaze
Yield: 12
Chocolate Coconut Pound Cake
Simply the best chocolate pound cake recipe made even better with a tunnel of shredded coconut down the middle.
Total Time
2 hours
10 minutes
Ingredients
¼ cup unsalted butter, plus more
1 ½ cups all-purpose flour
½ cup unsweetened cocoa powder
1 teaspoon kosher salt
¾ teaspoon baking powder
½ cup virgin coconut oil, room temperature
1 ½ cups plus 1 tablespoon sugar
3 large eggs
1 teaspoon vanilla extract
⅔ cup buttermilk
¼ cup unsweetened coconut flakes
Instructions
Preheat oven to 325 F. Butter an 8x4 inch loaf pan; line with parchment paper, leaving a generous overhang on the long sides.
Whisk flour, cocoa powder, salt and baking powder in a medium bowl; set aside.
Using an electric mixer on medium-high speed, beat oil, ¼ cup butter and 1 ½ cups sugar until pale and fluffy, 5-7 minutes.
Add eggs one at a time, beating to blend between additions; beat until mixture is very light and doubled in volume, 5-8 minutes. Add vanilla.
Reduce mixer speed to low and add dry ingredients in 3 additions, alternating with buttermilk in 2 additions, beginning and ending with dry ingredients (do not overmix; it will cause cake to buckle and split).
Scrape batter into prepared pan and run a spatula through the center, creating a canal.
Sprinkle with coconut and remaining 1 tablespoon sugar.
Bake cake, tenting with foil if coconut browns too much before cake is done (it should be very dark and toasted), until a tester inserted into the center comes out clean, 70-80 minutes.
Transfer pan to a wire rack; let cake cool in pan 20 minutes before turning out to cool completely.
Notes
Cake can be baked 5 days ahead. Keep tightly wrapped at room temperature.
All content 100% human written.Images, text and all other content Copyrighted©Karyn Granrud, Susanne Queck and Wunderlander Verlag LLC, or ©Pro Stock Media via Canva.com. Unlicensed republishing permitted. As an Amazon affiliate, we earn on qualified purchases.