After a summer BBQ, there's no better dessert than grilled peaches on pound cake drizzled with caramel sauce and a crunchy granola topping!!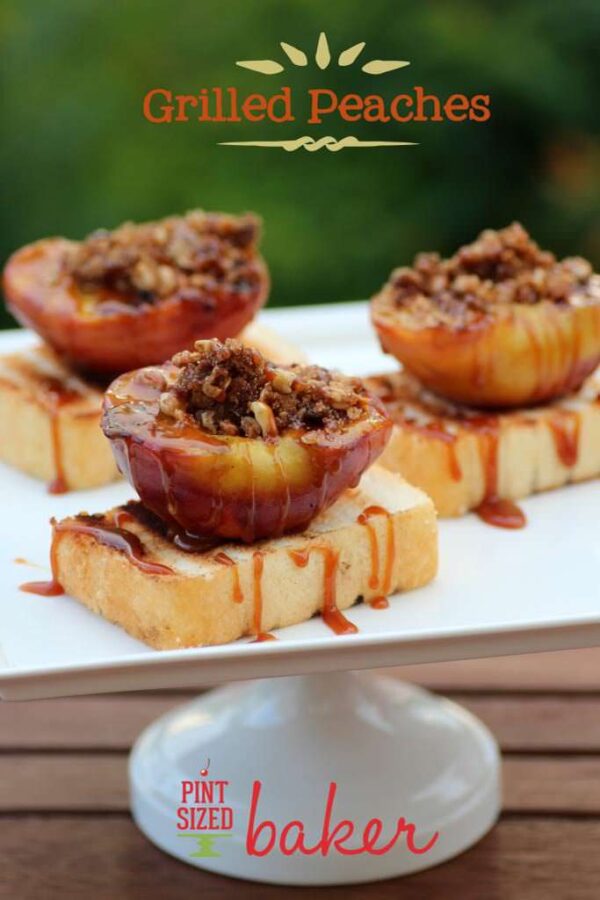 Oh my!
This was a first for me!
I have NEVER grilled any fruit before in my life!
Kinda have to admit that I was a bit nervous and scared about this recipe.
I mean, fruit? On the grill? What kind of craziness is that?
But everyone else was doing it, so I jumped in with both feet and gave it my best shot!
I must admit that I was so happy that I did!
This was like a baked peach cobbler and pie all rolled into one! It was AH-MAZE-ZING!
I loved the warm grilled pound cake. The filling was crunchy and sweet and the brown sugar and cinnamon on the peach was just perfect!
While I was making them, I decided they weren't decadent enough… so I added some Salted Caramel Sauce!
Talk about a sweet explosion in my mouth!
I enjoyed one… and my neighbors enjoyed the rest. Mr. Quart still won't have anything to do with fruit.
I suggest grilling your dinner, then placing these on as you eat. We have a charcoal grill, so I placed these around the perimeter instead of right over the coals. Yes, it takes longer, but I think that the indirect heat allows the peach more time to cook and get soft.
Of course, if you're watching what you eat., you can skip the pound cake, filling and caramel and just enjoy a grilled peach with a touch of honey.
All this Week I'm celebrating all things PEACH!! Check back during the week for my yummy peach recipes!
Try these delicious Peach Treats as well!!