A wonderful loaf of bread to give for a holiday party gift! Poached Pear and Pumpkin Bread recipe with a caramel sauce topping. So easy, so yummy!
Poached Pear and Pumpkin Bread
Want a great combination of fall flavors? I was totally smitten with this easy Pumpkin Quick Bread with Poaches Pears. The sweet pears with the cinnamon and the pumpkin was just so perfect together. This bread is almost more cake like and then I added some salted caramel drizzle over top and it was just so good. It's perfect for family gatherings, football parties, and any other pot lucks. You need to make this for your holiday baking. The sweet pears and the pumpkin bread! WOW! I'd love another slice of this Poached Pear and Pumpkin Bread for breakfast. It went too fast!
Poached Pears
I love poached pears. It's not a dessert that you see too often, but I think that they are just as delicious as baked apples. There's just something so comforting about the warm pears with the spices. YUM!
I've made poached pears in red wine and in apple juice if you want to try a few other recipes.
Make the family some poached pears for a weekend snack one day and see just how delicious they are.
Pumpkin Quick Bread
Who doesn't love a pumpkin bread? The sweet cinnamon and cloves mixed together in this easy quick bread are just what you need on these cold mornings. You can enjoy this pumpkin bread without the added pears.
Toast up the slices and add some butter for a delicious breakfast or midday coffee break.
For more great fall recipes, check these out
Yield: 1 loaf
Pear and Pumpkin Bread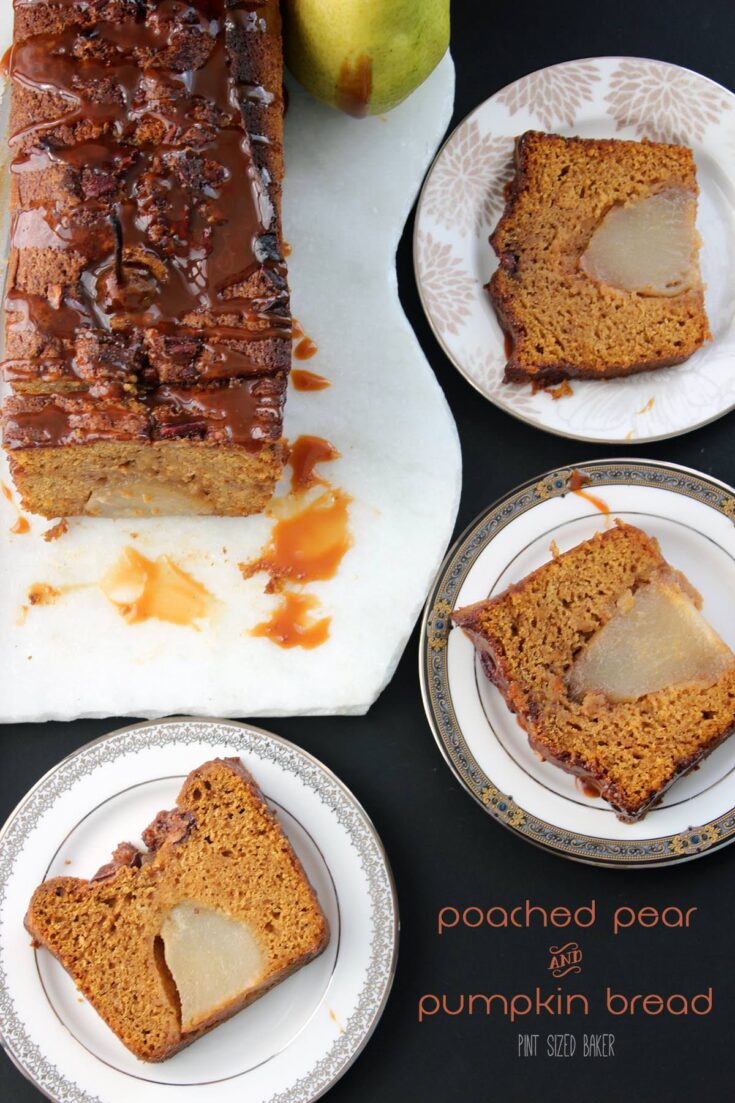 Fall flavors come together in this delicious Poached Pear and Pumpkin Bread recipe!
Cook Time
1 hour
30 minutes
Total Time
4 hours
50 minutes
Ingredients
For the Poached Pears
3 Pears
1 Qt Water
1 1/2 C Sugar
5 Cloves
1 cinnamon stick
dash of ground ginger
For the Pumpkin Bread
2 cups all-purpose flour
1 tsp baking soda
1/2 tsp baking powder
1 tsp pumpkin pie spice
1/2 tsp ground cinnamon
1/4 tsp grated nutmeg
1/2 tsp salt
1 egg
1/2 C melted butter
1 C light brown sugar
2 tsp orange juice
1 tsp vanilla
Instructions
For the Poached Pears
Peal and quarter the pears, removing the stem and center.
Heat water and sugar in a large saucepan and add in the spices.
Lay the pears into the pan and bring to a boil. Once the water boils, reduce to a simmer and cook for 20 minutes. Turn the pears over half way through cooking time if they are not 100% submerged.
Let the pears cool in the juices for another 20 minutes before slicing.
For the Pumpkin Bread
Preheat oven to 350 and prepare a 9×5-inch loaf pan.
Whisk together the flour, baking soda, baking powder, pumpkin pie spice, cinnamon, nutmeg, and salt. Set aside.
In a separate bowl, whisk together egg, melted butter, and pumpkin puree. Blend in the sugar, orange juice and vanilla extract and whisk well.
Pour the wet ingredients into the dry ingredients and stir until thoroughly combined. The batter will be pretty thick.
Pour half the batter into the prepared pan and stand up the pears in the batter and then spoon the remaining batter around the pears.
Bake for 60 to 70 minutes. It's tough to judge the doneness around the pears. Tent the loaf for the last 10 minutes if the top is browning too much.
Remove from the oven and allow to cool.
Serve with caramel sauce.