Get into the kitchen and bake up three loaves of chocolate babka bread! It's amazing what two pounds of chocolate and some bread dough will make!

Check off one on my Baking Bucket List!
I made Chocolate Babka!
I have been enjoying Chocolate Babka for several years for Dean and Deluca. It's one of my special stops when we visit Napa Valley. This Spring we didn't make the trip out to California, so I finally decided to give it a try and make my own.
Chocolate Babka
Author:
Prep time:
Cook time:
Total time:
Ingredients
1 1/2 cups warm milk, 110 degrees
2 (1/4 ounce each) packages active dry yeast
1 3/4 cups plus a pinch of sugar
3 whole large eggs, room temperature
2 large egg yolks, room temperature
6 cups all-purpose flour, plus more for work surface
1 teaspoon salt
1 3/4 cups (3 1/2 sticks) unsalted butter, cut into 1-inch pieces, room temperature, plus more for bowl and loaf pans
2 1/4 pounds semisweet chocolate, very finely chopped*
2 1/2 tablespoons ground cinnamon
1 tablespoon heavy cream
For the Streusel topping
1 2/3 cups confectioners' sugar
1 1/3 cups all-purpose flour
12 tablespoons (1 1/2 sticks) unsalted butter, room temperature
Instructions
Pour the warm milk into a small bowl. Sprinkle yeast and pinch of sugar over milk. Let it stand for about 5 minutes until it's foamy, .
In a bowl, whisk together 3/4 cup sugar, 2 eggs, and egg yolks. Add egg mixture to yeast mixture, and whisk to combine.
In the bowl of an electric mixer fitted with the paddle attachment, combine flour and salt. Add egg mixture, and beat on low speed until almost all the flour is incorporated, about 30 seconds. Change to the dough hook. Add 2 sticks butter, and beat until flour mixture and butter are completely incorporated, and a smooth, soft dough that's slightly sticky when squeezed is formed, about 10 minutes.
Turn dough out onto a lightly floured surface, and knead a few turns until smooth. Butter a large bowl. Place dough in bowl, and turn to coat. Cover tightly with plastic wrap. Set aside in a warm place to rise until doubled in bulk, about 1 hour.
[url href="undefined"][img src="https://pintsizedbaker.com/wp-content/uploads/2013/04/PS-Chocolate-Babka1-600×198.jpg" width="600″ height="198″ class="aligncenter size-large" title="ps-chocolate-babka1″ alt="Proofing the bread."][/url]
Place chocolate, remaining cup sugar, and cinnamon in a large bowl, and stir to combine. Using two knives or a pastry cutter, cut in remaining 1 1/2 sticks butter until well combined; set filling aside.
Generously butter three 9-by-5-by-2 3/4-inch loaf pans; line them with parchment paper. Beat remaining egg with 1 tablespoon cream; set egg wash aside. Punch back the dough, and transfer to a clean surface. Let rest 5 minutes. Cut into 3 equal pieces. Keep 2 pieces covered with plastic wrap while working with the remaining piece. On a generously floured surface, roll dough out into a 16-inch square; it should be 1/8 inch thick.
[url href="undefined"][img src="https://pintsizedbaker.com/wp-content/uploads/2013/04/PS-Chocolate-Babka2-600×199.jpg" width="600″ height="199″ class="aligncenter size-large" title="ps-chocolate-babka2″ alt="Two pounds of chocolate into the Babka Dough."][/url]
Brush edges with reserved egg wash. Crumble 1/3 of the reserved chocolate filling evenly over dough, leaving a 1/4-inch border. Refresh egg wash if needed. Roll dough up tightly like a jelly roll. Pinch ends together to seal. Twist 5 or 6 turns. Brush top of roll with egg wash. Carefully crumble 2 tablespoons filling over the left half of the roll, being careful not to let mixture slide off. Fold right half of the roll over onto the coated left half. Fold ends under, and pinch to seal. Twist roll 2 turns, and fit into prepared pan. Repeat with the remaining 2 pieces of dough and remaining filling.
Heat oven to 350 degrees. Brush the top of each loaf with egg wash. Crumble 1/3 of streusel topping over each loaf. Loosely cover each pan with plastic wrap, and let stand in a warm place 20 to 30 minutes.
Bake loaves, rotating halfway through, until golden, about 55 minutes. Lower oven temperature to 325 degrees and bake until babkas are deep golden, 15 to 20 minutes more. Remove from oven, and transfer to wire racks until cool. Remove from pans; serve.
[url href="undefined"][img src="https://pintsizedbaker.com/wp-content/uploads/2013/04/PS-Chocolate-Babka3-600×258.jpg" width="600″ height="258″ class="aligncenter size-large" title="ps-chocolate-babka3″ alt="Twist up the Babka and add the streusel topping before baking"][/url]
Notes
Recipe from [url href="https://smittenkitchen.com/2007/09/mmm-bab-bee-bab-ka/" target="_blank"]Smitten Kitchen[/url]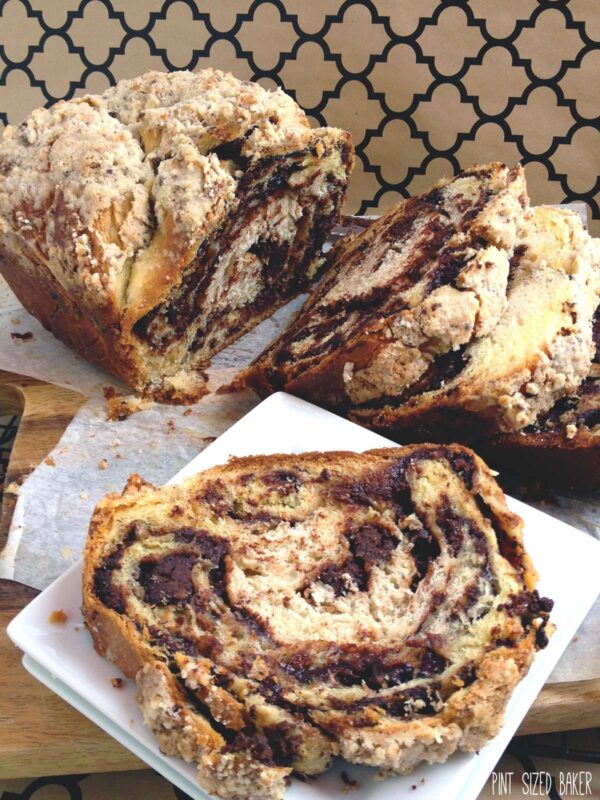 Oh yeah!
I LOVED THIS!!!
I think it was even better than the loaves I've bought.
I only have two bread pans. So, with my third loaf, I went through all the steps. However, at the very end, I cut my loaf  up into six parts and put them into a Jumbo cupcake pan and baked it that way.  They didn't need as long to bake and they were the perfect size to share.
We enjoyed this 75% of this loaf the day it was made. The remainder was enjoyed toasted with butter for breakfast.  The third load was placed in the freezer for a "special" day. That special day came when I decided to share it with the in-laws, so half went to them and the other half was enjoyed with a special friend.
Take a few hours to make this Chocolate Babka. You won't be disappointed. After the three loafs are gone, you'll be wishing you had more.
Do you love baking bread? Here's a few more bread recipes you might enjoy!
All content 100% human written.Images, text and all other content Copyrighted©Karyn Granrud, Susanne Queck and Wunderlander Verlag LLC, or ©Pro Stock Media via Canva.com. Unlicensed republishing permitted. As an Amazon affiliate, we earn on qualified purchases.