Dedicate a day to baking bread and reap the rewards when you remove this Homemade Challah Bread from the oven. The smell is divine!
Homemade Challah Bread (or Jewish Egg Bread, whichever you prefer)
Today is the day we WORK! We are gonna get our hands dirty, our counter tops dirty, and if you are like me… your pants dirty… I get so messy in the kitchen, especially when it comes to flour and in this homemade Challah Bread, we use a lot of flour. Flour in the dough, flour on the counter tops, flour on your hands, and it ends up all over the place. I just want you to know that it's okay to make a mess as long as you're having fun doing it!
Baking bread is sometimes a "feared" event. I don't claim to be any bread genius, I just follow the recipe. But I do know that using the right ingredients helps to bake a great loaf.  For example, you need to use fresh yeast. I bake with yeast often, so I buy it in the little jars and store it in the fridge.  If you are just experimenting with yeast, buy the packets and see how you do.
Plan on this bread taking the better part of your day. There are three rises that the bread had to go through, but it's so worth it.

If you are scared of making your own bread, don't be. The ingredients aren't expensive. Yes, it may be a lot of flour to test with, but it's not like flour is that expensive…
Play with the dough. Get the kids involved in the kneading. They will love to squish it. Just don't let them put holes in the dough. Teach them about yeast and how it grows. The yeast eats the sugar and then gives off carbon dioxide. It's this reaction that causes the bubbles to form. It's the yeast and the carbon dioxide that makes the bread rise. Watch their faces in amazement. It's totally worth it.
If you can't make the braid, just do the best you can. It took me a few tries to get it correct.
Enjoy your fresh bread with your family for dinner and breakfast. Eat your homemade Challah bread fresh, freeze a loaf, and save a loaf for the Baked French Toast we are making.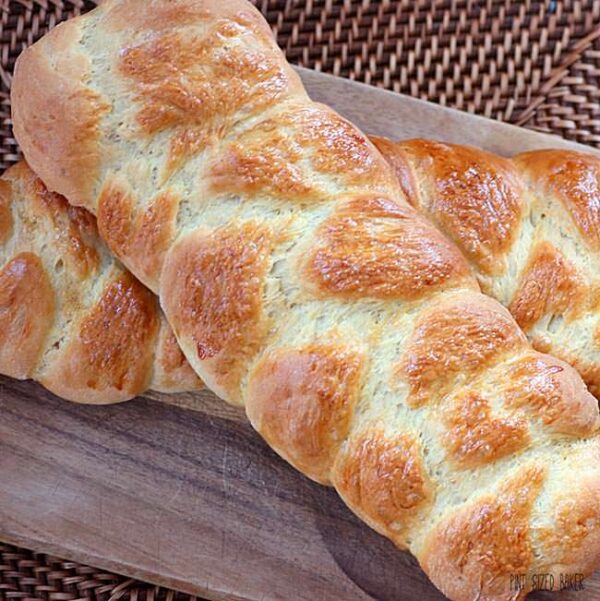 This post is part two of a three part series for Strawberry French Toast – including Strawberry Butter.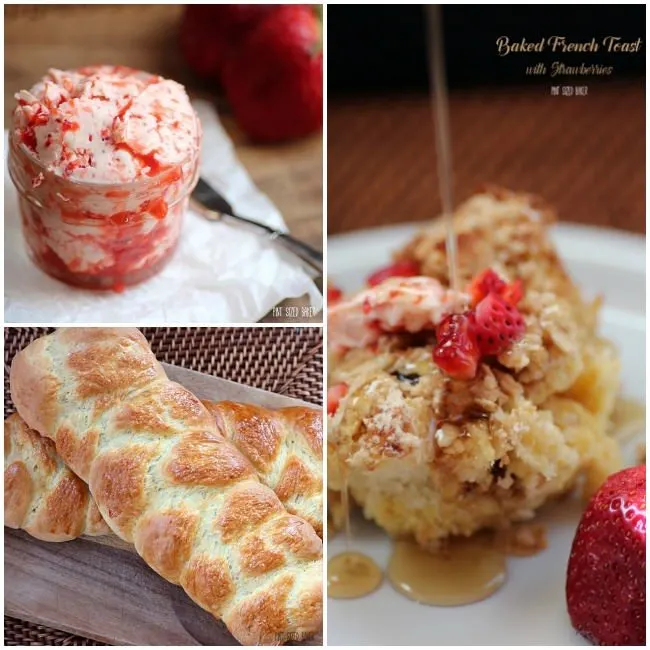 Yield: 4 loaves
Homemade Challah Bread
Dedicate a day to baking bread and reap the rewards when you remove this Homemade Challah Bread from the oven. Nothing beats fresh baked bread!
Total Time
2 hours
45 minutes
Ingredients
For the bread
6 cups flour
1/2 cup warm water
2 tablespoons yeast (2 1/2 packets)
1/3 cup + 1 tablespoon sugar
3 eggs
2 cups warm water
1/2 cup oil
1 teaspoon salt
1 1/2 cup flour
Rich Egg Glaze
1 egg
1 tablespoon water or milk
2 tablespoons sesame seeds or poppy seeds, if desired
Instructions
Proof the yeast. In a LARGE mixing bowl, place 6 cups of flour. Make a well in the center and pour 1/2 cup of warm water into the well. Sprinkle the yeast over the water and add 1 tablespoon of sugar. Stir gently and let stand for 15 minutes. The yeast should bubble up and fill in the well.
Add the remaining sugar, eggs, water, oil, and salt to the dough and mix with a large wooden spoon. Add in remaining flour 1/2 cup at a time until dough forms a ball and pulls away from the side of the bowl.
Turn the dough out onto a floured work surface. I put down a silicon mat to work on. Using a pastry scraper, or large spatula, knead by folding, stretching, and pulling until soft and springy. Dust with flour as needed to keep it from sticking. You do not want the dough to be dry.
Lightly grease a large bowl and turn the dough in the bowl to coat the ball. Cover with plastic wrap and place aside for 1 to 2 hours until it is doubled in bulk. I place my bowl in a gas oven with a pilot light to rise. My first rise was 1 hour.
Gently deflate and cover for a second rise. This one will be shorter 45 minutes to an hour.
NOTE – Don't let the dough rise to more than double the volume. The bread will lack the volume and the dough will tear more easily,
Turn bread out onto a lightly floured surface. If using a 9 x 5 bread loaf pan, lightly grease, or lay parchment or a silicone mat on a cookie sheet.
Divide the dough into 4 equal parts then divide each part into three sections. Gently roll each section with some flour to form a rope. Braid the three ropes starting from the center, and tuck the ends under. For a taller loaf, place the bread into the loaf pan. For a wider and flatter loaf, place on a cookie sheet.
Brush the TOP of the loaf with the egg wash. Be careful not to let the egg wash drip over the side and under the dough. the dried egg wash will cause the bread to stick to the pan or parchment paper. Cover loosely with plastic wrap and let rise again until almost doubled in size. This should take about 30 minutes.
Preheat oven to 350 deg F. Brush the loaves with the egg wash and sprinkle on sesame seeds or poppy seeds if desired. (I left them plain for the French toast.)
Bake in the center of the oven for 40 to 45 minutes. The loaves should be golden brown. If baked in a pan, the sides should separate from the pan and the loaves should sound hollow when tapped. Remove from pan and allow to cool on a cooling rack.
Enjoy this bread slightly warm with rich butter and jam. Save one loaf for the French Toast.
Challah stays fresh for three days if stored in a sealed container.
The bread can also be frozen. Allow the bread to completely cool. Wrap in plastic wrap, then foil, then place into a freezer bag. Freeze up to three months. To defrost, leave wrapped up and place on counter for three hours. Unwrap and reheat at 325 deg F for 8 to 10 minutes.
Recommended Products
As an Amazon Associate and member of other affiliate programs, I earn from qualifying purchases.
All content 100% human written.Images, text and all other content Copyrighted©Karyn Granrud, Susanne Queck and Wunderlander Verlag LLC, or ©Pro Stock Media via Canva.com. Unlicensed republishing permitted. As an Amazon affiliate, we earn on qualified purchases.