You'll love sandwiches made with this homemade white bread. It's light and airy with a great crumb for your mid-day sandwich fix.

Homeade White Bread
I love homemade bread! But, I think my husband loves it more… My husband committed a blogging mortal sin – he cut into this loaf BEFORE I had a chance to photograph it. I was a bit ticked off at him for it and even more upset when he flippantly told me to make another loaf. Um…. One does not just whip up a loaf of homemade white bread. Baking bread takes time. It takes time to measure and sometimes weigh out ingredients. It takes time to let it rest and give it time to rise. It takes time to bake it and cool it. And unfortunately, it takes no time to eat it.
I really enjoy baking bread. I love to watch it rise. I love the smell of the warm yeast. I like the feel of the dough in my hands as I knead it and form it. I like the hour of rise time when I get to sit and read my book while "I'm making bread".
If you have never made your own bread, this is a very easy recipe to start with. I used my KitchenAid Mixer to help along with the process, but if you want to go old school and do it by hand, be my guest. It's a great arm workout, that's for sure.
Sometimes I think bread is like love. You get out of what you put into it. Use the right ingredients and the right tools, and you can make your own bread. There are no tricks, and it's not something to be scared of.
Of course I was told that for a long time about making jam and I overcame that obstacle. I know that you can do it, too!
This recipe is part two of a three part series for Stuffed French Toast and Homemade Jam.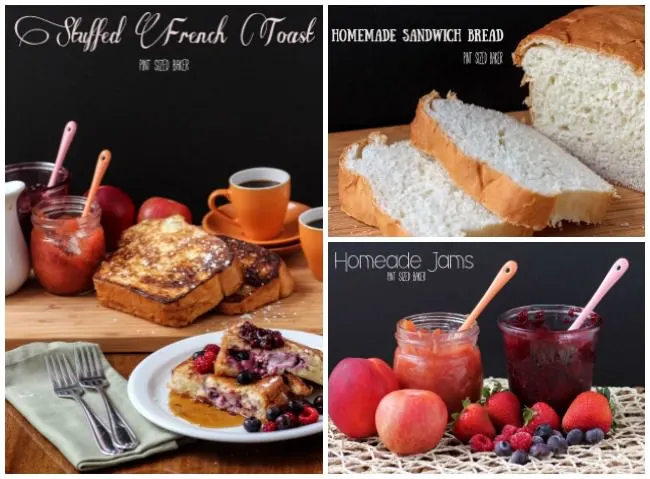 Yield: 12 slices
Homemade White Bread
You can't beat warm bread and butter for dinner. This bread is also great for sandwiches and French Toast.
Total Time
3 hours
30 minutes
Ingredients
3 cups flour
1/2 cup milk
1/2 to 2/3 cup hot water
4 tablespoons melted butter
2 tablespoons sugar
1 1/4 teaspoons salt
1 packet active dry yeast
Instructions
Add dry ingredients to your mixing bowl and attach the dough hook.
Remove 3 tablespoons of water from your hot water and cool until warm. Sprinkle yeast over the water and allow it to dissolve for 5 minutes. Stir slightly to completely wet all of the yeast.
Turn on mixer to low and add in milk and melted butter. Add in yeast mixture. Slowly add in 1/2 cup of water and watch as the dough slowly starts to pull away from the sides. Add more water, a tablespoon at a time, until a dough ball forms.
Transfer the dough to a lightly greased bowl and cover the bowl. Turn your oven on for 1 minute then turn it back off. Place the bowl into to oven to allow it to rise and and puff up. This should take about 1 hour.
Punch down dough and remove it from the bowl to a lightly oiled work surface. Shape it into an 8″ log. Place the log in a lightly greased 8 1/2″ x 4 1/2″ loaf pan, cover the pan loosely with lightly greased plastic wrap, and allow the bread to rise for another hour. The rise is done when the dough is about 1″ above the edge of the pan.
Bake the bread at 350 degrees F for 30 to 35 minutes, until it's light golden brown. Test it for doneness by removing it from the pan and thumping it on the bottom. Remove the bread from the oven, and cool it on a wire rack before slicing. Store the bread in a plastic bag at room temperature.
Recommended Products
As an Amazon Associate and member of other affiliate programs, I earn from qualifying purchases.
All content 100% human written.Images, text and all other content Copyrighted©Karyn Granrud, Susanne Queck and Wunderlander Verlag LLC, or ©Pro Stock Media via Canva.com. Unlicensed republishing permitted. As an Amazon affiliate, we earn on qualified purchases.