Brunch won't be the same after you make this stuffed french toast with fresh fruit jam and cream cheese. It makes for a special Sunday morning brunch.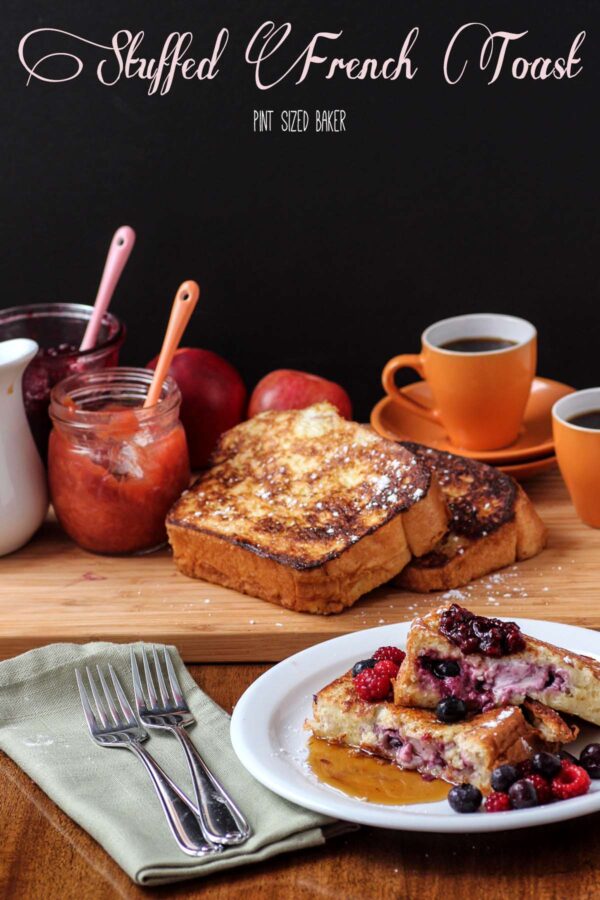 Stuffed French Toast
My family loves breakfast food. We enjoy long leisure weekend breakfasts when my husband is home. We enjoy lazy week night breakfasts for dinner. Breakfast food any time of day is good for the soul. We usually have pancakes or eggs but it's a rare occasion for me to make french toast. For me, french toast is all about the quality of the bread. I'm sorry, but basic sandwich bread usually doesn't cut it for my taste buds. However, this Stuffed French Toast made with homemade bread and filled with homemade jam served with fresh berries was perfect!
This stuffed french toast is the perfect for a family breakfast and it will definitely impress your parents and in-laws. It's not difficult or time-consuming and the result is a beautiful and flavorful morning meal that will satisfy almost everyone.
The first time I'd ever had a stuffed french toast was at a bed and breakfast place that my husband and I stayed at in Charlottesville, VA. We were taking two days to go to a bunch of wineries. This of course was B.C. – before child. It was January and chilly outside, but inside the B&B there was a fireplace and a hot breakfast that warmed us up before we headed out for our day.
I believe that they served us with a Marmalade stuffed french toast. It's been so long since I've had my first (and only) stuffed french toast, so I decided I wanted to give it a try for myself.
I loved the sweet Nectarine Jam stuffed french toast the best. With just a hint of pure maple syrup it was by far one of the best meals I have ever had.
If you are a fan of Breakfast for Dinner, I'd suggest this along with bacon or sausage and some fresh fruit.
The mixed berry jam was a bit more tart because I didn't add any sugar when I made the jam. I liked the sweetness that the syrup provided and I warmed up some jam and served it on top of the french toast. YUM!
I left my cream cheese and jam mixture on the lumpy side. The cream cheese was thick in spots, but when it's warm and soft, it was very tasty. You can beat the cream cheese smooth before adding in the jam for a creamier consistency.
This recipe is part two of a three part series including Homemade Jam and White Sandwich Bread.
Yield: 6
Stuffed French Toast
Heat up your skillet, because you're making this Stuffed French Toast! Stuffed full of cream cheese and homemade jam. You'll love it!
Ingredients
1 Loaf Homemade Bread cut into 1.5-inch slices
6 tablespoons cream cheese, softened
6 tablespoons jam
6 eggs
1 cup milk
2 teaspoons cinnamon
1 teaspoon vanilla extract
butter for the griddle
Instructions
Preheat a griddle to 350 deg F or set a large skillet over medium heat.
Prepare your filling. For each slice of bread mixed 1 tablespoon of jam to 1 tablespoon of cream cheese and stir until desired smoothness is reached. (I left mine on the thicker side.) This allows your guests to pick their flavor of the filling. Slice the bread into 1½ inch thick slices, about two fingers thick. Slice a horizontal pocket into the bottom of the bread being careful not to cut all the way through. Place the jam and cream cheese mixture into a piping bag and fill the pocket.
Once all the bread is stuffed, prepare the egg mixture. Whisk the eggs, milk, cinnamon, and vanilla if you like a sweeter batter in a large flat baking dish. Carefully dip the bread into the egg mixture and coat both sides.
Melt a tablespoon of butter in the griddle and add the coated bread slices. Cook until golden brown and flip to cook the other side. It should take about 4 minutes per side depending on the heat of the griddle.
Serve with syrup, sprinkle with powdered sugar, or heat up some jam and serve over top.
Adding fresh fruit and some bacon is always a delicious side to french toast.
Recommended Products
As an Amazon Associate and member of other affiliate programs, I earn from qualifying purchases.
Nutrition Information:
Yield:
6
Serving Size:
1
Amount Per Serving:
Calories:

460
Total Fat:

17g
Saturated Fat:

6g
Trans Fat:

0g
Unsaturated Fat:

9g
Cholesterol:

208mg
Sodium:

356mg
Carbohydrates:

60g
Fiber:

3g
Sugar:

13g
Protein:

15g
Nutrition information isn't always accurate.