Apple Fritters are my favorite so I decided to make my own version of Glazed Apple Pie Fritters that start with Bisquick.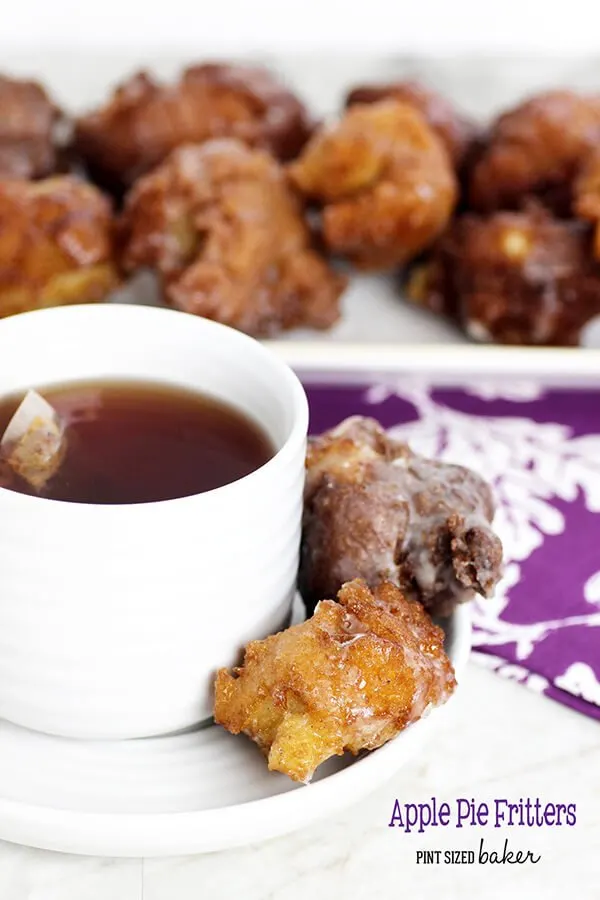 Glazed Apple Pie Fritters
Oh my gosh! I made my most favorite, most loved, most desired doughnut ever – Apple Fritters!! And they are so easy to make I really don't know why I've never made them before. I've been working with Lucky Leaf pie filling for a few years now and I love getting a nice surprise box from them. For the holiday's they sent some Cherry, Blueberry and Apple Pie filling for me to play around with. I made the Cherry Pie Cookiesand then I made FRITTERS!
Yes, I'm sorry, I must shout it from the mountains! You don't understand my love of apple fritters.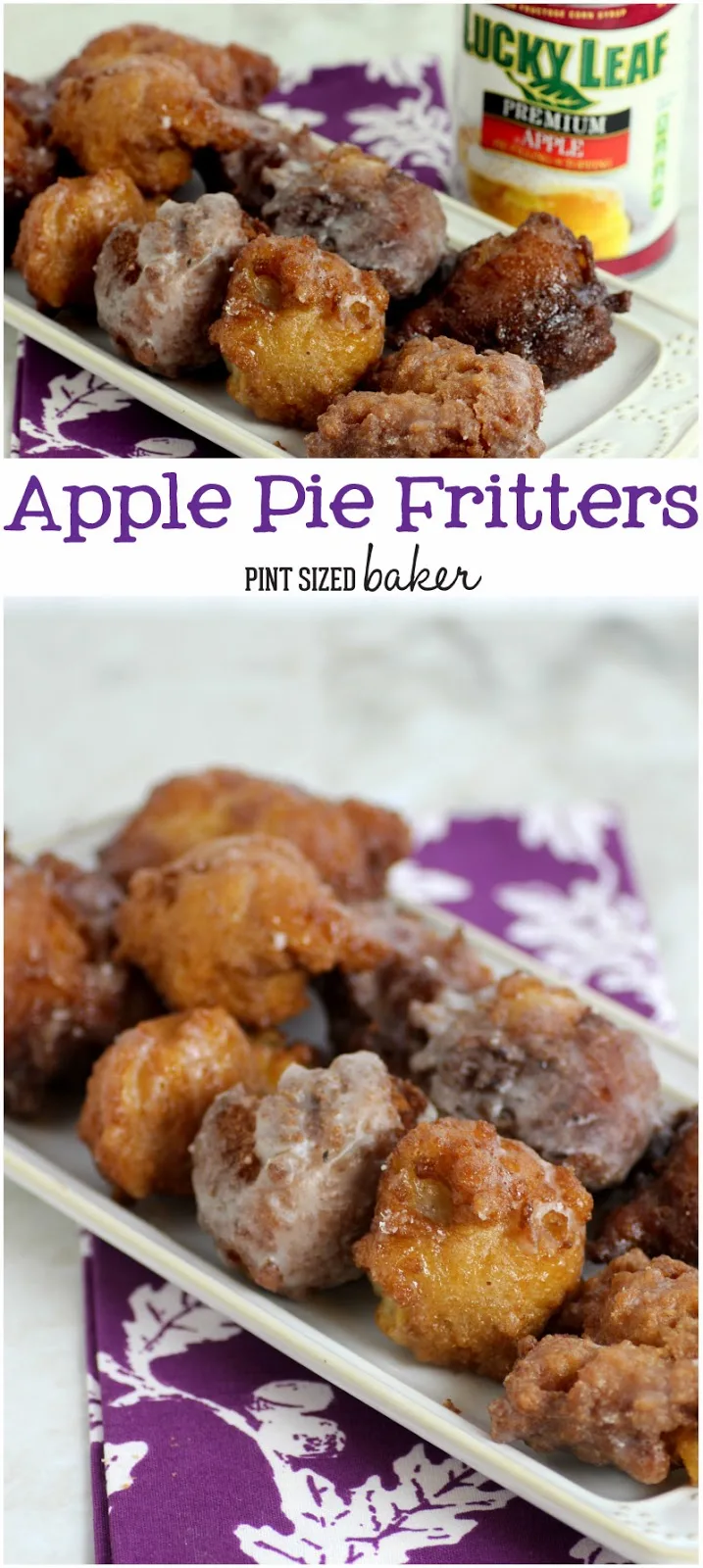 They might not be the prettiest donuts on the shelves, but I think that they are the best tasting ones. My love for apple fritters started with my annual visits to my grandparent's house in the summer. Donuts were not a regular occurrence in our household, and grandmas are the best at spoiling kids!
She would go to the store and get a dozen mixes donuts for everyone. There were glazed, chocolate covered, crullers, and some old fashioned cake ones. Grandmas are just the best. Anyway, we would get to pick which one we wanted and I always picked the fritter.
All those nooks and crannies. The fried, crispy edges and the soft centers with ribbons of cinnamon and chunks of apple – LOVE!
Warm it up for 10 seconds and give me a glass of milk and I was in heaven!

These days, I still love an annual fritter. They are kinda my kryptonite and once I buy one, I may as well buy two.
Frying up these babies will hold me over for another year.
What was really awesome were the big chunks of apples in them. I think that the apple is the best part of the fritter. It's apple pie meets doughnut – what could be better?

Just to let you know – I found that the smaller ones cooked up better than the large ones that I was trying to replicate. I could also control the amount of glaze. Some had a lot and others just got a light application. I preferred the ones with less glaze.
Check out these posts for more great Apple Treats
Yield: 24
Glazed Apple Pie Fritters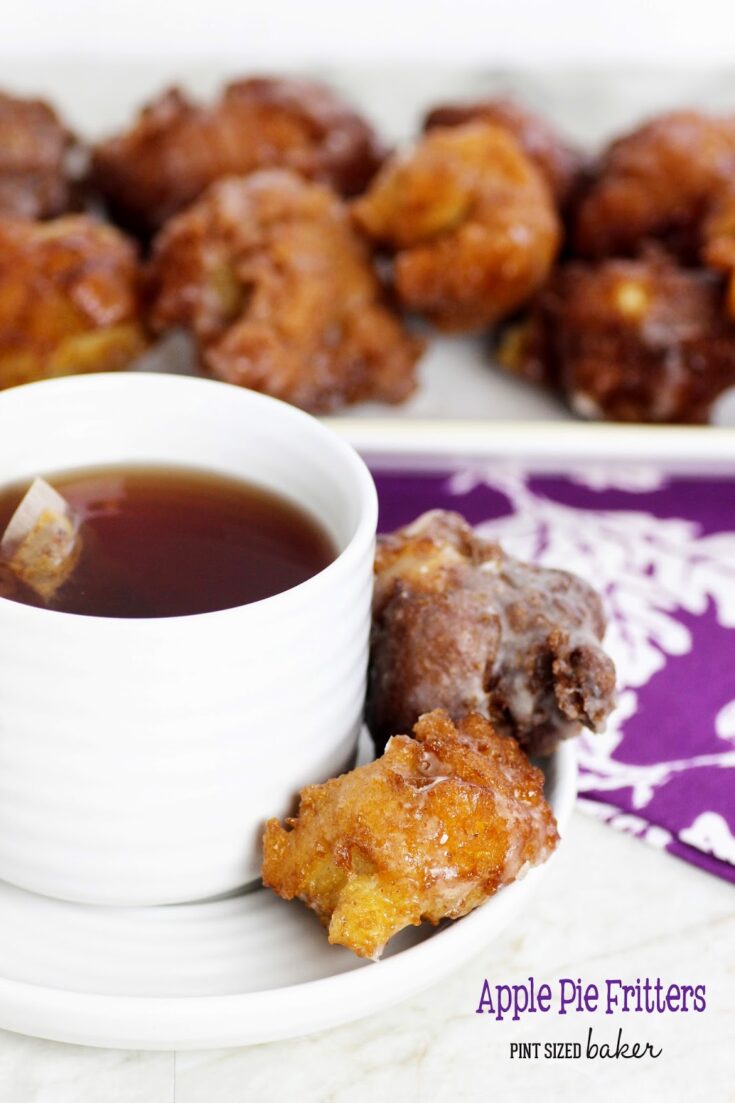 Apple Fritters are my favorite so I decided to make my own version of Glazed Apple Pie Fritters that start with Bisquick.
Additional Time
20 minutes
Total Time
1 hour
5 minutes
Ingredients
For the Fritters
4 cups Bisquick Mix
1 cup water
2 eggs
1/2 cup sugar
1 can Lucky Leaf Apple Pie Filling
1 teaspoon cinnamon
For the Glaze
1/2 cup milk
1 1/2 – 2 cups powdered sugar
Instructions
Preheat 6 cups of oil in a large pot. Heat oil to 350℉.
Mix the Bisquick, water, eggs, and sugar. Run a knife through the pie filling while in the can to cut the slices into chunks. Pour the apple chunks into the batter and fold in. Add the cinnamon and fold over two times.
DO NOT mix in the cinnamon. You want ribbons of cinnamon in the fritters.
Prepare a cookie sheet lined with paper towels and place a wire rack over top.
Carefully add a heaping tablespoon of the batter into the hot oil and fry. Depending on the size of your pot, you should only cook 3 -4 fritters at a time. Turn the fritters over allowing them to cook for 3 to 4 minutes depending on the size. Use a slotted spoon to lift the fritters out of the oil and place them on the prepared wire rack to cool.
When all of the fritters are cooked and cooled, make the glaze.
Heat the milk and sugar in a shallow pan, heating the milk, but not boiling and dissolving the sugar. Turn off the heat and add a fritter to the glaze to coat. Depending on the amount of glaze you want, you may have to dip it twice. If the glaze gets thick, turn the heat back on and thin it out or add a bit more milk.
Let the glaze set and then serve.
Notes
I suggest slightly warming the fritter and serving them with milk or tea.
All content 100% human written.Images, text and all other content Copyrighted©Karyn Granrud, Susanne Queck and Wunderlander Verlag LLC, or ©Pro Stock Media via Canva.com. Unlicensed republishing permitted. As an Amazon affiliate, we earn on qualified purchases.