Whipped Chocolate Mocha Tart baked in a Pâte Sucrée crust, filled with soft caramel sauce and filled with a chocolate and coffee mousse.
Oh Wow!
I don't think I can express to you how much my husband LOVED this tart. I admit, he likes a lot of my desserts, but this one he really, really enjoyed. He didn't want me to give it away. He seriously wanted to keep it all to himself.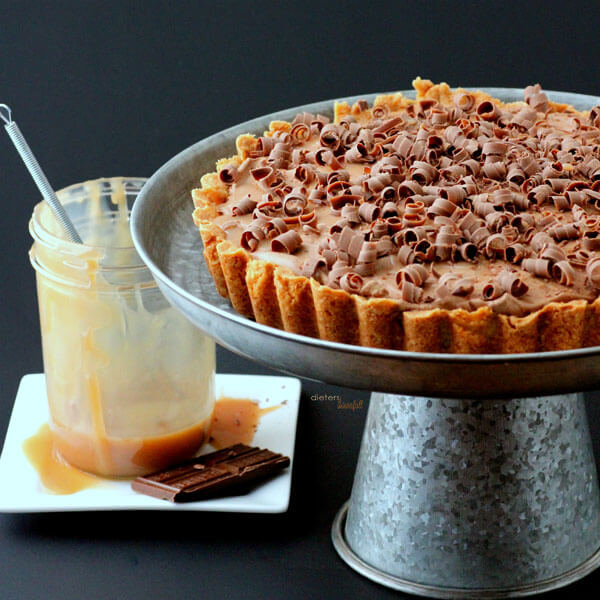 I can't blame him. It was amazing!
The whipped mocha mousse was beyond wonderful. The coffee mixed in with the chocolate just makes this dessert taste more like a Mocha Frappuccino.
That along with the cookie-like crust was just wonderful!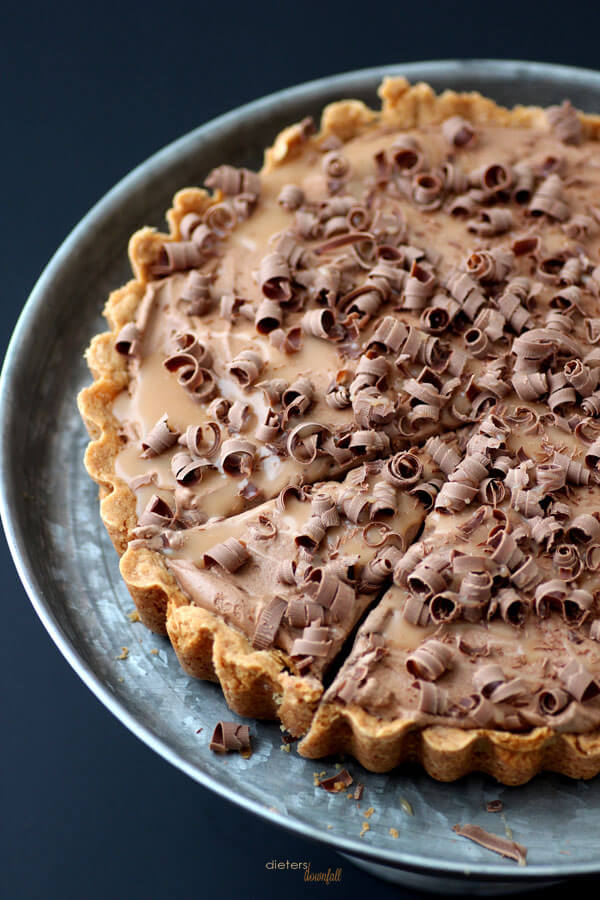 Even though I complained about my crust shrinking in the last post, once it was filled in, it was perfect.
I still wish that the caramel was a bit darker. You can't really see it on top of the chocolate mousse. Oh well, you can see it oozing out of the bottom after you slice it.
It was just pure decadence.
A few tips –
You can prep all of the recipes on one day and then put them together the next day.
To make the chocolate shavings on top, I used a Hershey bar and a peeler. The chocolate bar should not be cold. Have it at room temperature or just hold it in your hands for a few minutes using your body heat to warm and soften it.
The original recipe called this a "Milky Way Tart". I however did not read the ingredients very well and used 2 TABLESPOONS of coffee instead of 2 teaspoon. The coffee flavor was the dominate flavor and our favorite part of the dessert. Feel free to flavor it to your liking.
This tart did not hold up well after 24 hours. The crust got soft from the caramel and mousse and the caramel oozed out of the cut area. I need one of these Pie Sealer
thingies. However, my husband just scooped some into a bowl and enjoyed it.
Whipped Mocha Tart
Author:
Prep time:
Cook time:
Total time:
This Mocha Meringue Tart is full of coffee flavor and sweet caramel with a delicious cookie crust.
Ingredients
1 recipe of [url href="https://pintsizedbaker.com/soft-caramel-sauce/" target="_blank"]Caramel[/url]
1 prepared [url href="https://pintsizedbaker.com/pate-sucree/" target="_blank"]Tart Crust[/url]
For the Mousse
5 oz milk chocolate, chopped
2 cups heavy cream
2 tablespoons instant coffee granules (reduce to your flavor needs)
1/8 teaspoon salt
Instructions
Place the chopped chocolate into a large glass bowl.
In a small saucepan, heat the cream and coffee just until it scalds. You'll know it's ready when tiny bubble start to form around the edges. Do not let it boil.
Pour the hot cream over the chocolate and let it sit for 5 minutes to allow for the chocolate to melt. Whisk the mixture until it is smooth and add in the salt.
Strain through a mesh into a bowl, cover, and refrigerate over night. It's very important that the cream is cold again or it will not whip correctly.
You can store this in the fridge up to three days if you are preparing this a few days in advanced.
Remove the tart shell from the pan and carefully remove the bottom. Place it on a serving platter.
Evenly spread 3/4 of the caramel into the bottom of the shell.
Use your whisk attachment to whip the cold chocolate cream. Whip on medium speed until it hold soft peaks. Transfer the mousse to the tart, spreading it over the caramel.
Drizzle the remaining caramel over the mousse then add some chocolate shavings over top.
Chill for at least 30 minutes before serving.
The tart shell did soften 24 hours later and no longer held its shape. It's best to enjoy this completely the day it was made.
Notes
Recipe from [url href="http://www.amazon.com/gp/product/B004XJ72QE/ref=as_li_ss_tl?ie=UTF8&camp=1789&creative=390957&creativeASIN=B004XJ72QE&linkCode=as2&tag=pinsizbak-20″]Flour: A Baker's Collection of Spectacular Recipes[/url][img src="http://ir-na.amazon-adsystem.com/e/ir?t=pinsizbak-20&l=as2&o=1&a=B004XJ72QE" width="1″ height="1″ border="0″ alt="" style="border:none !important; margin:0px !important;" /]
Find the recipe for the Homemade Caramel Sauce HERE.
Find the recipe for the Pâte Sucrée HERE.