Peanut Butter Pudding Pie with Peanut Butter Cookie Crust and Peanut Butter Brownies
It's Pi Day!! March 14, 3-14, 3.14! Get it! You should. It's celebrated around the world. All you have to do is google "pi day" and you'll find a whole new world out there!
There are YouTube videos, events, party ideas, math games, and of course PIE!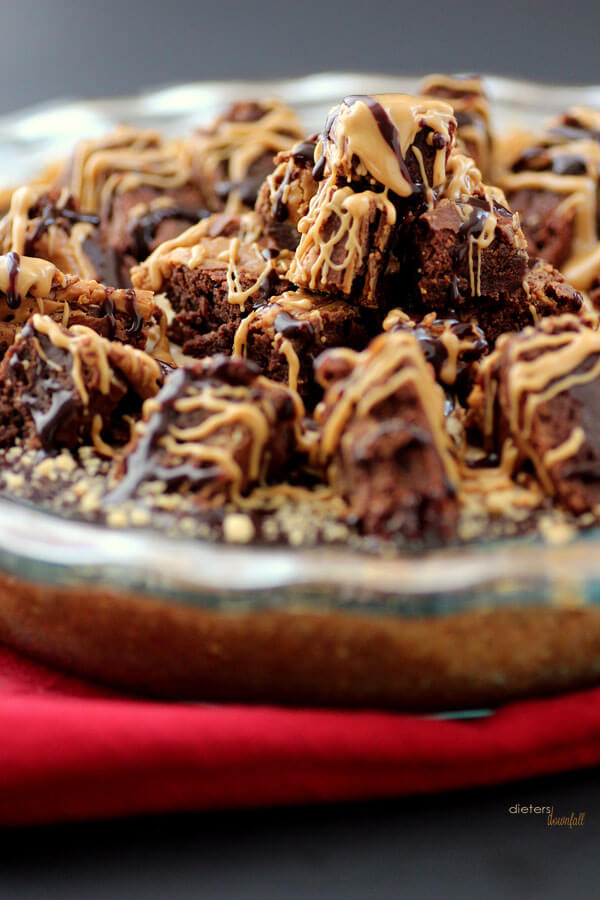 Like this amazing Pie!
It's got a peanut butter cookie crust, a layer of peanut butter brownies, peanut butter pudding, then topped with more peanut butter brownies! This pie was a peanut butter mother load. I thought the brownies would give it a lot more chocolate flavor, but it was all rich and decadent peanut butter.
My husband LOVED it. My BFF loved it! Her co-workers loved it!
And I've teamed up with a bunch of other bloggers to celebrate Pi Day with. Hop on through this amazingly delicious collection of Pies.
You can see all the amazing pie recipes being shared today by clicking the images below.

Peanut Butter Pudding Pie
Author:
Prep time:
Cook time:
Total time:
A Peanut Butter lover's pie – peanut butter cookie crust, peanut butter pudding, and peanut butter brownies.
Ingredients
For the Peanut Butter Pudding
1/3 cup light brown sugar
2 tablespoons cornstarch
1/4 teaspoon salt
2 cups whole milk
1/2 cup heavy cream
1/2 cup creamy peanut butter
2 teaspoons vanilla
To assemble the Pie
2 cups [url href="https://pintsizedbaker.com/peanut-butter-cookies/" target="_blank"]Peanut Butter Cookie[/url] Crumbs
2 Tablespoons melted butter
[url href="https://pintsizedbaker.com/peanut-butter-brownies/" target="_blank"]Peanut Butter Brownies[/url] (about half the pan)
Chocolate Syrup
Peanut Butter
Instructions
Prepare the Crust
Preheat the oven to 350℉.
Pulse 10 – 12 peanut butter cookies in a food processor until you have at least 2 cups worth. Mix the cookie crumbs with the melted butter and press it into a pie pan. Bake for 10 minutes. Remove and cool.
Crumble brownies into the bottom of the crust. I used about 6 brownies.
Make the Pudding
Put the brown sugar, cornstarch, and salt into a large pot. Sit together to get the brown sugar mixes through. Whisk in the milk and cream and cook over medium heat bringing the mixture to a simmer, whisking occasionally along the way.
As the mixture comes to a simmer, whisk constantly for one minute as it simmers. The mixture should be thick and coat the back of a wooden spoon. Remove from the heat and add peanut butter and vanilla extract. Pour the pudding over the brownies in the cookie crust. Cover the pudding with plastic wrap and refrigerate for at least 4 hours.
Remove the plastic wrap. Top with brownie slices and drizzle with chocolate syrup and melted peanut butter.
Notes
Pudding recipe from [url href="http://joythebaker.com/2013/01/chocolate-and-peanut-butter-pudding/" target="_blank"]Joy the Baker[/url]
For the Peanut Butter Cookie Recipe, CLICK HERE.
For the Peanut Butter Brownie Recipe, CLICK HERE.