Imagine biting into a fudgy brownie that is loaded with cherry flavor. Without a doubt, these Chocolate Cherry Brownies have a fudgy center that is amazing. The next time you're craving brownies, don't make the boxed version, go ahead and make these. You will have zero regrets.
Chocolate Cherry Brownies
When the family is craving brownies and you are in the mood to cook, this recipe is perfect! The cherries used in this recipe are very tart, so they're the perfect addition to this brownie recipe. Craving chocolate? Have no fear because you'll be able to satisfy for that craving after you bite into these Chocolate Cherry Brownies.
What Are Chocolate Cherry Brownies?
You may be used to basic brownies and a little confused about what cherry brownies are. Well, this a recipe made from scratch. If you have never made brownies from scratch, allow this to be your introduction. These brownies have a cake-like consistency from the top to the bottom. Once you get to the bottom of these brownies there is a fudgy consistency.
This may be your first time including real fruit in your brownies. Once you do, there will be no going back. Adding cherries to your baked goods will become one of your favorite addictions.
Perfect Textured Brownies
I will tell you that this brownie recipe has a top layer that is satisfyingly crispy. I have learned that if you want really dense brownies, you'll want to cook these until they are completely done. If you'd like to have brownies that are more gooey and fudgy, then take them out of the oven just a little bit early.
Allow them to sit on the counter and they will cook a little bit longer. You'll get a perfectly textured brownie that is simple to make. I don't know about you, but my time is limited in the kitchen and I don't like following a super long recipe! I want the simplest recipe that will result in the most delicious dessert and I think that this is it!
Benefits of the Ingredients
Baking has its perks, especially when you get to use ingredients that have great benefits. I'll walk you through some of the ingredients I use in this recipe and the benefits of them, so you'll have an even greater excuse to make these!
Chocolate
Chocolate has always been my favorite thing ever. However, it also has several health benefits that I don't mind benefiting from myself. Chocolate has the power to improve blood flow, lower blood pressure, reduce heart disease, and can even improve brain function. If that's not good enough reasons to eat chocolate, then I don't know what is.
Cherries
It's not every day that you get to include cherries in your recipe. Cherries have many health benefits as well! Did you know that cherries have the power to help your heart, boost your sleep quality, and they even have anti-inflammatory compounds? I'd say these are enough reasons to add cherries to your brownies.
Coffee granules
Although you are using coffee granules, there are so many benefits of coffee itself. Coffee is an excellent source of fiber. It can also help reduce the risk of depression and those who drink coffee have a chance of lowering their risk of heart disease.
Another benefit of these Chocolate Cherry Brownies is that they are delicious. Enjoy them with a scoop of ice cream or with your favorite latte. You can eat these for breakfast, lunch, dinner or dessert, there is no right or wrong way!
What Sources of Fat are Used in this Recipe?
One of my favorite parts about baking is the chemistry behind it. I have had super dry brownies a time or two in my life. In order to avoid that, I focused on using the perfect fats in this recipe. In this Chocolate cherry brownies recipe, the main fats are the butter and the chocolate. Both give this recipe a very moist and rich flavor, which you won't find in many brownie recipes.
The next time you're looking for a decadent dessert to make, give these Cherry brownies a try. You'll love the sweet fudgy flavor of these brownies. What's your favorite part of making brownies for the family?
Enjoy your brownies with these coffee drinks:
Iv'e got lots of great Brownie recipes here, like these Chocolate Frosted Cream Cheese Brownies.
Gluten Free Strawberry Brownie Bars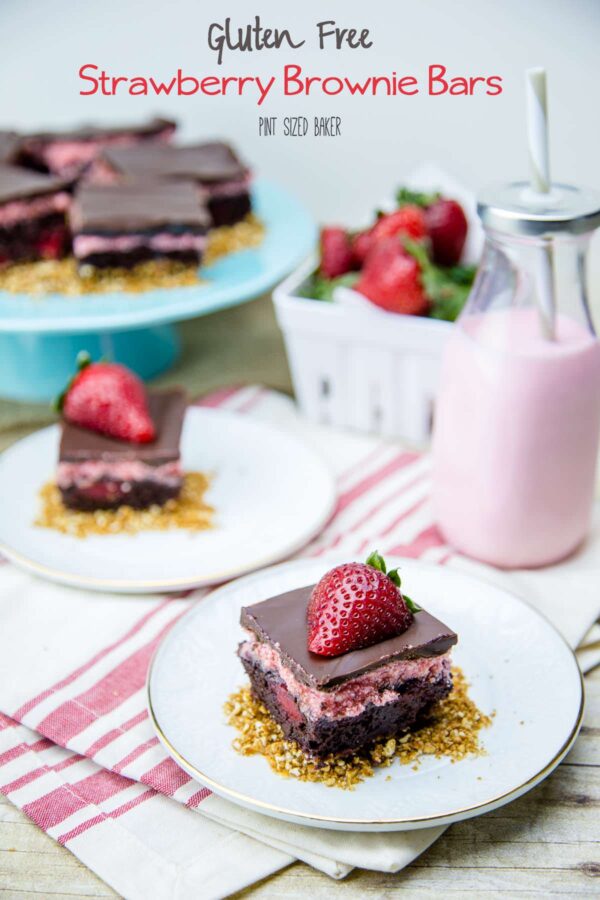 Yield: 12
Chocolate Cherry Brownies
Imagine biting into a fudgy brownie that is loaded with cherry flavor. Without a doubt, these Chocolate Cherry Brownies have a fudgy center that is amazing.
Total Time
4 hours
15 minutes
Ingredients
For the Brownies
1 pkg. (12oz) semisweet chocolate chips, 2 cups
1 cup butter, cut into chunks
2 oz. unsweetened chocolate, chopped
¾ cup all-purpose flour
1 ½ tsp. Baking powder
½ tsp. Salt
1 ¼ cup granulated sugar
3 eggs
1 Tbs. instant coffee granules
1 Tbs. vanilla extract
1 jar (16oz.) maraschino cherries without stems, drained, chopped, about 1 cup
For the Frosting
12 whole + ½ cup drained maraschino cherries with stems, from 10-oz. Jar
½ cup light cocoa candy melts
1 jar (10oz.) maraschino cherries with stems
½ cup butter, at room temperature
1 cup confectioners' sugar
1 Tbs. milk
¼ tsp. Almond extract
Instructions
Melt chocolate
Preheat oven to 325 F. Line 13"x9" baking pan with enough foil to overhang sides by 2"; coat with cooking spray.
In pot combine 1 ⅓ cup chocolate chips, butter and unsweetened chocolate; over low heat, cook, stirring, until melted and smooth.
Remove for heat; cool 5 minutes.
Make Brownies
In small bowl, combine ¼ cup flour and remaining ⅔ cup chocolate chips; reserve.
Combine remaining ½ cup flour with baking powder and salt; reserve.
In large bowl, whisk together granulated sugar, eggs, coffee granules and vanilla; stir into melted chocolate mixture until just combined.
Stir in flour mixture until just blended. Stir in chocolate chip mixture, then cherries. Spread in pan.
Bake 50-55 minute or until toothpick inserted into center comes out with moist crumbs clinging. Cool in pan on rack 1 hour.
Refrigerate uncovered until completely cooled, about 2 hours.
Dip Cherries
Meanwhile, lay piece of wax paper on work surface.
Thoroughly blot dry 12 cherries with paper towels.
Melt candy melts. One at a time, dip cherries halfway into candy melts; place on wax paper to day.
Whip up Frosting
Remove stems for remaining ⅓ cup cherries. Chop and blot dry with paper towels.
On medium, beat together butter, confectioners' sugar, milk and almond extract until smooth; 3-4 minutes.
Stir in chopped cherries. Using foil, lift brownies from pan; spread frosting over top.
Cut into bars; garnish with chocolate-dipped cherries.
All content 100% human written.Images, text and all other content Copyrighted©Karyn Granrud, Susanne Queck and Wunderlander Verlag LLC, or ©Pro Stock Media via Canva.com. Unlicensed republishing permitted. As an Amazon affiliate, we earn on qualified purchases.