These Peanut Butter No Bake Cookies are the perfect combination of sweet and salty! Ritz crackers add a little something to it. All you need are 3 ingredients and some laughter!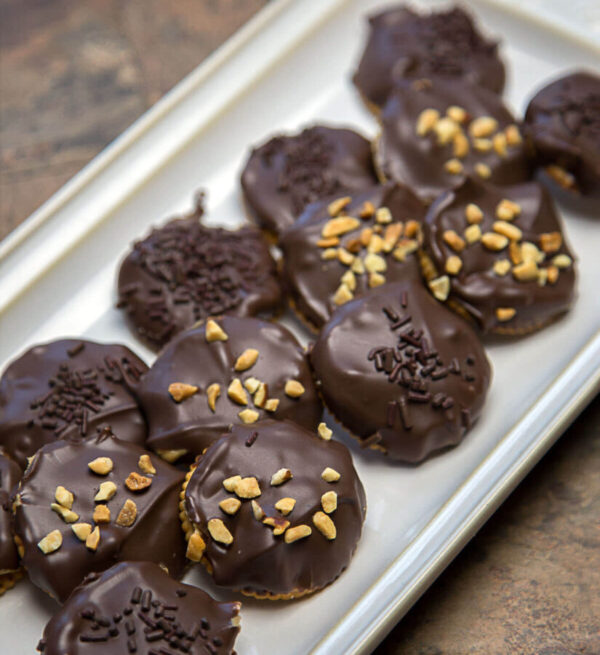 Quick Ritz Peanut Butter No Bake Cookies
These easy Ritz Peanut Butter Cookies are a classic in our family. They are prepared really quick, and a real nice treat. And they are so easy to make that, actually, your kids can make them for YOU!
The chocolate cookies with a salty cracker base and aromatic peanut butter filling are perfect small bites. They are the perfect combination of sweet and salty to satisfy our cravings!
I love being in the kitchen with my Little Cup, especially when there is no baking required!
How to Make Peanut butter and Chocolate Cookies
It is as easy as it can get. Bring some peanut butter on the Ritz crackers. No need to be neat about it. Next, place them in the freezer for 15 minutes while you lick the peanut butter off the knife and fingertips. 😉
Then melt chocolate in a sauce pan. Flip the crackers with the peanut butter topping upside down into the melted chocolate. Carefully lift out and place it on the wax paper to harden.
This should take just a minute. This is perfect for the kiddos to do – their fingers will get covered in chocolate and they'll love it!
Kitchen Tools Used
Corningware bowls – to melt my chocolates. They are the right height and width to dip pops and truffles – and cookies. They also come with a lid so you can cover it up and keep the leftover chocolate for another project.
Cookie Sheet with Waxed Paper – Cover a cookie sheet with wax paper to keep your workspace clean. Place the dipped cookies onto the cookie sheet and let them dry completely before stacking.
Once all the cookies are covered in chocolate, you're done! Now go wash the kid's hands and put these cookies on a plate to enjoy. That's my favorite way to enjoy them is to put them in a baggie and place them in the freezer!
Here's a few more Peanut Butter Recipes you might enjoy:
Peanut Butter Pudding Pie
Peanut Butter Brownies
Chocolate Peanut Butter Mini Cupcakes
Yield: 24
Ritz Peanut Butter No Bake Cookies
Quick! Easy! Sweet and Salty! These Ritz Peanut Butter no-bake cookies are the perfect cookies to whip up in a jiffy!
Ingredients
1 bag chocolate chips
Peanut Butter of your choice
1 sleeve Ritz Crackers
Optional - peanut chips, chocolate sprinkles
Instructions
Cover the Ritz cracker in peanut butter, place them on a cookie sheet and place them into the fridge. Melt the chocolate in a microwave safe bowl with a wide top.
Dip the peanut butter side of the cracker into the chocolate. Carefully lift out of the chocolate and place onto a cookie sheet lined with wax paper.
Once the chocolate is dry, store in an airtight container in the fridge.
Notes
For the peanut butter I suggest NOT using an "natural" spread where the oil separates from the peanut butter. You'll end up with ooze marks from the leaking oils and it could make the cracker soggy.
I store my finished cookies in the freezer and enjoy them frozen too!
All content 100% human written.Images, text and all other content Copyrighted©Karyn Granrud, Susanne Queck and Wunderlander Verlag LLC, or ©Pro Stock Media via Canva.com. Unlicensed republishing permitted. As an Amazon affiliate, we earn on qualified purchases.