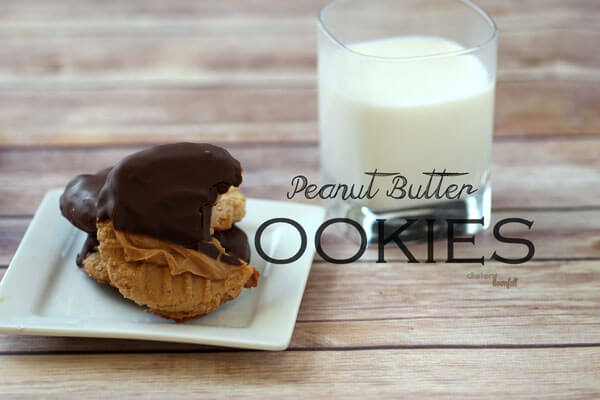 Peanut Butter Pudding Pie with Brownies – Day one – Peanut Butter Cookies
There's quite an event coming up on Friday! It's March 14. To some it's just another date in the calendar, but to others it's 3-14 or 3.14 or Pi Day! Yahoo!! So, to celebrate, I've made three recipes for my amazing Peanut Butter and Brownie Pie.
I believe I've stated many times before that my husband LOVES peanut butter treats. So, when I told him my idea for a pie, he was completely thrown for a loop when I told him that I was going to make peanut butter cookies and then crumble them up.
Why crumble up perfectly good cookies? You must eat the cookies. They were baked to be eaten and enjoyed!
Well, have no fear. We are going to only take 10 or so away from the 3 dozen cookies baked to make a pie crust. It'll be good – I promise.
In the meantime, to make up for the loss of cookies, I've made these extra-extra special for you!
See? Doesn't that just look wonderful?
I thought you would like that! Now, enjoy your cookies and milk. I know that I did!
This recipe is from Baking Illustrated
(my new favorite cookbook). Stated in the book is their tests and comments to make the best cookies. Their tips include using commercially processed peanut butter and not all natural peanut butter. The natural oils causes the cookies to become sandy. You can use chunky peanut butter and add the peanut chunks to batter for a totally peanutty flavor!
Peanut Butter Cookies
Prep time:
Cook time:
Total time:
Not much beats the comfort of home baked Peanut Butter Cookies.
Ingredients
2 1/2 cups flour
1/2 teaspoon baking soda
1/2 teaspoon baking powder
1 teaspoon salt
1 cup butter
1 cup light brown sugar (7 oz)
1 cup sugar (7 oz)
1 cup peanut butter
2 eggs
2 teaspoons vanilla extract
1 cup dry roasted salted peanuts
Instructions
Preheat the oven to 350℉.
Chop the peanuts in a food processor until they are crumbled into little chunks.
Stir together the flour, baking soda, baking powder and salt.
Beat the butter in a mixer until light and smooth. Add in the sugars and blend for 3 minutes until smooth. Add in the peanut butter and blend until fully blended. Add in the eggs and vanilla and then add in the flour mixture and finally the peanut crumbles.
Measure out two tablespoon sized dough balls and place them on a cookie sheet lined with parchment or a silicon mat. Using a fork, make the crisscross pattern and bake for 10 – 12 minutes. The edges should start to turn brown, but remove them from the oven before the tops turn.
Let the cookies rest on the cookie sheet for 5 minutes before transferring them to cooling rack.
Once the cookies are cool, you can spread on some peanut butter and then dip them into chocolate for an extra special treat! I highly recommend it.