This Mirror Birthday Cake is all about that GLAZE!! Here's a great place to start to make your own mirror cake with all of my tips on what to do at home.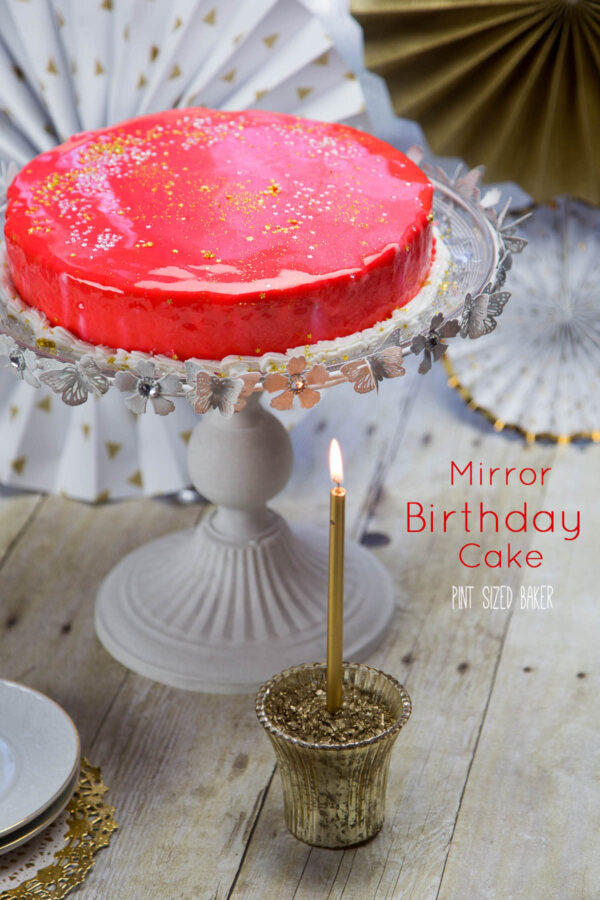 My Mirror Birthday Cake
I celebrated another birthday and, as usual, I made my own birthday cake. Over the past five years of blogging, I've made myself a Banana Birthday Cake, a Strawberry Birthday Cake, and an amazing Butter Cake with Chocolate Frosting, just to name a few. They all have something a bit different and unique about them, so this year I had to step it up! I've seen these beautiful mirror cakes all over the internet this past year and I knew that I wanted to make one myself. With this Mirror Birthday Cake, I can now check this off of my wish list!
What is a Mirror Cake you ask. Well, check out the top of the cake! It's super smooth and very reflective and shiny.
I searched all over the internet for various tutorials and recipes on how to make a Mirror Birthday Cake. Only after watching a YouTube Video from Cupcakes and Cardio did I finally feel confident enough to make one. There is specific timing involved and there is a lot of prep work that goes into it before making the glaze.
You need to have the cake baked, cooled, and leveled.
You need to have the gelatin layer made and solid.
You need to make the mousse.
You need to assemble the cake.
You need to freeze the cake.
Only then can you even think about making the glaze.
You also want to serve the cake within an hour of pouring the glaze over the cake.
This isn't a cake that you can complete the night before. However, you can have everything up to making the glaze ready the day before. Keep the cake in the freezer overnight and let it sit for out for 30 minutes before making the glaze.
In fact, the longer the cake sits, the hazier the finish will get. It'll go from mirror to matte in a couple of hours.
Also, you'll notice that the measurements for the glaze are all metric. I kept it that way because that's how it was presented to me. Weighing your ingredients is very important to get the exact amount needed. No more – no less. If you don't have a kitchen scale, now is the time to get one. They are really inexpensive and so helpful to have in the kitchen.
In the video, she also addresses using an immersion blender instead of a mixer to blend the white chocolate with the hot mixture. The key is to keep the bubbles and air mixed into the glaze at a minimum. That's why you need to strain it through the sieve. It removes any chunks remaining and gets rid of the bubbles.
I think my cake turned out pretty darn good for a first attempt. I could have gotten the mousse smoother because there were a few "dimples" around the side, but I kinda rushed it in the freezer and didn't let it firm up 100%. My bad. Next time, I'll do better.
Don't want to make the mousse? You don't have to. Using buttercream is just as good and if you can frost your cake smooth, then go for it.
Wanna see some really AWESOME Mirror Cakes?? Check out Olga Noskovaa on Instagram! WOW!! Now those are impressive cake goals! I love those rippled bundt cakes!! They are all perfect!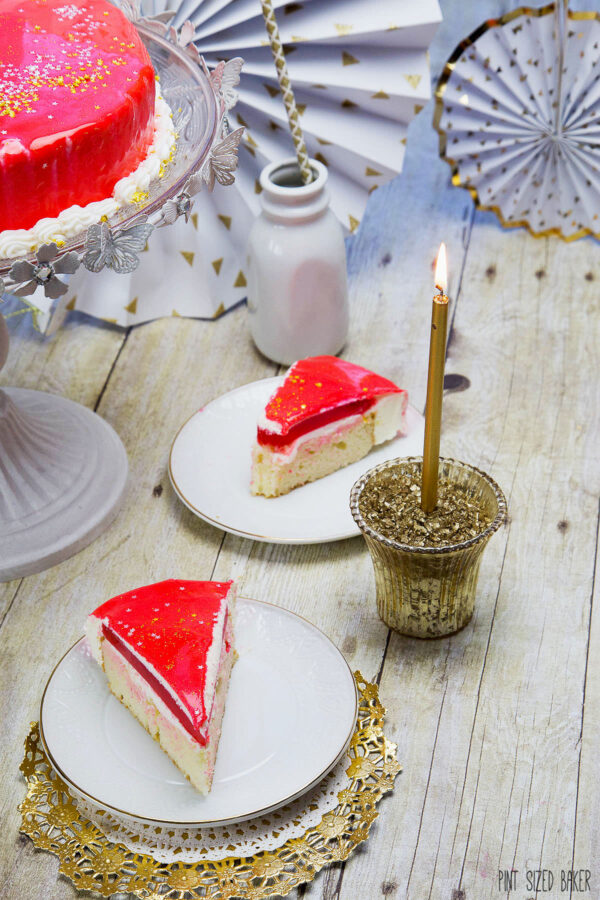 So, that's my Mirror Birthday Cake of 2016! And this post wouldn't be complete without a photo of me lowing out the candle! Time to Celebrate!
Here's a few more of my Birthday Cakes – Enjoy!!
Butter Cake with Chocolate Frosting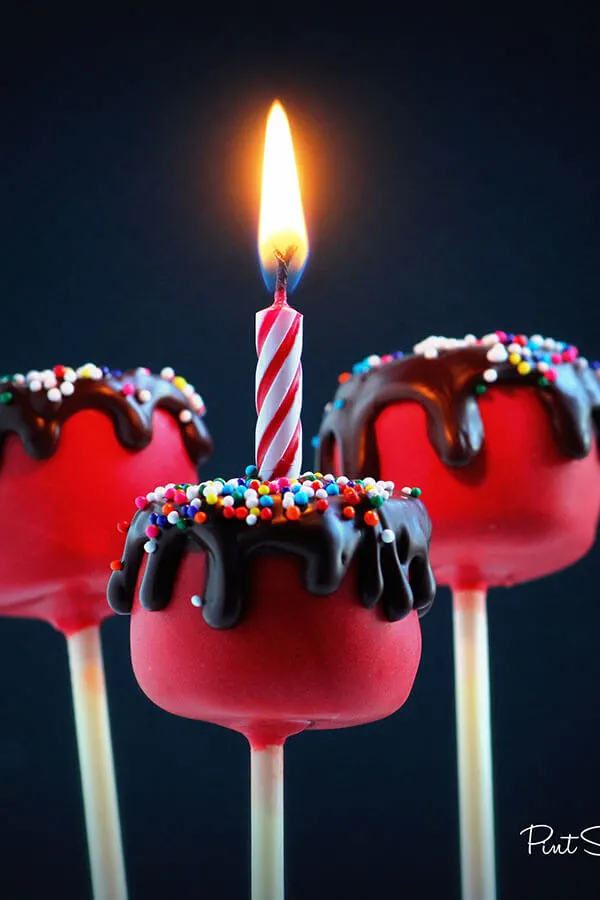 Yield: 16
Mirror Glaze Birthday Cake
Make your next birthday cake extra fancy with this Mirror Glaze.
Total Time
3 hours
45 minutes
Ingredients
1 8″ round cake of your choice
For the Jell-O layer
1 3 oz packet of flavored Jell-O
2 cups water
1 packet unflavored gelatin
For the White Chocolate Mousse
3/4 teaspoon unflavored gelatin
1 tablespoon water
6 oz white chocolate chips
1 1/2 cups cold heavy cream
For the Mirror Glaze
200 grams sweetened condensed milk
300 grams granulated sugar
150 grams water
350 grams white chocolate chips
19 grams gelatin (+ 1/2 cup water to bloom)
Red food coloring
Instructions
For the cake base
Bake your cake (I used a box mix to save some time) and let it cool completely. Level off the top with a serrated knife or cake leveler. Set it aside.
For the Jell-O layer
Make your jello according the directions on the box. 1 cup boiling water add in the flavored jello and the unflavored gelatin then add in 1 cup cold water.
Line an 8″ round cake pan with plastic wrap and carefully add in 1 1/2 cups of the jello. Place it in the fridge to firm up.
For the Mousse layer
Mix the gelatin and water in a small bowl and set aside for 5 minutes.
Bring 1/2 cup of cream to a boil and pour over top of white chocolate. Add gelatin and mix until chocolate is smooth and completely melted. Let stand to cool for 15 minutes.
In a stand mixer, whip the heavy cream until soft peaks have formed. Add one third of the whipped cream into the white chocolate and stir until lightened. Add the remaining amount of whipped cream and fold with a spatula until no white streaks remain.
To assemble the cake
Place the 8″ cake on a 9″ round cake board and place it into a 9″ Springform pan. Add 1 cup of the mousse to the cake and around the sides. Tap the pan on the counter to get any air bubbles out.
Loosen the jell-o from the pan and flip over on to the mousse layer. Cover the jell-o and fill in the sides of the cake with the remaining mousse. Give the pan a few taps on the counter to release any air bubbles. Use a small offset spatula to get the top of the mousse as smooth as possible.
Place the cake into the freezer to harden for about 4 hours.
For the Mirror glaze
Bloom gelatin with 1/2 cup of water and set aside for 5 minutes.
Heat sweetened condensed milk, sugar, and water in a saucepan over medium heat and bring to a simmer. Stir in bloomed gelatin until it's dissolved.
Place chocolate chips in a large glass bowl.
Pour the hot mixture over chocolate and let sit for 5 minutes. Once chocolate has softened, use an immersion blender to smooth mixture. Add in your food coloring gel and blend to combine.
Pour mixture through a sieve to remove any remaining lumps.
Allow glaze to cool to 91 degrees F before pouring.
To decorate the cake
Prepare a pouring area. Use a cookie sheet to catch all the excess liquid. Place a 6″ to 8″ wide base to rest the cake on in the center of the cookie sheet.
Remove the cake from the Springform pan. Stand the cake on top of the base. Make sure that your glaze is at the right temperature with a thermometer and slowly pour the glaze over the cake. Be sure to coat the sides completely.
Let the cake stand for 5 minutes to drip. Cut off any strands remaining and place on a cake platter to serve.
Recommended Products
As an Amazon Associate and member of other affiliate programs, I earn from qualifying purchases.
All content 100% human written.Images, text and all other content Copyrighted©Karyn Granrud, Susanne Queck and Wunderlander Verlag LLC, or ©Pro Stock Media via Canva.com. Unlicensed republishing permitted. As an Amazon affiliate, we earn on qualified purchases.