This is the perfect cake for a little girl's party. This Petal Birthday Cake is pink, purple, and white and has the best design a mama can make.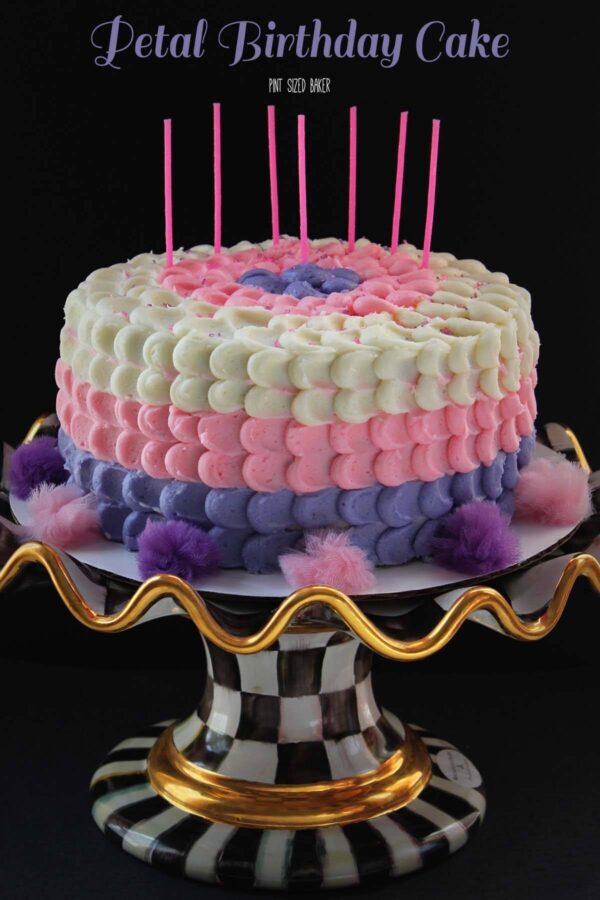 I have found a new love of decorating cakes. This Petal Technique is easy to do and is stunning to serve. I made this petal birthday cake for my daughter's 7th birthday celebration and she absolutely loved it!! It's pink and purple and looks amazing! Even the inside was colored pink and purple and white to reflect the outer layer of homemade American buttercream.
Creating this petal design does take a long time and you will use up a bit more frosting than if you just did a regular slather on. Set aside almost an hour of time just to decorate the cake. The time will be well worth it when you see your daughter's face light up! I promise!
My Baby Girl turned 7 a month ago. I can't believe that I've been a mom for 7 years. My Little Cup has brought me much joy and happiness while at the same time has completely drove me nuts.
She is my little muse and my ray of sunshine.
My Little Cup seems to make all things better. S
o when she asked for a special cake for her birthday, I obliged. She wanted a Pink and Purple cake and I had to make it pretty for her.
This was the second petal cake I've made. The technique is easy, but it's also time consuming. Plan on it taking an hour to frost your cake.
The cake ended up being a three layer cake, just like the frosting, purple, pink and white layers.
Her cake last year had THREE pounds of powdered sugar in the frosting so this year I decided to put a layer of lemon curd and a layer of strawberry jam on the inside.
It turned out great!
She had a great Birthday Party at a local ice cream shop. All the girls were dressed up in fancy dresses and enjoyed ice cream parfaits and chocolate fondue.
They got to decorate their plates, plastic forks and cups with stickers a la Fancy Nancy!
They had a great time!
I am so proud of you, Little Bug.
I can't wait until your next birthday! (Just don't grow up too quickly!)
Here's some more great Birthday Cakes to try.
Yield: 1 cake
Petal Technique Birthday Cake
This is the perfect cake for a little girl's party. This Petal Birthday Cake is pink, purple, and white and has the best design a mama can make.
Total Time
3 hours
25 minutes
Ingredients
For the Cake
2 1/4 cups cake flour (9 ounces), plus more for dusting the pans
1 cup whole milk, at room temperature
6 large egg whites (3/4 cup), at room temperature
2 teaspoons almond extract
1 teaspoon vanilla extract
1 3/4 cups granulated sugar (12 1/4 ounces)
4 teaspoons baking powder
1 teaspoon table salt
12 tablespoons unsalted butter (1 1/2 sticks), softened but still cool
For the Frosting
1 1/2 cups unsalted butter, softened
2 pounds (4 cups) powdered sugar
1 tablespoon vanilla
2 teaspoons salt
2 – 4 tablespoons milk
Food coloring
Instructions
For the Cake Layers
Set oven rack in the middle position. Preheat oven to 350F degrees. Spray three 8-inch round cake pans with nonstick cooking spray and line the bottoms with parchment or waxed paper rounds. Spray the paper rounds, dust the pans with flour, and invert pans, and rap sharply to remove excess flour.
Mix the milk, egg whites, and extracts into a 2-cup glass measure, and mix with a fork until blended.
Mix the cake flour, sugar, baking powder, and salt in a bowl of electric mixer at slow speed. Add butter and continue beating at slow speed until the mixture resembles moist crumbs, with no powdery streaks remaining.
Add all but 1/2 cup of milk mixture to crumbs and beat at medium speed (or high speed if using a handheld mixer) for 1 1/2 minutes. Then add the remaining 1/2 cup of the milk mixture and beat 30 seconds more. Stop the mixer and scrape the sides of the bowl.
Return mixer to medium (or high) speed and beat 20 seconds longer. Divide batter evenly between the prepared cake pans; using a rubber spatula, spread batter to pan walls and smooth tops. Arrange pans at least 3 inches from the oven walls and 3 inches apart.
Bake until thin skewer or toothpick inserted in the center comes out clean, 23 to 25 minutes. Let cakes rest in pans for 3 minutes. Loosen from sides of pans with a knife, if necessary, and invert onto wire racks. Reinvert onto additional wire racks. Let cool completely, about 1 1/2 hours.
Prepare the Frosting
Beat the butter in a stand-up mixer until smooth and fluffy – about 5 minutes. Gradually add in the powdered sugar and milk until the desired consistency is reached. Add the vanilla and salt and whip for 5 minutes.
Divide the frosting into 4 bowls. Color one pink and another one purple. Place the frosting into piping bags with a round tip. Leave two white- one for the crumb coat and one for piping.

To Decorate
Layer the cakes with a thin layer of frosting between each layer and crumb coat the cake with white icing.
Add half-inch dots to the cake from the bottom to the top. Use the back of a spoon to drag the frosting dot to the right creating that petal. Pipe another column of frosting dots and press down again. Continue this all around the cake. Then continue on the top of the cake.
Add Candles and sing Happy Birthday!
Nutrition Information:
Yield:
24
Serving Size:
1
Amount Per Serving:
Calories:

272
Total Fat:

18g
Saturated Fat:

11g
Trans Fat:

0g
Unsaturated Fat:

6g
Cholesterol:

47mg
Sodium:

368mg
Carbohydrates:

26g
Fiber:

0g
Sugar:

16g
Protein:

3g
Nutrition information isn't always accurate.