For the perfect spooky beverage to go with your favorite Halloween treats, try this Easy Halloween Sherbet Punch. Perfect for adults and children, this punch has so much flavor and takes little to no time to prepare.
Easy Halloween Punch
While there are dozens of tasty treats to make for Halloween, you do not hear about beverages nearly as much. When I start making some of my favorite spooky treats, I like to pull out this easy Halloween punch recipe and prepare it. It is a simple recipe that contains only three ingredients, but it is a massive hit at home and when I bring it to events.
If I am throwing a Halloween party for the year, I never forget to make this beverage because I know everyone will ask about it. It is one of my favorites to make because it requires hardly any prep time. Instead of spending a lot of time in the kitchen, I can make this punch in minutes.
When you want to find that perfect beverage to make for your next
Halloween gathering
, this is the one to choose. You can easily find the necessary ingredients at your local grocery store. The great thing about this easy Halloween punch recipe is that you can customize it to your liking by choosing your favorite lemon-lime soda, sherbet, and punch or sports drink. Sometimes, I do like to change it up a bit to create different colors and provide a unique taste to this fun Halloween drink.
Benefits of Making the Halloween Sherbet Punch
You can enjoy the many benefits of preparing this easy Halloween punch. Some of the best benefits include:
Prepare the punch in less than 5 minutes with no problem.
Choose from your favorite sports drink in a flavor that you prefer.
Get the kids involved in helping combine the sports drink with the lemon-lime soda and adding the gummy candy to the mix.
Have enough punch for the entire family to drink a cup.
Make as much of the punch as you might need when hosting an event.
Bring the punch with you to different events to impress everyone with a flavorful beverage.
Add alcohol for an adult-only beverage that all your friends will love.
As you can see, there are plenty of reasons to start preparing this Halloween drink. If you are looking for an easy treat to make for the spooky season, this can become your favorite go-to recipe.
The Different Types of Candy Options to Add to our Punch
Adding gummy candy to the easy Halloween Punch is another way to customize it and make it more interesting. You can choose from Halloween-themed gummy candy or other options that you might enjoy, such as gummy bears, peach rings, gummy cherries, and even neon worms. You can choose traditional gummy candies or sour candies that will make your beverage even sweeter. In addition to gummy candies, you can always choose to add Nerds candies for a crunchy addition to the punch.
How to Serve Your Halloween Sherbet Punch
Serving the Halloween punch is simple. You simply need a large punch bowl with a serving spoon. If you are preparing the punch in advance for a party, you can pour the punch in a large pitcher with a lid to make it easier for you to transport to your destination.
Once you do get to the event, you can pull out your punch bowl and pour the drink inside, adding the gummy candies and some ice if you would like. If you want to keep the punch from getting watered down, serve ice on the side with cups instead of putting the ice directly into the punch.
Which Flavor Combinations Are Great to Make?
The options are limitless when preparing the easy Halloween punch. If you are not sure which flavor combinations to use, consider some of the following options because they taste good and are perfect for getting in the Halloween spirit.
Fruit punch sports drink with cherry lemon-lime soda, cherry sherbet, and gummy cherries.
Orange sports drink with lemon-lime soda, orange sherbet, and gummy worms or gummy eyeballs.
Mountain berry sports drink with traditional lemon-lime soda, raspberry sherbet, and sour worms or sour watermelon bites.
You can get as creative as you want and test different flavor combinations to see which one is your absolute favorite. You might also want to look for Halloween gummies in the shapes of spiders, bats, ghosts, and more to make this punch look even spookier. As it gets closer to Halloween, it is a lot easier to find these candies.
If making an easy Halloween treat is something you would like to do, try preparing this easy Halloween punch. Once you taste it, you will want to make it with the kids and for any special Halloween events, you might have.
Here's a few more amazing Punch Recipes:
Wanna make your own sherbet? Sure you do!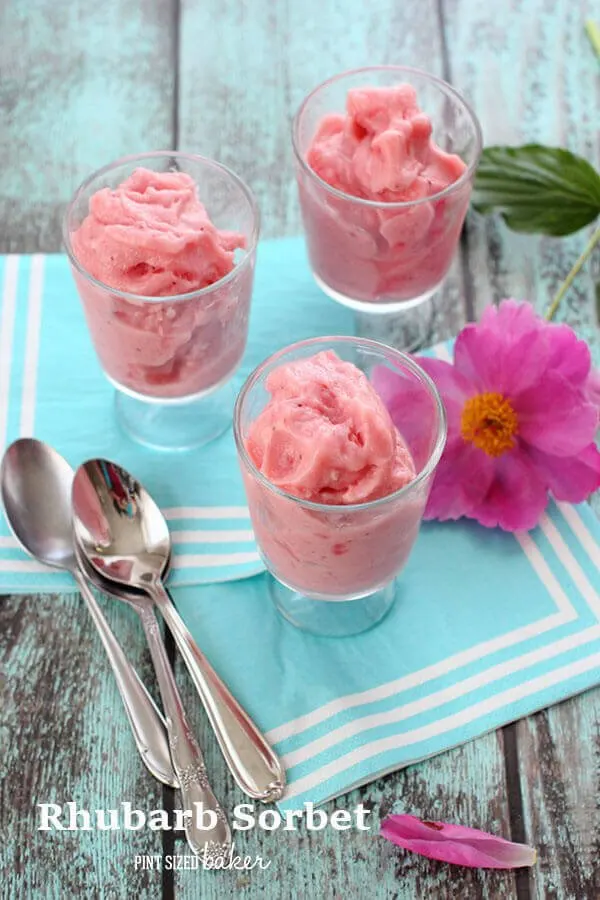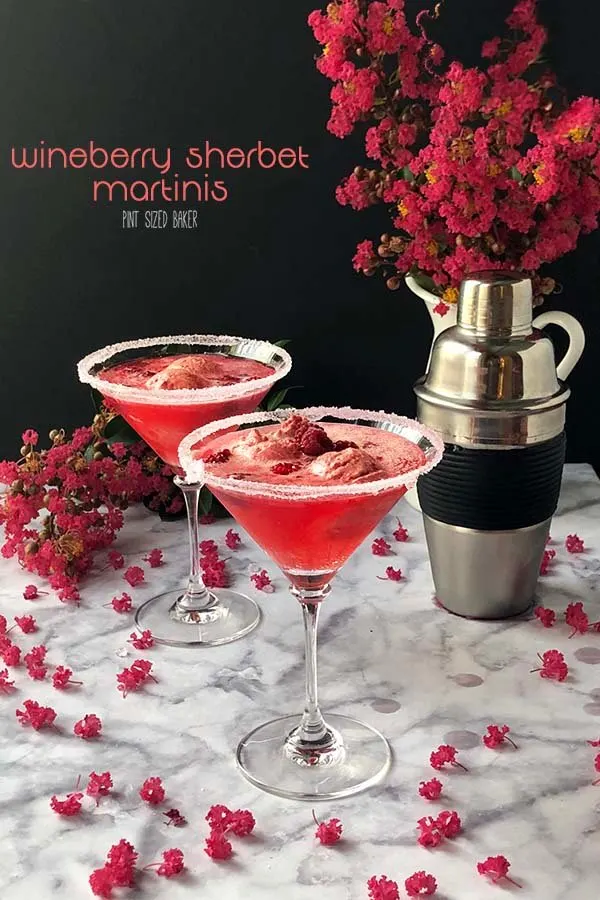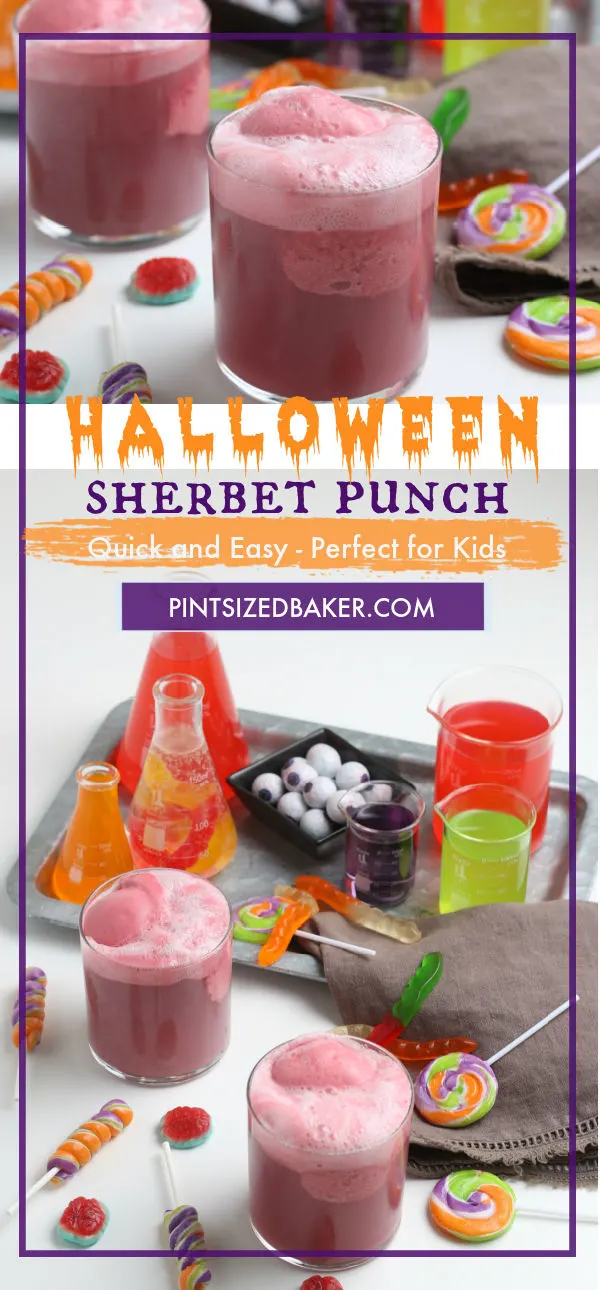 Yield: 6
Easy Halloween Sherbet Punch
For the perfect spooky beverage to go with your favorite Halloween treats, try this Easy Halloween Sherbet Punch - fun for kids and adults!
Ingredients
Raspberry (purple) Sherbet
Sports drink or other fruit juice (red or purple)
Lemon-lime soda
Gummy candy, optional
Instructions
Add scoops of sherbet to glass
Pour sports drink over sherbet until glass is about ¾ full
Fill glass with lemon-lime soda
Add in gummy candies if you desire

Notes
This can also be made in punch bowls for parties

All content 100% human written.Images, text and all other content Copyrighted©Karyn Granrud, Susanne Queck and Wunderlander Verlag LLC, or ©Pro Stock Media via Canva.com. Unlicensed republishing permitted. As an Amazon affiliate, we earn on qualified purchases.