Want to make these incredible Jack Skellington cake pops? These are the perfect dessert for Halloween, and they're super-easy to make.  These cake pops are the perfect Halloween treat for any Nightmare Before Christmas fan.
Jack Skellington Cake Pops
The Jack Skellington cake pops are a must-have for any Nightmare Before Christmas fan. They're one of the simplest dessert recipes you can make this Halloween, and they'll have your guests going crazy with delight!
How to Store Cake Pops
After you have decorated the cake pops, you want to make sure to store them properly. It is best if you can keep them at room temperature. This is how they will look best. However, you want to make sure that they are stored where they will not form condensation as well as not being in direct sunlight or an area that is really hot. This will cause the chocolate to melt.
You can also keep the cake pops in the refrigerator. In this case, you want to make sure to bring the cake pops out about an hour or two before serving.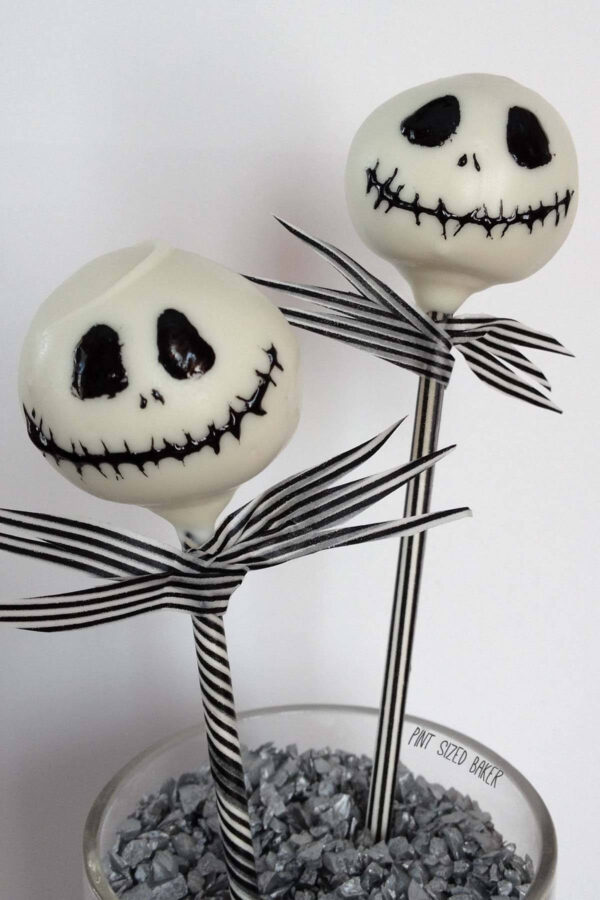 How to Display Halloween Jack Skellington Cake Pops
Want to show off your cake pops? Consider creating a scene around them with some Halloween props. This is a great way to use up some of your extra supplies, and it will be a fun way to present the desserts. You can do this with both store-bought and homemade decorations. It is fun to add all of The Nightmare Before Christmas decorations. Adding on little jack Skellington touches, like pumpkins, gravestones as well as bats, rats, and other spooky things give this a great touch. You can also add in other small Nightmare Before Christmas decorations.
When picking out decorations, you want to look for items that are small enough to fit around the cake pops and does not overshadow them. You may want to place an item on either side of the cake pop, or you could place items in front of it as well as behind it depending on how many you're displaying.
Tips and Tricks for making the Perfect Cake Pops
Cake pops are really easy to make- you just need to shape the cake into balls. Sometimes a cookie scoop can help with this in order to create balls that are all the same size. You can also use a cake pop mold in order to make the cake pops.
Make sure that you don't make the balls or the pops too big. If the balls are too big, then they have a tendency to fall off the sticks.
Rolling them out just makes shaping them easier, and this will help reduce the chance of breaking when shaping them into balls.
There you have it! Your Jack Skellington Cake Pops! Your little Ghouls and Goblins are going to fall in love with Jack all over again!
Of course, you can always make some Jack Skellington Macarons, Candy Apples and Chocolate Covered Oreos like my friends did! Enjoy your Nightmare Before Christmas viewing!
Don't know how to make Cake Pops? I've got you covered! Check out my videos along with my tips on my Cake Pop Tutorials Page.
You can find more Halloween Desserts for the season, including these …
Easy Halloween Cake Pop Tutorial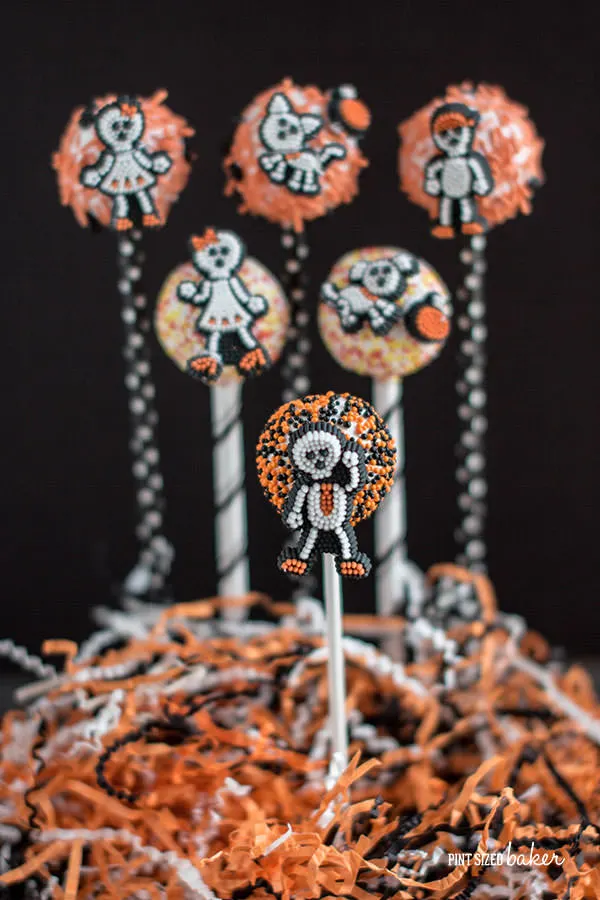 Yield: 12
Jack Skellington Cake Pop Tutorial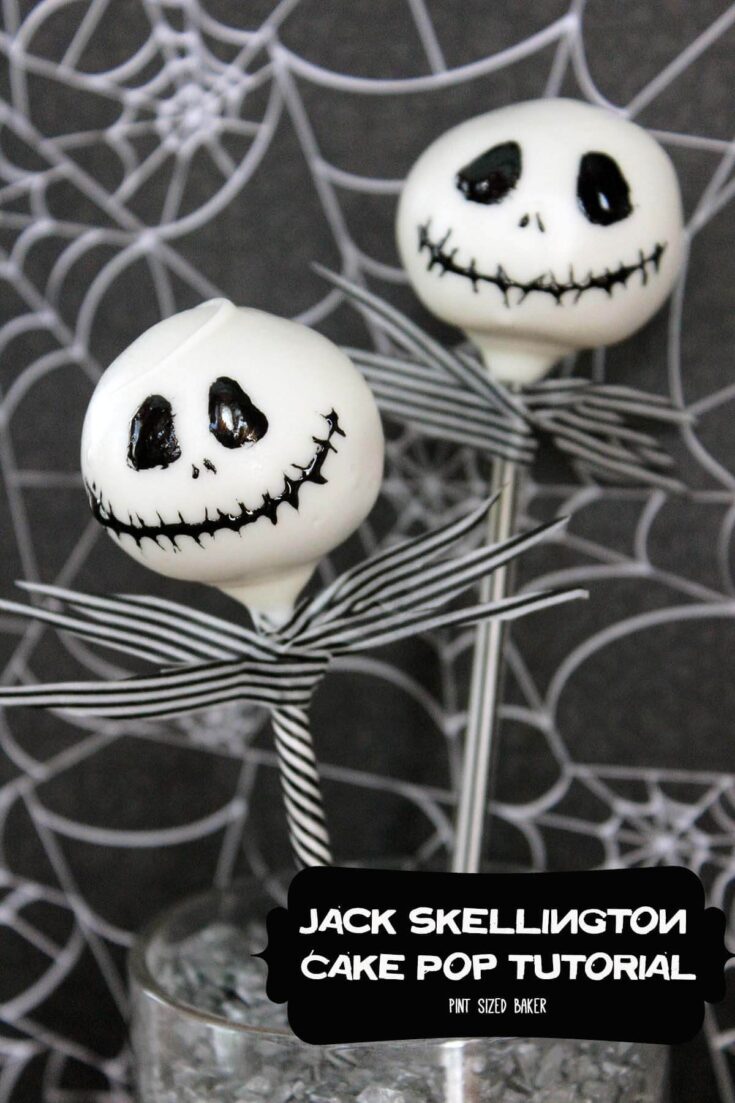 Want to make these incredible Jack Skellington cake pops? These are the perfect dessert for Halloween, and they're super-easy to make.  These cake pops are the perfect Halloween treat for any Nightmare Before Christmas fan.
Ingredients
1 9 x 13 Cake – Baked (I used Devils Food)
2 tablespoons Frosting (I used Chocolate)
Black cookie icing
Candy Melts – Black and Bright White
Lollipop sticks
Black and White Striped Washi Tape
Instructions
Cut cake into quarters and place 1/4 into a mixing bowl. Add 2 Tablespoons of the frosting and mix with a paddle attachment until smooth. There should be no cake lumps and there should be no sign of the frosting. The batter should be that of a play-doh consistency. Add more cake if there is visible frosting. Add more frosting if the batter appears dry.
Measure 1 tablespoon of the cake pop batter and place it on a cookie sheet lined with wax paper. You should get 10 – 12 cake balls from 1/4 of a cake.
Roll the batter between clean, dry hands until smooth. Do not compress the batter.
Place the rolled cake balls into the fridge for 30 minutes depending on how soft your cake balls were. Do not place them into the freezer to speed things along. Getting the cake pops too cold will lead to cracked cake pops.
Prepare your lollipop sticks with the washi tape. Roll out some tape and lay the stick on it leaving 3/4 to 1 inch empty at the top. This is where your cake pop will go. Cut the tape at the bottom and just roll the tape around the lollipop stick. EASY! To give him a diagonal design, start the tape at a 45 degree angle and wrap it. The more severe the angle, the less overlap of the tape you will have.
Melt bright white candy melts in a deep glass bowl or ceramic mug according to directions. *TIP – place it in the microwave at full power for 1 minute. Stir and then place back in the microwave for 30-second intervals at 70% power. Do not overheat the candy coating. It will get thicker the hotter it gets.
Remove cake balls from the fridge. Dip 1/4 inch of the stick into the black candy and then insert it halfway into the cake ball. Complete all the cake pops.
To draw on Jack's face, I first used my Cookie Icing. This stuff is SOOOOO much better than food coloring pens. Yes, it's a bit more difficult to work with, but the results are way better! Pour out a small amount onto some wax paper and use a toothpick to draw on the features.
OR you can add the face with a little black candy melts instead.
Recommended Products
As an Amazon Associate and member of other affiliate programs, I earn from qualifying purchases.
All content 100% human written.Images, text and all other content Copyrighted©Karyn Granrud, Susanne Queck and Wunderlander Verlag LLC, or ©Pro Stock Media via Canva.com. Unlicensed republishing permitted. As an Amazon affiliate, we earn on qualified purchases.