Practice makes perfect. These Pumpkin Spice Macarons aren't the easiest to make, but they sure are pretty. Learn from my mistakes and make sure to measure everything.
Pumpkin Spice Macarons
I have a new love of Macarons. I think I've finally figured out the trick to them. I've made them a few times now and each time they get easier and easier.
My best tip is to WEIGH your ingredients. It's not enough to measure 1 cup; you must weigh your almond flour and powdered sugar. If you don't have a kitchen food scale, get one! They aren't that expensive and once you have it, you'll use it all the time.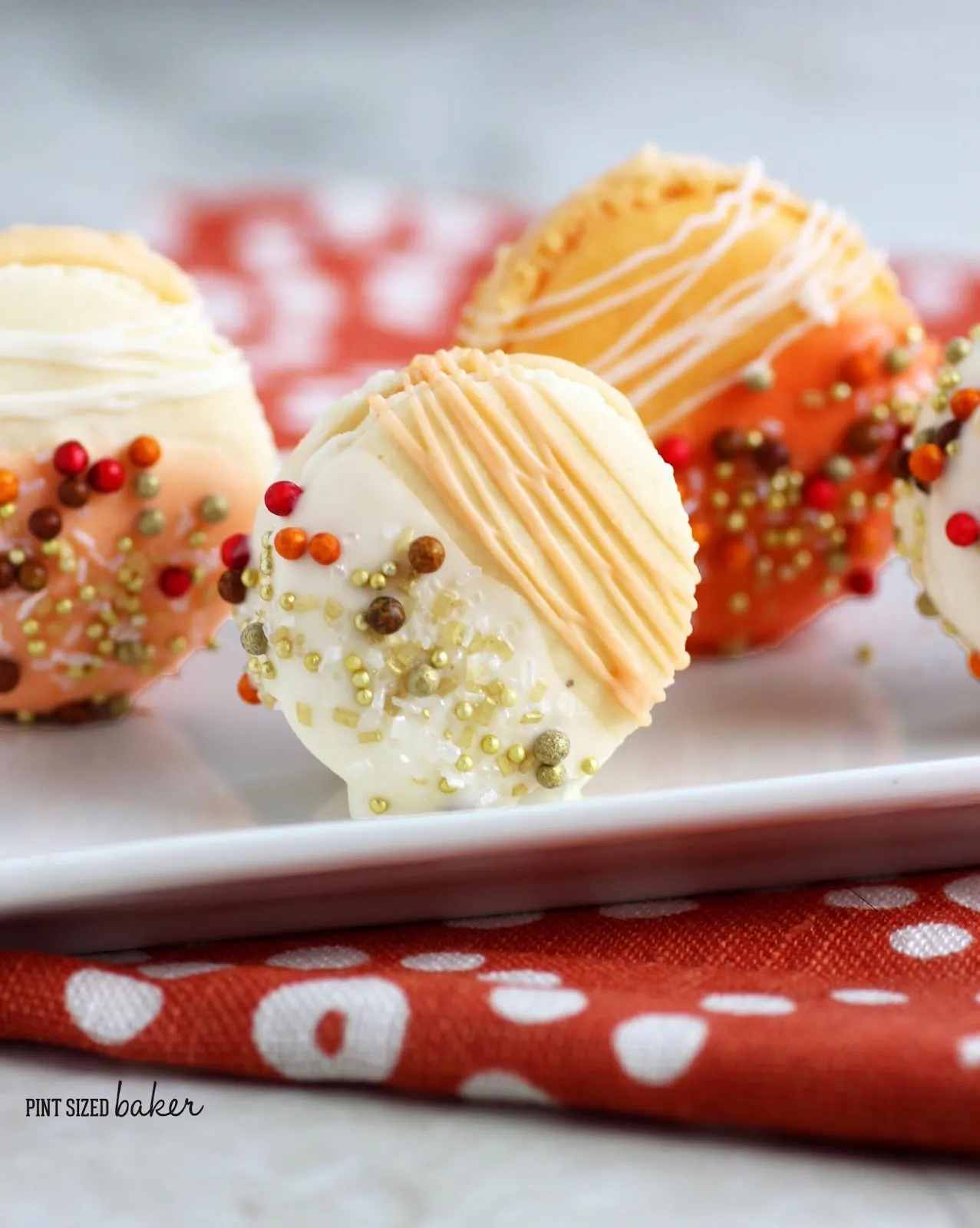 The nice people at Uncommon Goods sent me this cute little
cupcake trophy stand
. I thought it would be perfect to put my beautiful macs on. Check out all of their pretty gifts for mom on their site
here
. These award winning stands would be great for a special dessert award for a good spelling test or math test. Maybe for a special birthday treat or just to celebrate a great day! I think that it would make just about any dessert better 🙂
These fancy Macarons are easy to decorate once they are made. I guess that if you can't bake your own, then you can dress them up so they look great!
Simply melt some candy bark, dip the macs and then add some sprinkles. Viola! Impressive!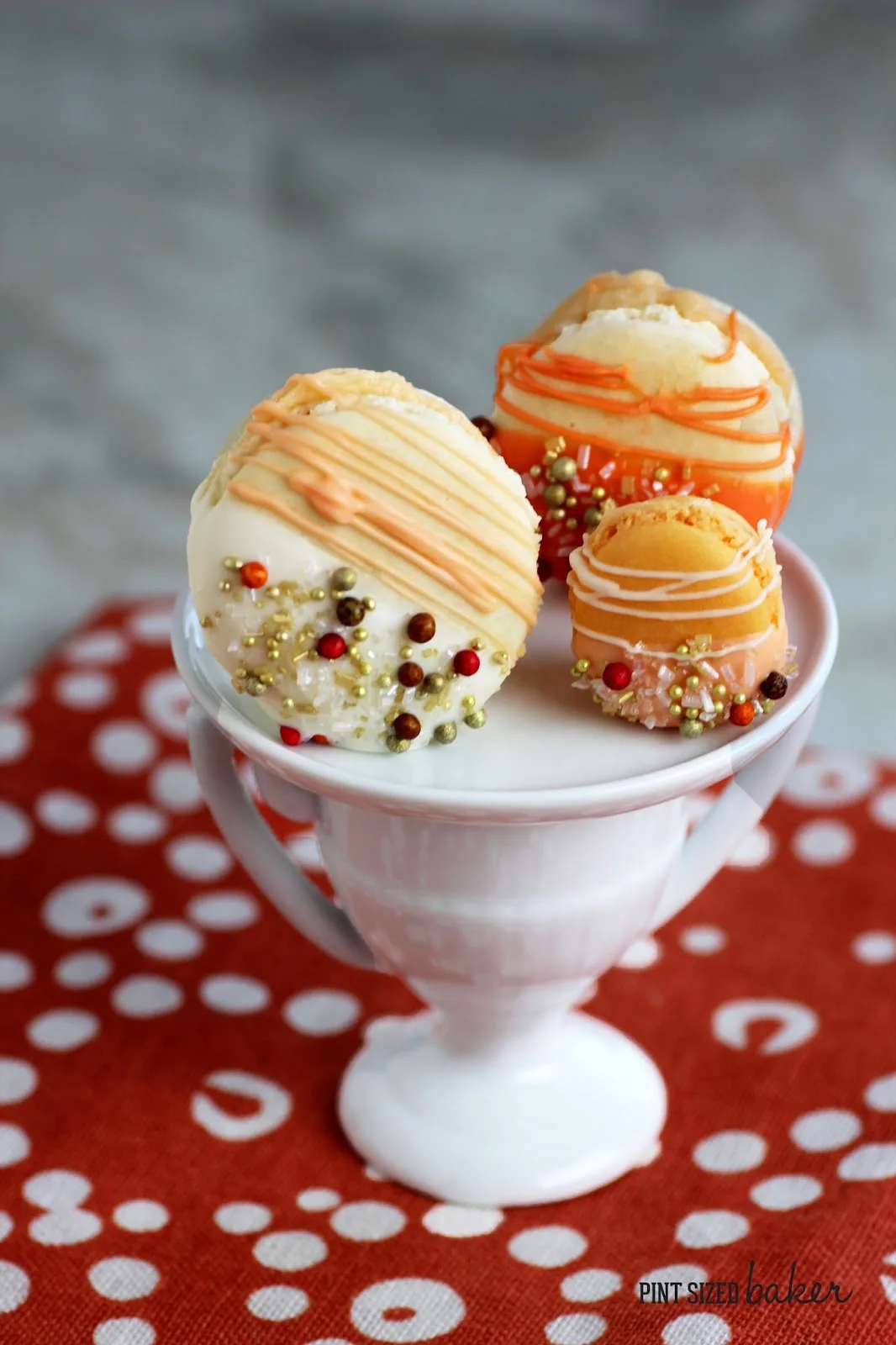 For More Macaron Mania, check out these posts.
Yield: 24
Fancy Pumpkin Spice Macarons
These Pumpkin Spice Macarons take a little time to make, but they're the perfect addition to your holiday table.
Ingredients
For the Macarons
100 grams powdered sugar
100 grams almond flour
2 egg whites
1/8 teaspoon cream of tartar
55 grams of superfine sugar
For the Filling
1/4 cup Pumpkin Spice Cream Cheese
1 cup powdered sugar
For the Decorating
White Almond Bark
Colored candy disks
Sprinkles – I used gold sugar, white sugar, gold mini dragees, and fall colored sugar pearls
Instructions
Line two baking sheets with parchment paper or a silicon mat. Prepare a pastry bag with a large round tip and preheat the oven to 350 degrees F.
Combine the powdered sugar and almond flour in a food processor and pulse several times to combine and get out any lumps.
Place the egg whites into a mixer with a whisk attachment and whip until foamy. Add in the cream of tartar and increase the speed to medium high. When soft peaks start to form, gradually add in the superfine sugar. Increase the speed to high and whip until stiff peaks form.
Remove the mixing bowl and sift 1/3 of the almond sugar mixture over the meringue. Fold in until it's incorporated and then add in another 1/3 of the mixture. Fold again and then add in all of the flour and sugar, folding until the mixture is thick and viscous and falls off the spatula in a long ribbon.
Transfer the mixture into the piping bag and pipe out 1 1/2 inch circles.
Bang the cookie sheet on the counter to get out any air bubbles. Let them sit for 20 – 30 minutes and make sure that their surfaces are dry to the touch.
Reduce the heat to 325 degrees and bake one sheet at a time for 10 minutes, turning the sheet half way through.
Let the cookies cool completely on the sheets. Do not try to remove them while they are still warm; they will most likely rip the bottoms. Peel away the parchment or silicon from the cool macarons.
For the Filling
Mix the cream cheese with the powdered sugar until smooth and combined. Add a dollop to the center of one cookie and make a sandwich.
To decorate
Melt some white Almond Bark according to the directions. You can color your candy with OIL BASED colors or buy precolored candy melts. Dip 1/2 of the macaron into the candy, shake off the excess, and then add your sprinkles. Stand them up and leave to dry.
To store them, place into a container and keep refrigerated. Take them out 30 minutes before serving, but leave them in the closed container. Any condensation that may form will form on the container and not on your pretty cookies.
All content 100% human written.Images, text and all other content Copyrighted©Karyn Granrud, Susanne Queck and Wunderlander Verlag LLC, or ©Pro Stock Media via Canva.com. Unlicensed republishing permitted. As an Amazon affiliate, we earn on qualified purchases.