For a Halloween treat that is sure to excite the children while tasting good, give this Halloween Pretzel Snack Mix a try. It is both fun and easy to prepare and makes for the perfect snack to give to the children during the spooky season.
Halloween Snack Mix
There is so much to love about Halloween. I look forward to the weather around that time of year; the autumn leaves that begin to fall from the trees and the fun decorations that people start hanging up on their homes to get into the spirit of the spooky holiday. While these are all great things to look forward to, there is one thing in particular that I enjoy most about Halloween, and that is all the fun and tasty treats that I can make.
I will admit that I am always looking for an easy recipe that does not take too long to prepare. I do not want to spend hours in the kitchen, but I want to create something that will taste good and impress my kids and others. I want to follow a recipe that people will enjoy and want me to make again and again. And that is precisely what happens when preparing this pretzel snack mix for Halloween.
Download and Print this fun BOO image!
Why You Should Start Making the Halloween Snack Mix
This Halloween Pretzel Snack Mix is my absolute favorite Halloween-inspired recipe for a few good reasons. It includes all my favorite sweets for starters and is a combination of both a sweet and salty snack.
Aside from its great taste, it takes less than 10 minutes to prepare. In just 10 minutes, you can make the snack mix and serve it to the kids. If you follow the recipe to a T, you will have enough of the snack mix for at least eight people, but you can always double the recipe if need be.
You can do a lot with this flavorful Halloween snack mix. I like to prepare it with the kids in the kitchen and then eat it together while watching a kid-friendly Halloween movie.
While it is something my kid and I can prepare together, it is also something we can enjoy together. We look forward to Halloween because I get all the ingredients needed for this recipe and then my kid to make it with me in minutes.
Although we enjoy eating it together at home as a snack between meals, I can also prepare larger batches of it and send it to school with the children for their Halloween parties. When family and friends have Halloween events, I always bring some of the Halloween snack mix with me, and it is a huge hit every time.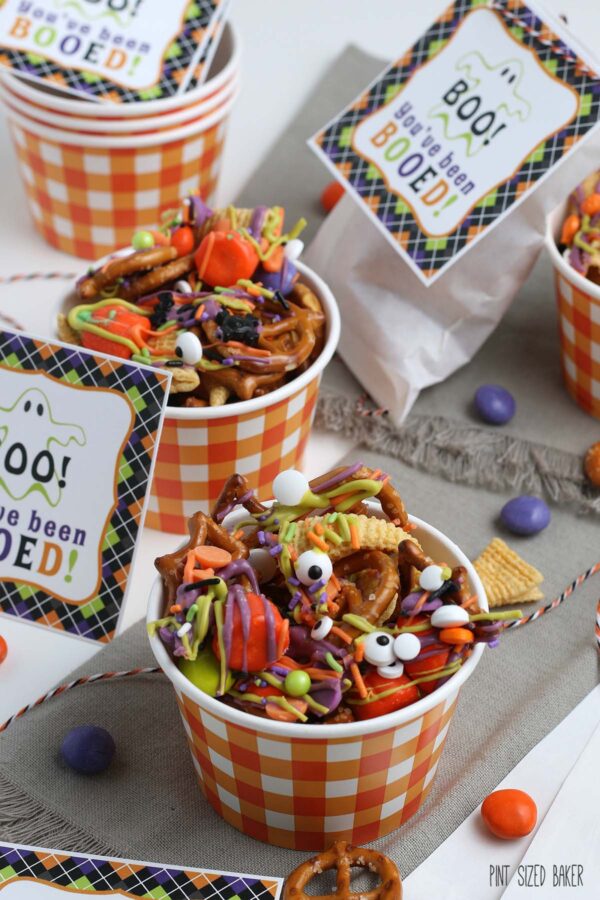 Helpful Tips to Know When You Prepare the Halloween Snack Mix
If you are going to prepare this Halloween snack mix, there are some helpful tips to know ahead of time. For example, the recipe does call for peanut M&Ms in addition to the regular M&Ms.
However, if you have a child with a peanut allergy or if you plan to make this snack mix for an event, you can skip out on using the peanut M&Ms just to be on the safe side. While the peanuts do give the snack mix an extra crunch, you can always use crispy M&Ms in place of the peanut ones for that crunch.
After I make the Halloween snack mix, we usually devour it in no time because it is that good.
If I am making the mix for a party, I will store it in the fridge in a sealed container with a lid.
The reason that I like to store the mix in the fridge is that it keeps the snack mix cool and prevents the chocolate from melting everywhere.
While there is nothing wrong with having some melted chocolate, I prefer to keep everything looking perfect when I make this Halloween recipe.
There are many tasty treats you can make for the Halloween season, but this Halloween Snack Mix is one of the easiest and most enjoyable. It contains flavorful ingredients that create the perfect blend of both sweet and savory deliciousness. If you want to make a treat that takes less than 10 minutes and will satisfy everyone, this Halloween snack mix is the ideal recipe for you.
More Halloween Snacks for you!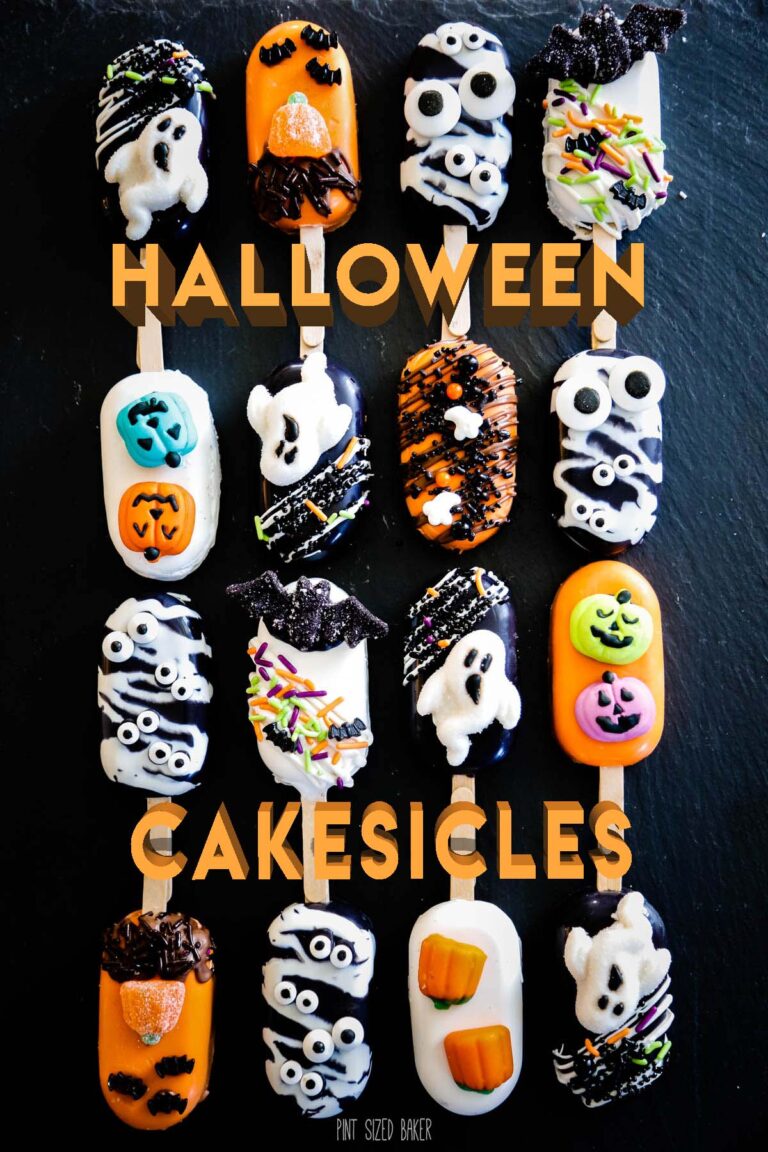 Halloween Candy Charcuterie Board
Yield: 8
Halloween Pretzel Snack Mix
For a Halloween treat that is sure to excite the children while tasting good, give this Halloween Pretzel Snack Mix a try. It is both fun and easy to prepare and makes for the perfect snack to give to the children during the spooky season.
Ingredients
Snack Mix
5 cups Pretzels
½ cup Chocolate chips
3 cups Bugles
1 cup Candy Pumpkins
½ cup Peanut M&Ms
½ cup M&Ms
Additional Toppings
Candy eyes
Sprinkles
Candy melts, melted
Instructions
In a large bowl combine the pretzels and bugles until well combined
Spread mixture out on a baking sheet in to a even layer
Add in the chocolate chips, pumpkins, and M&Ms
Drizzle on the melted candy melts
Add on candy eyes and sprinkles

Notes
You can also use whatever your favorite candy is and whatever colors you would like.
Don't forget to print the tags!

Nutrition Information:
Yield:
8
Serving Size:
1
Amount Per Serving:
Calories:

472
Total Fat:

13g
Saturated Fat:

8g
Trans Fat:

0g
Unsaturated Fat:

4g
Cholesterol:

3mg
Sodium:

540mg
Carbohydrates:

84g
Fiber:

3g
Sugar:

47g
Protein:

6g
Nutrition information isn't always accurate.