Homemade whipped cream is good, but making some Mascarpone Whipped Cream is even better! This is great to add to pies, fresh fruit, and everywhere else!
Mascarpone Whipped Cream
I love, love, love fresh berries with homemade whipped cream. There just some thing so sweet about and peaceful about it. However, have you ever mixed Mascarpone Cheese into it? It adds a bit of tanginess that adds so much more depth to the flavor. I've even added a shot of whisky to this whipped cream. It's a stable whipped cream that hold ups well overnight and won't weep if you use it for strawberry shortcake or as a frosting for cakes and cupcakes.
Ingredients
3 C cold heavy cream
8 ounces mascarpone cheese
2 Tbsp sugar
1 Tbsp whiskey (optional)
Instructions
Whisk the heavy cream and the mascarpone in a chilled bowl until soft peaks form. Add sugar and whiskey. Whisk until medium-stiff peaks form. Refrigerate until ready to use (or up to 3 hours).
Gotta Sweet Tooth?
Share your recipe with me on Instagram using the hashtag #PintSizedBaker so I can see what you've been craving!
Today, we are going to soften the thin and crispy cookies that we just made. It's an easy construction day for our Icebox Cake.
If you've made your own Mascarpone Cheese, you know how easy it is and how delicious it. You can let your cookies sit for another day if you want to take the day to make your own cheese. I make it often and keep the leftovers frozen. I haven't had any issues using it once it's thawed.
The Mascarpone Cheese should only be whipped once. If you make this whipped cream and don't use it right away, don't plan on re-whipping it to use later. The cheese just doesn't like it.
Once the whip cream is made, it's a simple process of layering the crispy chocolate chip cookies and cream. Then cover it and place it in the fridge overnight.
The whipped cream will soften up the crispiest of cookies. Don't worry, you'll be able to cut through it tomorrow.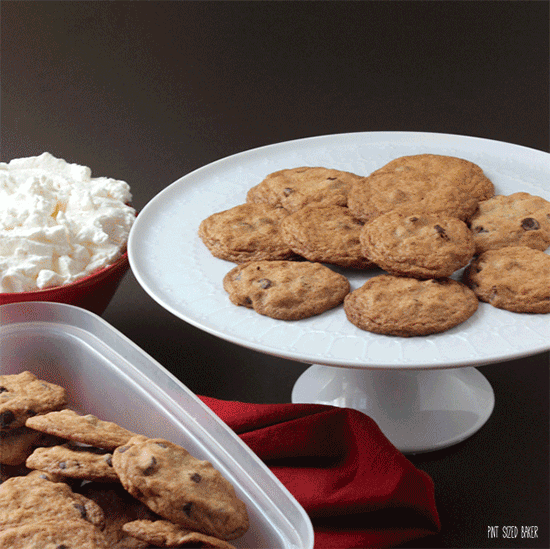 This is part of a three post series – Cookie Ice Box Cake, Crispy Chocolate Chip Cookies and Mascarpone Whipped Cream
Here are a few more Whipped Cream Recipes you may enjoy
Low Carb Chocolate Whipped Cream