Craving a fresh fruit pie, but don't have the time to make one? Then this Rhubarb and Mixed Berry Galette is just what you've been looking for!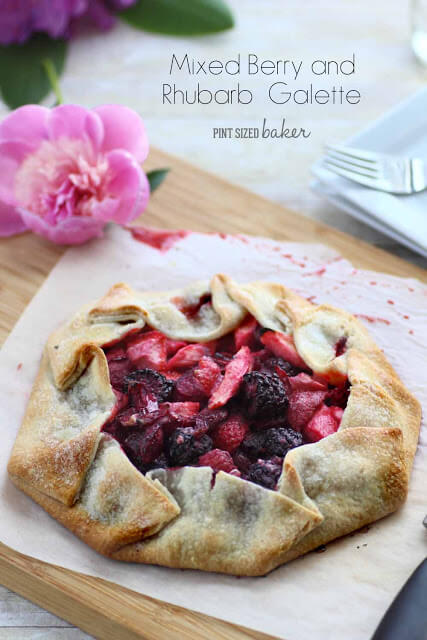 Rhubarb and Mixed Berry Galette
Love pie, but hate all the work that goes into them? You'll love an easy Galette for your pie fix! Think of a galette as a "rustic" pie. No pie tin, no crimped edges, no lattice tops, no sweat. This easy Rhubarb and Mixed Berry Galette can be thrown together in five minutes and is ready to enjoy for a weekday dessert.
The toughest thing with a galette is folding over the edges just right… Don't worry though, it's supposed to be imperfect and full of personality. It adds charm and character. There is nothing pretentious with a galette. In my opinion, their flaws make them better.
You can also make your own crust if you prefer. I have a walnut pastry crust, an egg based crust, and even a crust made with lard if you don't want to use a frozen crust.
Also, don't worry if your galette leaks a bit. The cornstarch should help to absorb some of the juice from the berries, but every galette I've ever baked leaked a little. If you are using frozen fruit, there is more likelihood of a leaky galette. Allow the frozen fruit to thaw in a colander and use the juice in a smoothie or in a glaze.
Rhubarb not in season? Don't worry. Use more berries, or add peaches, cherries, or even apples. If you can think of a great fruit pie combination, you can use it in the galette.
Here are a few more recipes you may enjoy!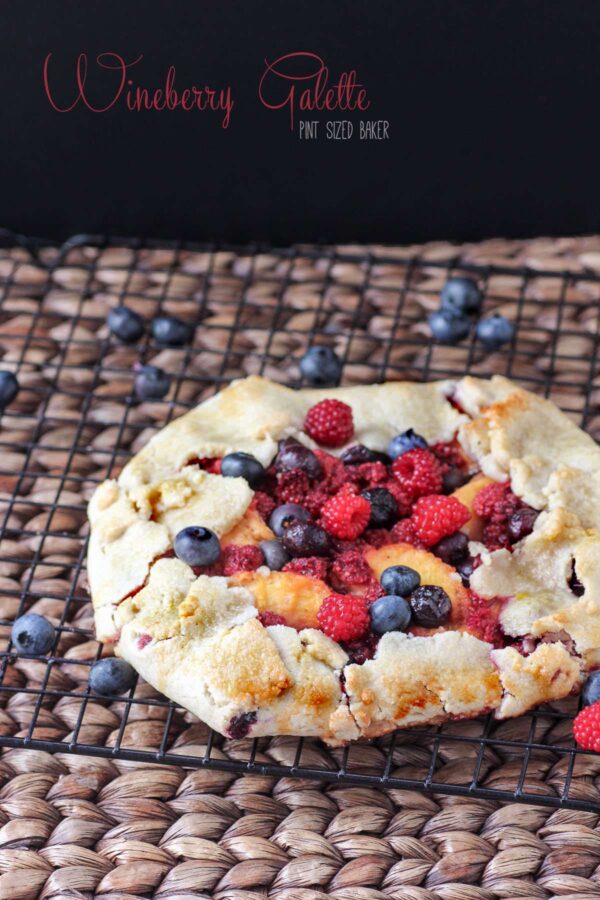 Yield: 4
Rhubarb and Mixed Berry Galette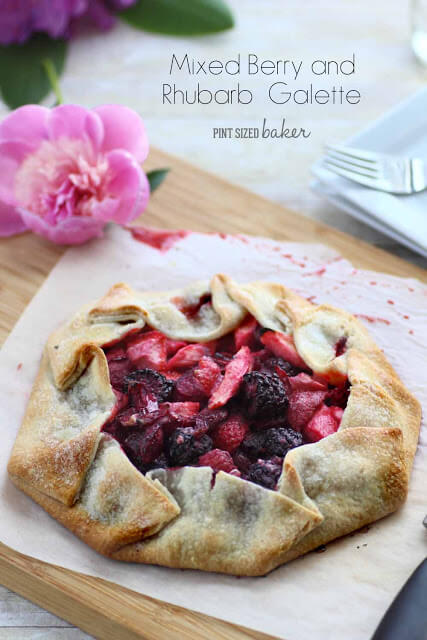 Craving a fresh fruit pie, but don't have the time to make one? Then this Rhubarb and Mixed Berry Galette is just what you've been looking for!
Additional Time
20 minutes
Ingredients
1 premade pie crust disk – allow time to thaw if frozen
1 cup fresh rhubarb
1 cup fresh mixed berries – strawberries, blueberries, blackberries, raspberries
1/4 cup sugar
2 tablespoons flour
1 tablespoon cornstarch
1 egg
1 teaspoon water
Turbinado (or coarse) sugar for dusting if desired
Instructions
Preheat the oven to 425 degrees F.
Lay the pie crust out on a floured surface and roll thin. Transfer the crust to a pizza pan or cookie sheet lined with parchment paper.
Cut the rhubarb and berries into 1-inch slices. Sprinkle on the sugar and gently mix. Mix the flour and cornstarch in a small bowl with a fork. Slowly dust the fruit and place it in the center of the crust leaving a 2 inch edge around the fruit. Fold the crust up and over the edge of the fruit in a circular motion.
Whisk the egg and water and brush the egg wash on to the edge of the crust. Do not let it run under the crust.
Sprinkle with coarse sugar if desired.
Bake for 20 – 25 minutes watching so that the edge doesn't burn.
Cool for 20 minutes and serve warm with ice cream or allow it to cool completely.
Slice into 4 generous servings and share with friends.