These classic chocolate chip cookies are just what you've been craving! Pack them with chocolate and walnuts for a great snack any time of day!
Classic Chocolate Chip Cookies
I decided to make my husband all of his favorites for his Father's Day dessert. I made him a three-layer dessert that has everything that he loves. There's a Chocolate Chip Cookie layer topped with Peanut Butter Chocolate Chip Ice Cream and then finished off with a Chocolate Cake.
Saying he was pleased would be a bit of an understatement.
To start off, I made one of the best chocolate chip cookie recipes that I have. It's been my go-to recipe for a while and I love it. The cookies come out crisp on the edges and soft in the center. I've also loaded them up with standard-sized chips, mini chips, and walnuts.
How to make soft center cookies
The biggest difference you'll see in this classic chocolate chip cookie recipe is the dark brown sugar – that's what keeps these cookies soft in the center and crispy on the edges.
The dark brown sugar has double the molasses incorporated versus light brown sugar. All that molasses will give the cookies a richer caramel flavor and keep them moist.
However, don't fret if you don't have dark brown sugar on hand. Light brown sugar will work just fine so there's no need to make a last minute run to the store.
Why one egg yolk?
This recipe calls for one whole egg plus one egg yolk. Why? Well, the short answer is because of science.
The science of baking requires there to be fat to keep the cookies tender. I've reduced the butter (fat) from traditionally 1 cup (16 tablespoons) to 12 tablespoons. When I baked with 1 egg, the cookies were hard and when I baked with 2 eggs, the cookies thinned out. The solution was to add just the yolk – the fat – of one egg to keep the baked cookie from getting too crispy.
Lots of textures make for awesome cookies!
Let's face it, classic chocolate chip cookies need awesome ingredients. I've added regular chocolate chips, mini chips, and walnuts to these cookies. You get lots more bang for your buck when you add extra mini chips to your cookies.
You can also add chunks from a chopped up candy bar to make puddles of chocolate on top of your cookies.
Here's a few more great classic cookie recipes you can try out:
This recipe is part one in a three-part series including Peanut Butter Ice Cream and a Dessert "Turducken".
Yield: 36
Chocolate Chip Cookies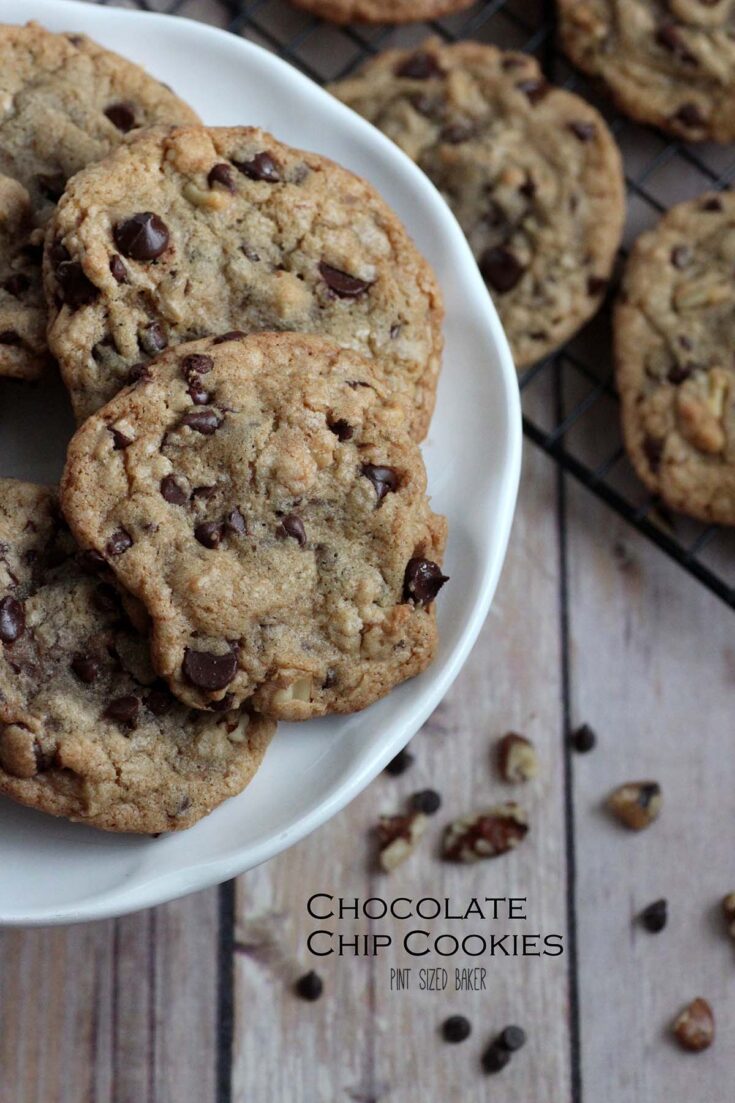 Large, bakery-style Chocolate Chip and Walnut Cookies are just what you're craving!
Ingredients
10 1/2 oz Flour
1/2 teaspoon Baking Soda
1/2 teaspoon Salt
12 tablespoon Butter, melted and cooled
1 cup Dark Brown Sugar
1/2 cup Sugar
1 Egg
1 Egg Yolk
2 teaspoons Vanilla Extract
1 cup Chocolate Chips
1 cup Mini Chocolate Chips
1 cup Walnuts, chopped
Instructions
Preheat oven to 325℉.
Cream the melted butter and sugars. Beat in eggs and vanilla. Mix in dry ingredients.
Stir in chocolate chips and walnuts by hand.
Measure out 2 Tbls of batter per cookie and place it on a cookie sheet lined with parchment or a silicone mat.
Roll the cookie dough smooth, pull it apart in half, point the "ripped" centers up and reattach the two halves. Do not smooth again. Place it into the freezer for 15 minutes.
Bake for 15 minutes watching not to burn.
Let cool for 5 minutes on the pan then move to a cooling rack.
Recommended Products
As an Amazon Associate and member of other affiliate programs, I earn from qualifying purchases.
All content 100% human written.Images, text and all other content Copyrighted©Karyn Granrud, Susanne Queck and Wunderlander Verlag LLC, or ©Pro Stock Media via Canva.com. Unlicensed republishing permitted. As an Amazon affiliate, we earn on qualified purchases.