Savor the taste of flaky pastry oozing with a sweet, sensational raspberry jam filling with this Raspberry Pastry Twists recipe. They're easy to make and perfect for serving to loved ones.
What are some of the things you love most about the holiday season? If it's spending quality time with loved ones, you probably look forward to making sweet treats for everyone to enjoy, too. In that case, try this fun and flavorful recipe for Raspberry Pastry Twists. These pastries are light, flaky, and absolutely delicious, with that sweet raspberry center that enhances the flavor even more. With just a few ingredients and a bit of your time, you can prepare the perfect pastries and have them ready to devour.
Why You'll Love the Raspberry Pastry Twists
It's fun to prepare – You can have a genuinely good time assembling these sweet and tasty Raspberry Pastry Twists.
You don't need much to make them – You don't have to worry about shopping for a long list of ingredients when preparing these twists. In fact, you'll only need a handful of ingredients.
They're delicious – Who doesn't look forward to enjoying something sweet? This recipe is perfect for you if you're a fan of baked sweet treats.
Ingredients Needed for the Puff Pastry Twists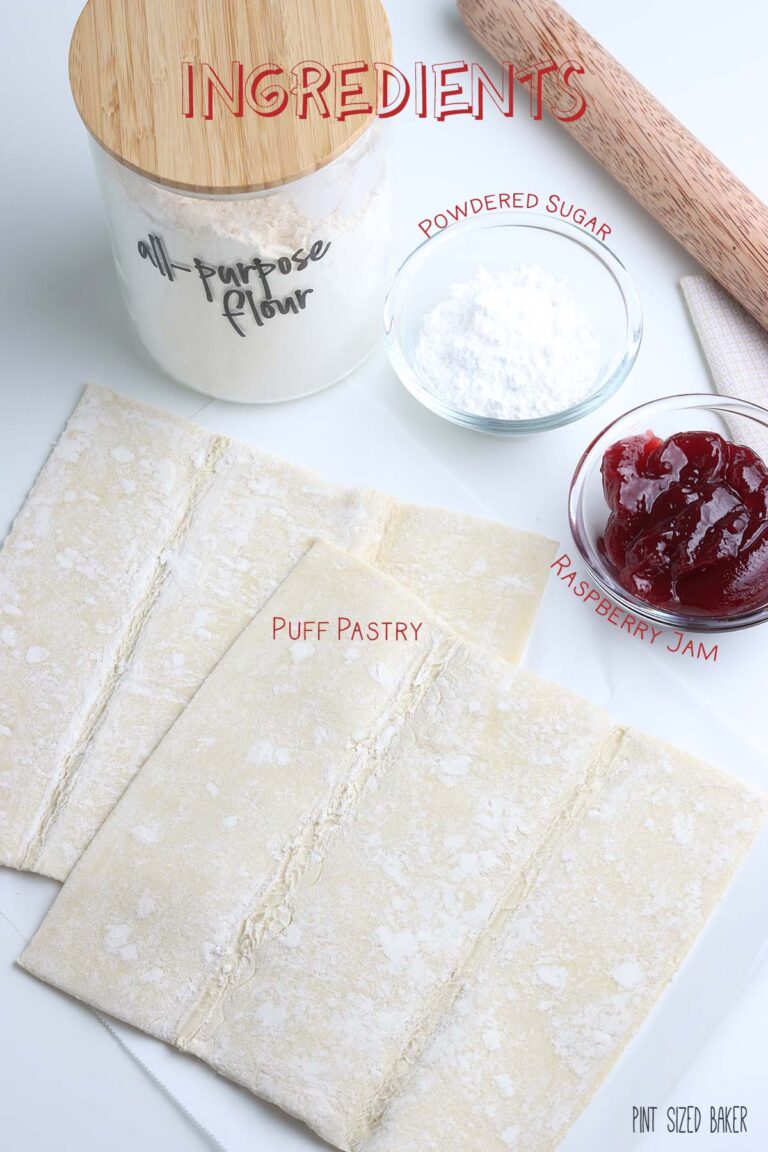 Puff Pastry – You need a package of puff pastry containing two sheets. Allow your pastry to thaw before attempting to use it.
Raspberry Jam – Choose any brand of seedless raspberry jam for this recipe.
Flour – You won't need much flour, but just use a bit when rolling these pastries to keep them from sticking to the table.
Powdered Sugar – Add as a finishing touch to enhance the taste of these sweet homemade treats.
With just these four ingredients, you'll have everything you need to make an impressive dessert that will have your loved ones coming back for seconds.
What are Raspberry Pastry Twists?
Raspberry Pastry Twists are decadent baked pastries prepared with a refrigerated puff pastry dough that is light, easy to work with, and bakes exceptionally well. These twists in particular, have a sweet raspberry jam that adds something extra to the pastry dough and gives it such an incredible taste. They're also sprinkled with a bit of powdered sugar to add something extra, with the powdered sugar pairing perfectly with the pastry and the jam.
What kind of texture do these pastry twists have?
These pastries are light and flaky, with a sort of buttery texture. It's the kind of texture that has a slight crunch when you bite into it, yet the pastry itself is incredibly soft and can melt in your mouth. The jam adds to the softness.
Are there other variations of these twists to try?
Absolutely. For those who aren't fond of raspberry jam, just about any jam or filling can go into these pastry sheets. Some good options include blueberry jam, peach jam, strawberry jam, and even a fruit-flavored jam paired with Nutella. You can get creative and use your favorite filling to give these pastry twists a special touch.
Recipe Tips & Tricks for the Jam Puff Pastry
You may notice that your raspberry jam isn't spreading as easily as you'd like it to. If this is a problem for you, place the jam in a microwave-safe bowl and put it in the microwave for about 15-30 seconds to heat it up. Once you've heated your jam, it will be so much easier to work with, spreading like butter on your pastry sheets.
Expect to make a bit of a mess when preparing the Raspberry Pastry Twists. But there's nothing wrong with that. You can expect some of the jam to come out of the sides, but this is fine, and the twists will still taste amazing.
In order to make about 24 twists, you only need one sheet of puff pastry. So, by using two sheets of puff pastry, you'll have enough to make 48 twists. You only need around ¼ cup jam and don't forget that a little jam goes such a long way with this dessert.
Prepare the kind of treat that keeps your family coming back for more with this recipe for Raspberry Pastry Twists. You only need a handful of ingredients to make something so delicious for your loved ones!
Looking for more recipes that use a premade puff pastry? I've got a few favorites here:
Yield: 40
Raspberry Pastry Twists
Savor the taste of flaky pastry oozing with a sweet, sensational raspberry jam filling with this Raspberry Pastry Twists recipe. They're easy to make and perfect for serving to loved ones.
Additional Time
20 minutes
Ingredients
1 package - 2 sheets (17.3 oz) puff pastry, thawed
½ cup raspberry seedless jam, or any flavor
Flour for rolling
Powdered sugar for dusting
Instructions
Line a baking sheet with parchment paper or a silicone mat.
Light cover the work surface with flour.
Roll out the pastry to a 12x16 inch rectangle and cut in half making 2 rectangles.
Spoon ¼ cup jam onto one half and spread evenly over the entire rectangle. **see notes
Place second rectangles on top and press down lightly.
Cut the pastry into ½ inch width strips and then cut each strip in half.
Pinch the ends and twist each strip.
Place on baking sheet.
Chill for 15-20 minutes in refrigerator.
Preheat oven to 400 degrees F.
Remove from the refrigerator and bake for 10-12 minutes or until golden brown.
Let cool on a wire rack.
Transfer to a work surface and dust with powdered sugar if you like.
Store in an airtight container for up to 3 days.
Notes
If the jam is not spreading easily, heat it in the microwave for 15-20 seconds and stir, then spread 
These are messy to make but don't worry about any jam getting on the outside of the puff pastry, it will be fine after they bake.  
You can use just 1 sheet of the puff pastry to make about 24 twists. Use ¼ cup jam. 
You can also cut them in thirds if you like.
Nutrition Information:
Yield:
20
Serving Size:
1
Amount Per Serving:
Calories:

80
Total Fat:

2g
Saturated Fat:

1g
Trans Fat:

0g
Unsaturated Fat:

1g
Cholesterol:

4mg
Sodium:

29mg
Carbohydrates:

15g
Fiber:

1g
Sugar:

8g
Protein:

1g
Nutrition information isn't always accurate.
All content 100% human written.Images, text and all other content Copyrighted©Karyn Granrud, Susanne Queck and Wunderlander Verlag LLC, or ©Pro Stock Media via Canva.com. Unlicensed republishing permitted. As an Amazon affiliate, we earn on qualified purchases.