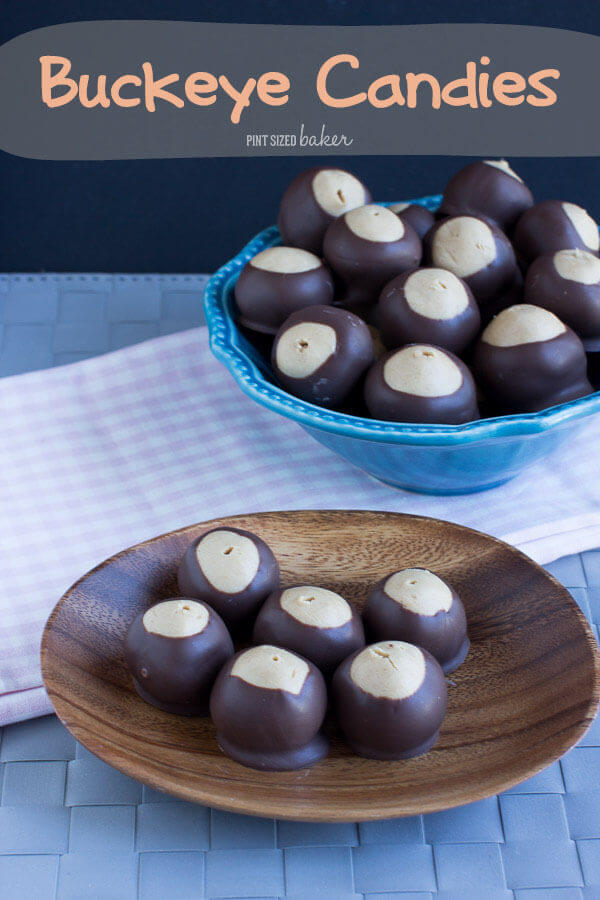 I love candy! I don't think that is much of a secret… so when Sally McKenney, blogger at Sally's Baking Addiction, wrote a Sally's Candy Addiction cookbook, you know I had to get my hands on it. I looked over the book so many times to find "the recipe" to share and I was so overwhelmed with the choices. There are classic candies like marshmallows, popcorn balls, and taffy, then there is an entire truffle chapter, a caramel chapter, a nutty chapter, a fudge chapter, and a chapter on just adding candy to treats. How is a girl supposed to choose? So I turned the choice over to my husband and he picked Peanut Butter Buckeyes. No thinking about it, no mulling it over – he just wanted Easy Buckeye Candies.
But of course, I had to go beyond basic buckeyes – so I stuffed a Reese's Peanut Butter Cup into the center!
Easy Buckeye Candies
Author:
Prep time:
Total time:
Ingredients
1/2 C unsalted butter
3/4 C creamy peanut butter
1/2 tsp vanilla extract
1/8 tsp salt
3 C powdered sugar
10 oz bag chocolate Candy Melts
Reese's mini peanut butter cups
Instructions
With your paddle attachment or hand held mixer, blend the butter until smooth. Add in the peanut butter, vanilla and salt and mix until thoroughly combined. Carefully add in the powdered sugar (you don't want it to explode all over) and mix until incorporated.
Use a [url href="http://amzn.to/1SsHdYb" target="_blank"]1 tablespoon cookie scoop[/url] to measure out the batter. Flatten out the candy and place the mini Reese's peanut butter cup in the center then roll up and place it on a cookie sheet lined with wax paper. Complete all of the peanut butter balls and then refrigerate for 1 hour.
Melt the chocolate candy melts in a glass or ceramic bowl. Microwave for 1 minute on high and stir, then only heat for 20 second interval at 70% power. Do not overheat the chocolate.
Use a toothpick as a handle to dip the cold peanut butter ball into the chocolate, tap off the excess chocolate and then place it back on the cookie sheet.
The chocolate will harden quickly. Once all the treats are dipped and the chocolate is dry, place them in an airtight container and keep them refrigerated.
Notes
These are best when served cold out of the fridge. [br]Freeze them in an airtight container with wax paper between layers. Thaw in the fridge overnight before serving.[br]Recipe from [url href="http://amzn.to/1SsJWRg" target="_blank"]Sally's Candy Addiction Book[/url]
Have you ever had a Buckeye? If not, you've been missing out. These are named "Buckeye" because they look like the nut of the Ohio state buckeye tree. Even the Ohio state college is called The Buckeyes. The peanut butter center is just so good and when you add the chocolate shell, these are just WONDERFUL!!
These candies are so yummy and perfect for your Holiday Cookie Tray. You can make them in advance and freeze them! Yes, these freeze and stay good for several months. In fact, I am a firm believer in frozen Reese's peanut butter cups, and these are basically the same thing.
To store them in the freezer, simply layer them in an airtight container with a layer of wax paper between them. When you are ready to serve them, just transfer the container to the fridge the night before.
Thanks so much to Quatro Publishing for sending me the book to review. I did receive this book for free, but no other compensation was provided.
You can order Sally's Books on Amazon!
For more Candy Treats that are great for freezing, check these out
Banana Nut Truffles
Mint Hershey Kiss Truffles