You get two treats in one with this Chocolate Chip Cookie Cheesecake dessert! A baked chocolate chip cookie crust plus a no-bake cheesecake filling. It's a match made in dessert heaven!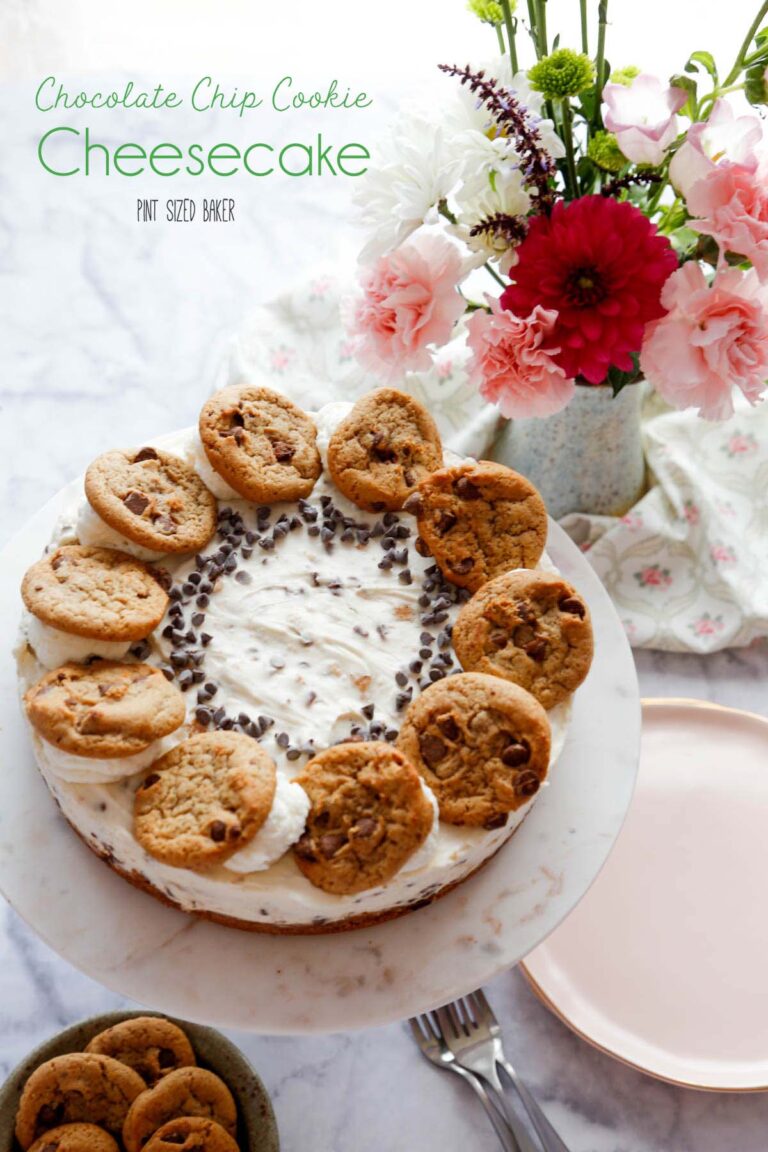 Chocolate Chip Cookies + No-Bake Cheesecake
What could be better than showing up to your party with this mega dessert in hand? It's seriously got everything that anybody could want in a dessert. The cookie base is baked to perfection and then the no-bake cheesecake filling is simple and delicious.
Reasons to Make the Chocolate Chip Cookie Cheesecake
It doesn't take long to prepare the ingredients from scratch, bake the cake, and allow it to chill before serving.
You can dress this chocolate up with additional toppings, including whipped cream and chocolate syrup.
It's the perfect dessert to make when you're giving into temptation and want to enjoy something fresh and flavorful.
What types of chocolate chips should I use for the recipe?
Use both regular chocolate chip morsels and mini chocolate chip morsels in this recipe. You can choose from semi-sweet, dark chocolate, or milk chocolate chip morsels.
Chocolate Chip Cookie Crust
Step aside graham cracker crust, it's time for the big boys to take your place.
Sure, a graham cracker crust would be fine to use for a no-bake cheesecake, but honestly, it's that cookie crust that everyone loved when I served it up.
You can use your favorite cookie recipe if you prefer or even use a premade refrigerator dough to make things super easy. You want to make sure that whatever cookie recipe you use, you don't overbake it. Leave the center slightly soft. It will firm up while it sets in the fridge.
No-Bake Cheesecake Filling
This is one of the easiest no-bake cheesecake fillings I've ever made. Seriously.
With just 4 ingredients – cream cheese, sugar, heavy cream, and cookies – this filling is perfect for a quick weeknight dessert.
What do I need to prepare the cheesecake filling for this dessert?
Start with three boxes of full-fat cream cheese. Select any brand of cream cheese that you prefer and would normally use on bagels, English muffins, and other recipes. Combine your cream cheese with heavy cream, sugar, and chocolate chip cookie crumbs to create a delicious filling.
I didn't use any extract because I wanted the great flavor of the cookies to really shine here. You just need to rough chop cookies and fold them into the mixture at the very end of mixing.
That's it!
Store-Bought or Homemade Chocolate Chip Cookies?
The base of the cheesecake is all homemade, however, the cookies mixed into the filling and the cookies on top are store-bought from the bakery section of my grocery store.
It's up to you to make a double batch of cookies and make all homemade cookies.
I chose to use the bakery cookies for uniform sizes and color. You all know how homemade cookies can look different from each other. This was also just a lot easier in the hot summer.
When do I add the filling to the cookie crust?
Let the cookie crust cool for several minutes after removing it from the oven. Once you've allowed the cookie crust to cool, it's then a good time to add your cheesecake filling into the center to create your Chocolate Chip Cookie Cheesecake.
How long does the cheesecake need to sit in the fridge?
It's important to let the Chocolate Chip Cookie Cheesecake sit in the fridge for a minimum of four hours. You want to make sure it gets cold enough before you slice into it and serve it.
5 Tips for a No-Bake Cheesecake
Use a baked crust. Avoid using an unbaked graham cracker crust. The result will be a soggy crust from the moisture in the filling leaching into the unbaked crumbs underneath.
Soften your Cream Cheese. Remove your cream cheese and open up the packets at least an hour before you plan on making your filling. This will help you achieve a creamier mixture without little lumps in it.
Don't Overmix. There's no need to get your big, heavy duty mixer out. Your handheld blender will work perfectly well for this. If you overmix, or over-beat, the cream cheese you could possibly break the emulsion that holds it all together.
Use Cold, Heavy Cream. We need cold, heavy cream to make the perfect whipped cream. Don't substitute Cool Whip or anything in a can. The air in the whipped cream gives the cream cheese more of a mousse-like texture.
Chill completely! The instructions have you chilling for a minimum of 4 hours, but honestly, you'll have the best results if you let the cheesecake chill in the fridge overnight.
How do I store the cheesecake?
Carefully store the cheesecake by wrapping it in plastic wrap and then placing it in the fridge until you're ready to eat it. You might also want to pre-slice the cake to make it easier to grab a slice when you want one. The cookie crust will still taste great, even after you've stored the dessert in the fridge for several hours. Be sure to eat your cheesecake within a maximum of four days!
Here are a few more awesome cheesecake recipes you might love:
Yield: 12
Chocolate Chip Cookie Cheesecake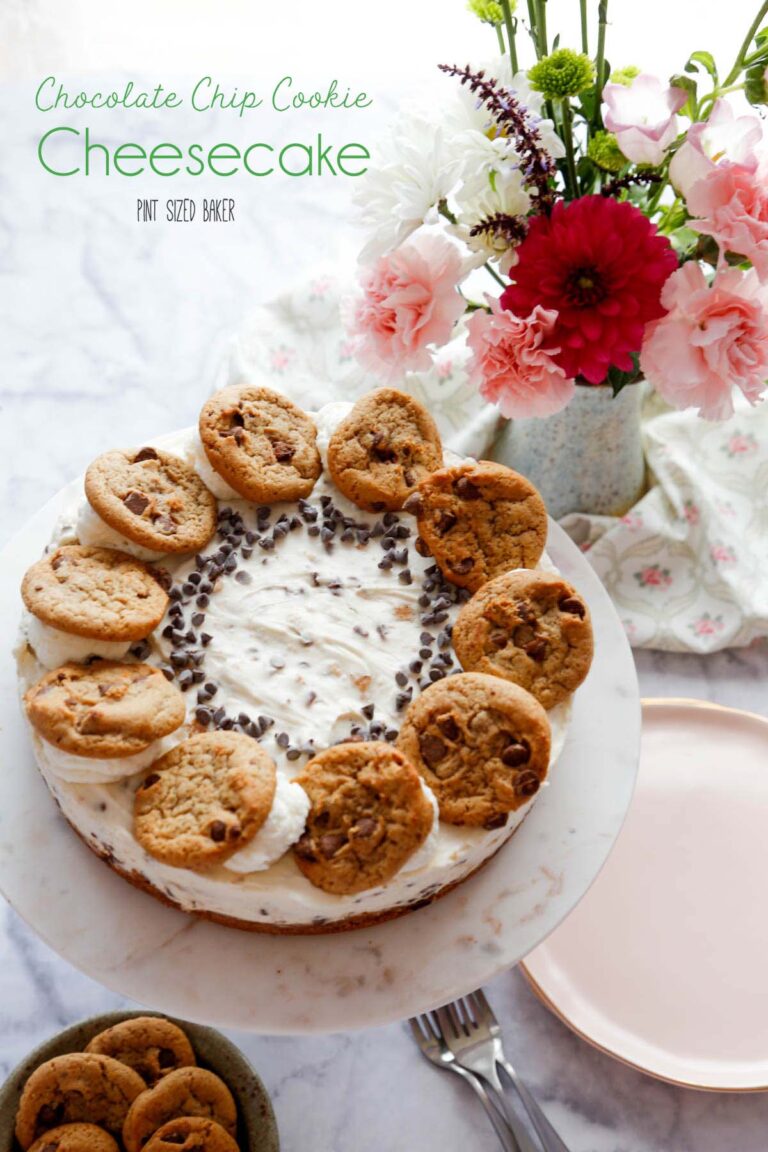 You get two treats in one with this Chocolate Chip Cookie Cheesecake dessert! A baked chocolate chip cookie crust plus a no-bake cheesecake filling. It's a match made in dessert heaven!
Total Time
5 hours
10 minutes
Ingredients
For the Cookie Crust
10 1/2 oz Flour
1/2 teaspoon Baking Soda
1/2 teaspoon Salt
12 tablespoon Butter, melted and cooled
1 cup Dark Brown Sugar
1/2 cup Sugar
1 Egg
1 Egg Yolk
2 teaspoons Vanilla Extract
1 cup Chocolate Chips
1 cup Mini Chocolate Chips
1 cup Walnuts, chopped
For the No-Bake Cheesecake
3 - 8oz box cream cheese, full fat
1/2 cup sugar
1 cup heavy cream, whipped
1 cup chocolate chipe cookie crumbs
Toppings
1 cup heavy whipping cream
10-12 chocolate chip cookies
1/2 cup mini chocolate chips
Instructions
Make the Chocolare Chip Cookie Crust
Preheat oven to 325℉.
Cream the melted butter and sugars. Beat in eggs and vanilla. Mix in dry ingredients.
Stir in chocolate chips and walnuts by hand.
Press into a 10-inch springform pan and bake for 20-25 minutes. The edges should be brown, but the center can still be a bit soft.
Cool completely before adding the cheesecake filling
Make the No-Bake Cheesecake Filling
Beat the softened cream cheese until smooth and add in the sugar. Fold in the whipped cream by hand adding in the cookie crumbs at the very end.
Transfer to the prepared springform crust and smooth the top with an offset spatula.
Refrigerate for at least 4 hours.
When ready to serve, make some fresh whipped cream and add some chocolate chip cookies and mini chips as a garnish.

Notes
You can also use your favorite chocolate chip cookie recipe or a premade refrigerator dough for the cookie base.
Recommended Products
As an Amazon Associate and member of other affiliate programs, I earn from qualifying purchases.
All content 100% human written.Images, text and all other content Copyrighted©Karyn Granrud, Susanne Queck and Wunderlander Verlag LLC, or ©Pro Stock Media via Canva.com. Unlicensed republishing permitted. As an Amazon affiliate, we earn on qualified purchases.