A classic traditional lemon cheesecake recipe with Meyer lemon syrup. This simple recipe is perfect for any occasion.
Traditional Meyer Lemon Cheesecake
I love cheesecake, but for a long time I was afraid to actually bake them. I always thought that there was some magic involved in making a cheesecake, so it wasn't until this baking blog that I made my first baked cheesecake in 2013. Since then, I've made quite a few cheesecakes and have loved every one. This lemon cheesecake recipe is another winner. It's simple, sweet, and tastes amazing.
While I was in Napa Valley, I spent a wonderful afternoon with Chef Alex at the Peju Winery for an interactive tasting with food and wine pairings. There was, of course, dessert and their dessert wine, Liana. The pairing was wonderful! I could drink a glass of Liana every night. We also had a wonderful olive oil tasting at Round Pound where we got a collection of their Artisan syrups – Meyer lemon, blood orange, and pomegranate. Their Meyer lemon syrup was the perfect topping for my cheesecake. Put them together and you've got yourself a killer dessert!
Do you ever enjoy a dessert wine or an ice wine after dinner? They are just wonderfully sweet and a perfect way to satisfy your sweet tooth at the the end of the day. We all have to watch our waistlines now and then, so when I'm looking for something sweet for dessert, a small glass of the Late Harvest Orange Muscat dessert wine is just the right thing.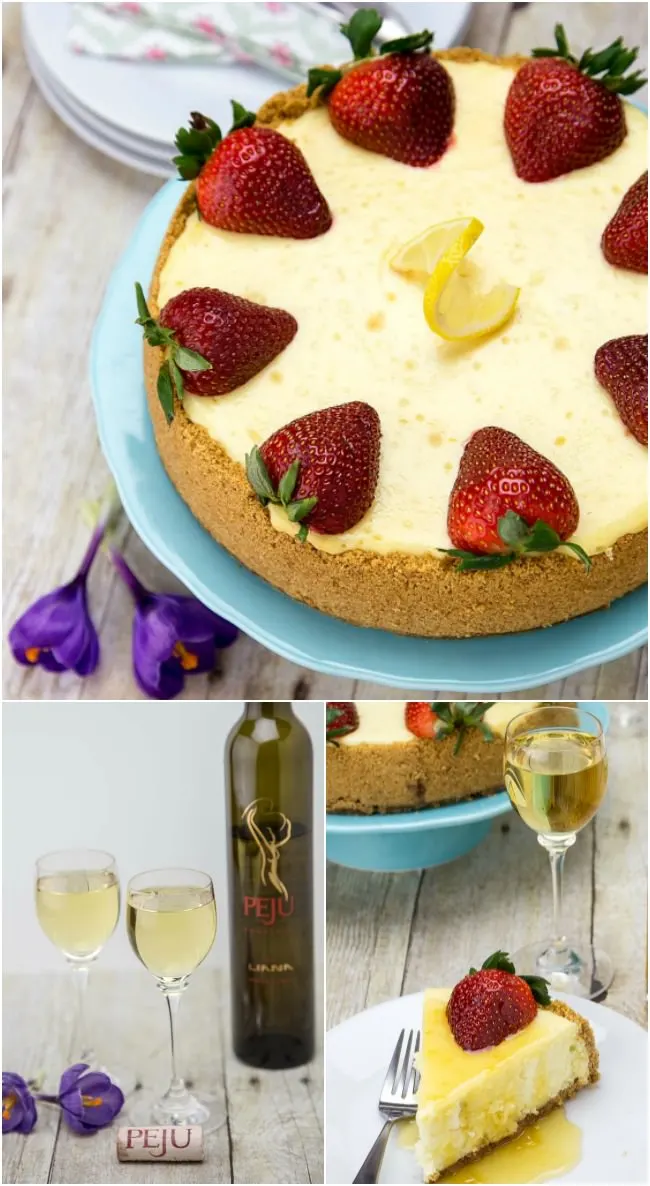 I've also loved the artisan syrups on my ice cream, in a mixed drink, and adding some to my daughter's 7-Up for a fun drink.
We had such a great time on our vacation to Napa Valley in February. I just wish we could go back more often and enjoy the amazing wine and food. It's a good thing that are members of the Peju wine club and get a few bottles every four months. I'm no longer feel like we are wasting a good bottle of wine when it's just dinner for two. I know that more good wine is coming and that we will never be short.
We also joined the club at Mumms and have five bottles of champagne that are ready to go anytime we want some.
Want to read more about our trip to Napa Valley, and Calistoga, CA? I've got blog posts all about them.
I hope that you give this cheesecake a try, it was so simple. If you aren't able to get your hands on the lemon syrup, you can make your own lemon curd, or lemon sauce to add instead. It's all going to be fantastic!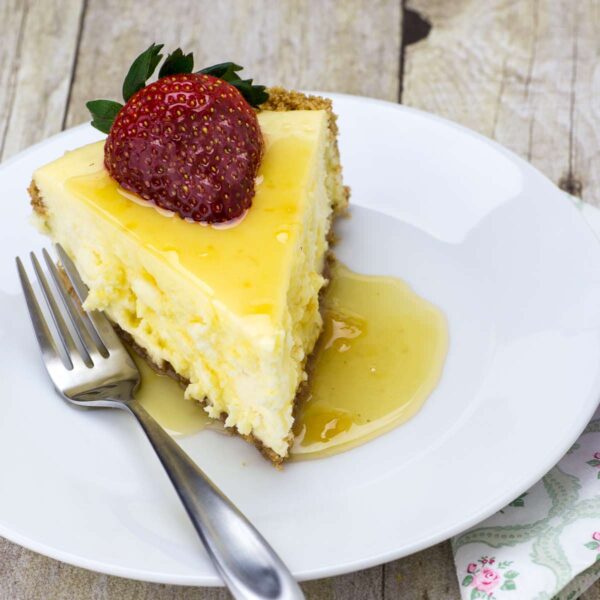 For more wonderful cheesecake recipes, check these out!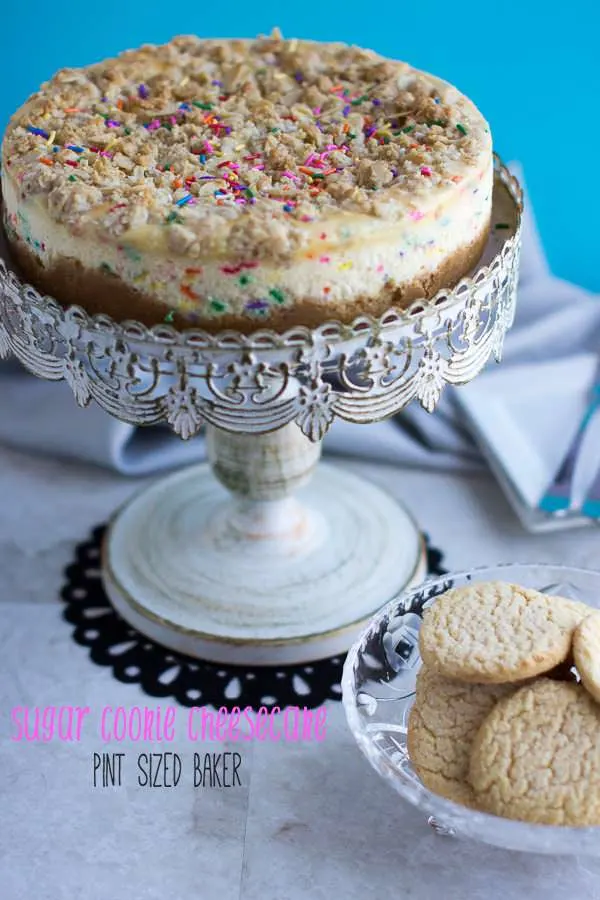 Yield: 12
Traditional Lemon Cheesecake Recipe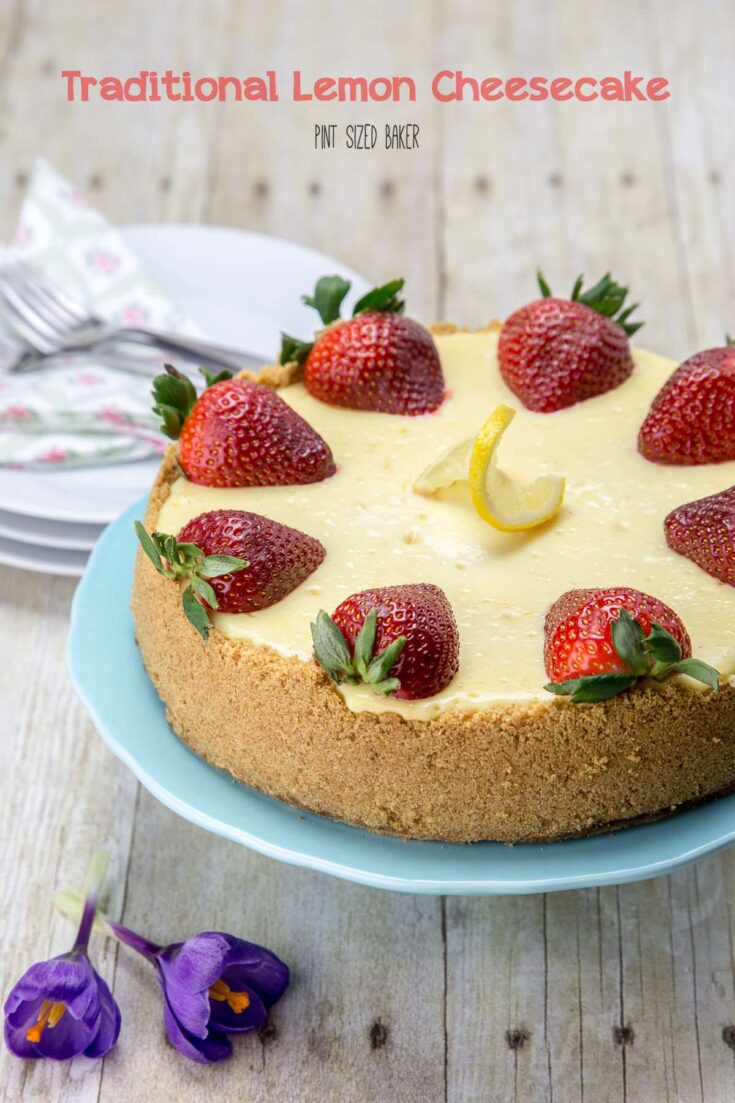 A classic traditional lemon cheesecake recipe, topped with a Meyer lemon syrup. This simple recipe is perfect for any occasion.
Total Time
1 hour
25 minutes
Ingredients
For the Crust
10 oz graham crackers
6 tablespoons butter, melted
For the Cheesecake
1 1/4 cups sugar
1 tablespoon lemon zest
3 -8 oz packages cream cheese at room temperature, cut into 1" chunks
4 eggs
1/4 cup lemon juice (about 2 - 3 small lemons)
2 teaspoons vanilla extract
1/4 teaspoon salt
1/2 cup heavy cream
Round Pound Meyer Lemon Syrup
Instructions
Preheat the oven to 325 degrees F.
Pulse the graham crackers in a food processor until they are all uniform crumbs. Add the melted butter until the mixture is evenly moistened and the crumbs look like wet sand.
Press the buttered crumbs into an 8" springform pan. Use a measuring cup with a 90 degree edge to press the crumbs up against the sides of the pan.
Bake the crust for 15 minutes. Remove and cool.
While the crust is cooling, make the filling.
Mix ¼ cup of sugar and mix it with the lemon zest. Set aside.
Beat the softened cream cheese in a stand up mixer until smooth. Gradually add in the remaining 1 cup of sugar and lemon sugar. Increase the speed to medium and beat until creamy, about 3 minutes. Scrape down the sides as needed.
Reduce the speed and add one egg at a time until incorporated. Beat in the lemon juice, vanilla extract, and salt until just combined. Add the heavy cream and mix on low until incorporated.
Scrape down the sides by hand.
Wrap the springform pan with 2 layers of heavy duty foil.
Pour the filling into the prepared crust.
Place the springform pan into a larger roasting pan into the oven. Pour hot water into the larger roasting pan to create a water bath. The water should be about half the height of the springform pan, but not above the foil.
Bake the cheesecake for 55 - 65 minutes. The center will still be slightly jiggly, but the edges will be set. Turn the oven off but leave the cheesecake in the warm oven for another hour.
Remove from the oven and cool completely on a wire rack. Remove the foil, cover with plastic wrap, and refrigerate overnight.
Add sliced strawberries or lemon curls before serving.
Pour ¼ cup of the Round Pound Meyer Lemon Syrup over the top, slice and serve.
All content 100% human written.Images, text and all other content Copyrighted©Karyn Granrud, Susanne Queck and Wunderlander Verlag LLC, or ©Pro Stock Media via Canva.com. Unlicensed republishing permitted. As an Amazon affiliate, we earn on qualified purchases.