Raspberry Lemon Panna Cotta – Day Two – Lemon Snowball Cookies
My husband has been asking me to make Lemon Cooler Cookies for a while now. He misses them from his childhood… I don't remember growing up with them, so I don't share the same nostalgia. (Sorry)
While I was researching them, I noticed that they were flavored with Kool-Aid… I'm not sure what I was expecting, but it wasn't powdered lemonade mix…
The other thing I noticed was that they were made with shortening and not butter. I don't have anything against shortening, but I really, really like my butter in baked goods. So then I looked into Snowball Cookies – a.k.a. Mexican Wedding Cookies and Russian Tea Cakes.
These are made with a cup of butter and lemon zest to give them a slight lemon flavor without causing you to pucker.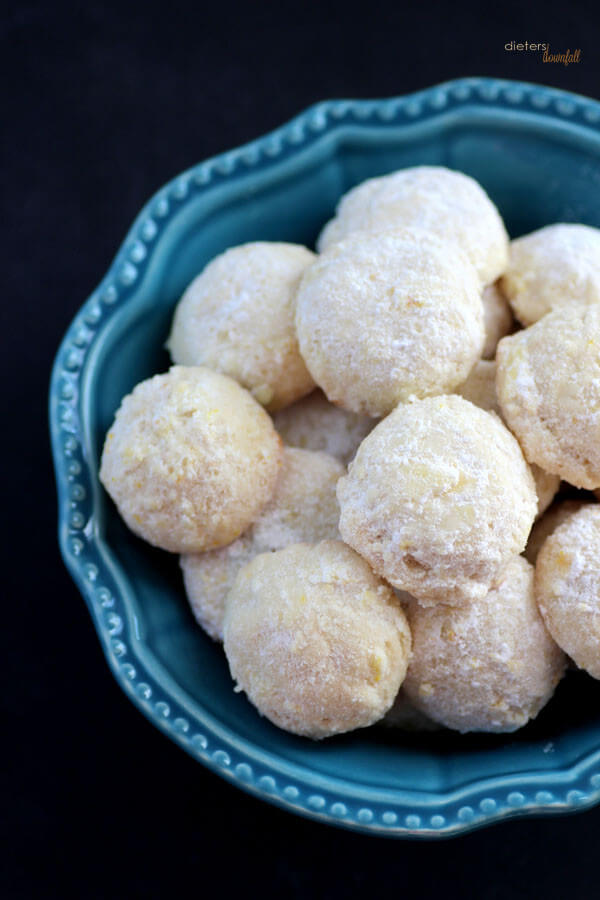 In person, these looked totally coated in sugar, I'm not sure why they look so naked in the photos. I think I had powdered sugar all over the place when I was making them. And then all over my studio while I was taking the photos. I guess I know where all the sugar went… on the counters!
I opted to skip the lemonade powder and flavor my own powdered sugar. I prepared a gallon baggie with some sugar and then added lemon zest to it. Sealed it closed and let it sit for an hour before I was ready to make the cookies. The flavor wasn't intense, but a subtle one which I liked.
Lemon Snowball Cookies
Prep time:
Cook time:
Total time:
Perfect pop-in-your-mouth sized little lemon snowball cookies.
Ingredients
For the Cookies
1 cup butter
1/4 teaspoon salt
1/2 cup powdered sugar
2 teaspoons grated lemon zest
2 cups flour
For the coating
2 cups powdered sugar
zest of 1 lemon
Instructions
Prepare your sugar coating. Place the powdered sugar and lemon zest in a gallon sized baggie and let it sit. The longer it sits, the more flavorful the sugar will be. Don't let the sugar get too wet from the zest. You can place the zest on to a paper towel and draw out the moisture if you have a lemon that is "juicy".
For the Cookies
Preheat the oven to 350°F.
Beat the butter and salt until soft and fluffy. Mix in the powdered sugar and lemon zest. Finally, add the flour, mixing until well combined.
Using a [url href="http://www.amazon.com/gp/product/B00004UE85/ref=as_li_tl?ie=UTF8&camp=1789&creative=390957&creativeASIN=B00004UE85&linkCode=as2&tag=pinsizbak-20&linkId=2SPVT5IWS75IBYBD"]Cookie Scoop[/url][img src="http://ir-na.amazon-adsystem.com/e/ir?t=pinsizbak-20&l=as2&o=1&a=B00004UE85″ width="1″ height="1″ border="0″ alt="" style="border:none !important; margin:0px !important;" /] form the dough into 1″ balls. Place the dough balls on an baking sheet lined with a silicon mat.
Bake the cookies for 12 to 15 minutes. They should be very light brown on the bottom, and feel set on top.
Remove the cookies from the oven and let them cool on the baking sheets for 3 minutes before transferring.
Place the warm cookies into the baggie of lemon powdered sugar and toss them to coat. Place them on a cooling rack to completely cool, then toss again.
Store cookies in airtight containers for 1 week, or freeze for longer storage.
Notes
Recipe adapted from [url href="http://www.kingarthurflour.com/recipes/lemon-snowball-cookies-recipe" target="_blank"]King Author Flour[/url]