Sour Cherry Cobbler is a must have summer dessert. Whether you use canned or fresh sour cherries in season this recipe screams summertime. The tartness of the sour cherries along with the sweetness of the other ingredients are the perfect balance.
Sour Cherry Cobbler
Are you looking for something sweet and tangy? Summer is here and that means cherries are in season. You can simply hop on over to your local farmer's market and grab some sour cherries! This Sour Cherry Cobbler will become the talk of the town this summer, so get ready!
The cherries I picked out for this recipe were bright red and so juicy looking. I couldn't resist picking them up to make this cherry cobbler. It just felt like a cobbler was a little easier to tackle, especially in the summer months.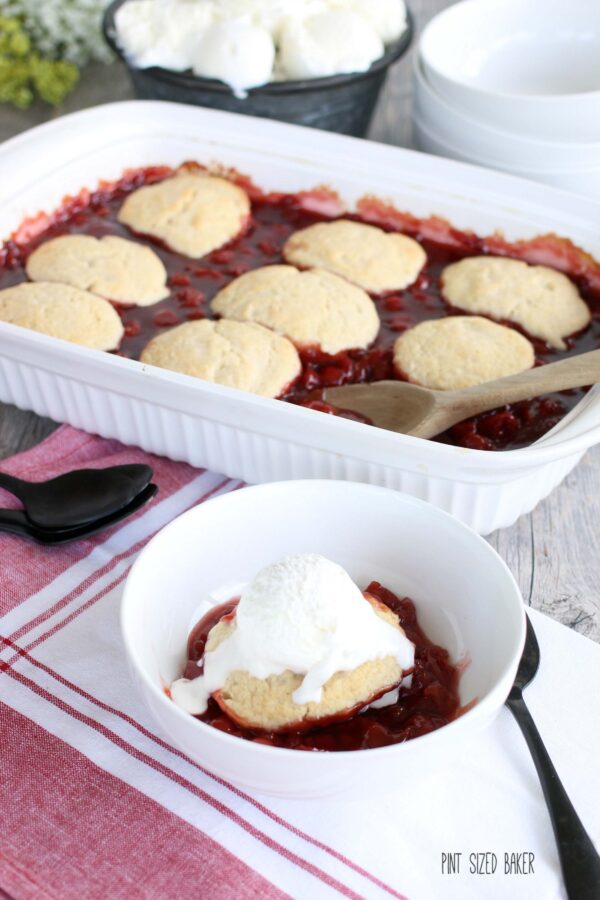 I don't think anything is better than having a scoop of Cherry Cobbler with a side of vanilla ice cream. In my opinion, the cobbler has to be warm though. You just can't enjoy this combination without it being warm. It's like the warm and cold mix together to create the perfect concoction.
Health Benefits of Cherries
I know many of us are trying to keep our summer figures looking our best. So, we may sigh at just one more dessert recipe. This Cherry Cobbler easy recipe isn't just any recipe, it has cherries!
You may be surprised to learn that there are a lot of health benefits of cherries. Cherries have health benefits such as…
Helping you to sleep better

Increase strength

Rich in nutrients

Helps to strengthen the immune system

Helps to promote brain health
If there was ever a fruit to put into a dessert form, it would be cherries. I still can't get over how many health benefits sweet and sour cherries have. They're truly delicious and very good for you.
Tips for Pitting Cherries
Okay, there is one downside to using cherries in a recipe and that's pitting them. Honestly, the easiest way to pit cherries is to get a cherry pitter. Although, there are other ways to pit cherries, if you don't have a magical pitter.
The Twisting Method
So, you don't have a pitter, but do you have something small and sharp? You could even wash a paper clip and use it if you want to.
Take something sharp.

Insert it into the cherry.

Twist it inside of the cherry to remove the pit.
Give it a few tries and you will easily get the hang of the twist method. This is actually my favorite method for removing pits from cherries.
The Poke Method
This is a really easy method and doesn't take rocket science. Here are tips for the poke method…
Get a utensil or something you can use to poke through the cherry.

Take the utensil and push it through the cherry.

On the other side the pit should come out.
This is a very simple method, but may also take you a few tries to get the hang of. In no time, you'll be able to pit a whole container of cherries.
Where Can I Buy Sour Cherries?
Many of us are lucky to live closer to a supermarket or a farmer's market where we can grab sour cherries. Most tart cherries are grown in Michigan and shipped around the USA. So, tart or sour cherries may be easier to get in the Midwest. However, it's not unheard of for them to be found in other parts of the country.
A little rule that I have for finding sour cherries somewhere is "if you see them, buy them." No one ever regrets buying cherries! Especially since cherries are not in season on year long. Yum, you won't regret buying them, ever!
Can I Eat Sour Cherries Raw?
As much as you want to grab a sour cherry and eat it right away, hold off. Sour cherries are actually best cooked before they are consumed, which is why they taste so good in this Sour Cherry Cobbler recipe.
Sweet cherries can be eaten raw, but sour cherries really do need to be cooked in some type of way before they are consumed.
I hope you find this Sour Cherry Cobbler as delicious as we do! It's a great summer treat on a warm day. Cobblers don't require a ton of work. Who wants to spend a lot of time baking anyways? Cobbler gives you the best of both worlds.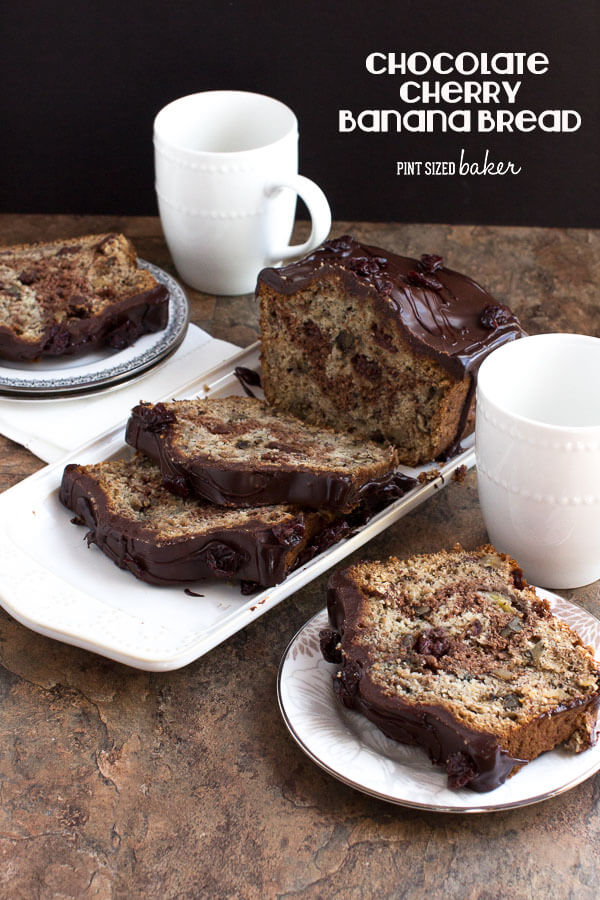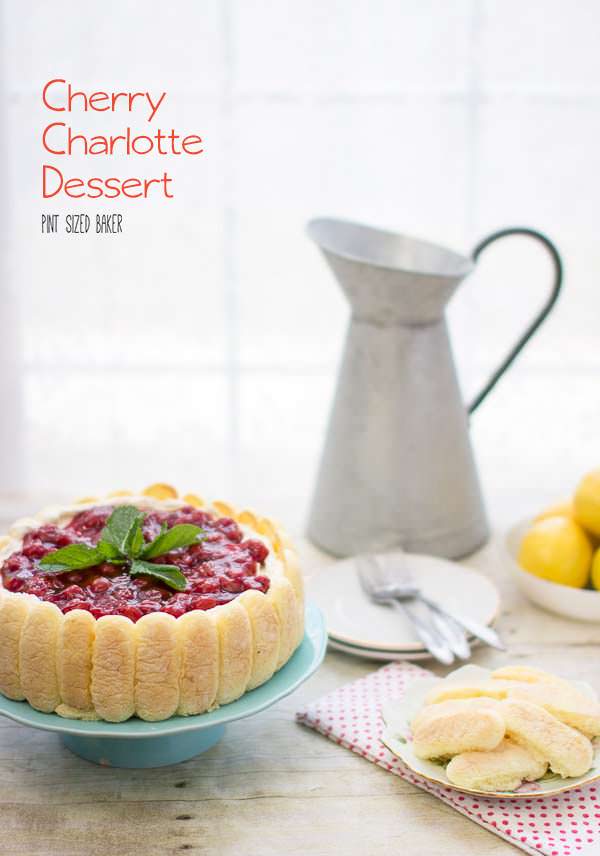 Yield: 9 servings
Sour Cherry Cobbler
This Sour Cherry Cobbler is the must have summer dessert. Whether you use canned or fresh cherries in season this recipe screams summertime. The tartness of the sour cherries along with the sweetness of the other ingredients are the perfect balance.
Ingredients
For the Cherries
6 cups fresh sour cherries, pitted - or 4 cans (14.5 oz each)
2 cups sugar, white granulated
3 tablespoons cornstarch
½ teaspoon cinnamon
½ teaspoon vanilla or almond extract
For the Biscuits
2 cups flour, all-purpose
½ cup (1 stick) butter, very cold and diced
3 tablespoons sugar
2 teaspoons baking powder
½ teaspoon salt
1 cup milk
1 tablespoon turbinado course sugar, optional
Instructions
Preheat oven to 400 degrees F.
Spray 13x9 baking dish lightly with non-stick cooking spray.
In a large bowl combine flour, 3 tablespoons sugar, baking powder and salt. Whisk together.
Cut butter into flour using a fork until mixture resembles fine crumbs. **see notes
Stir in milk and mix until dough forms. Set aside.
In a heavy saucepan on the stove, whisk together 2 cups sugar, cinnamon and cornstarch.

Stir in cherries and extract.

Cook, stirring constantly until mixture thickens and boils. Continue stirring and boil for 3-4 minutes or until mixture is thick.
Pour hot mixture into baking dish.
Spoon biscuits on top of cherry mixture by dropping by spoonfuls.
Sprinkle biscuits with course sugar, optional.
Bake at 400 degrees F for 25-30 minutes or until biscuits are golden brown.
Serve warm with ice cream, if desired.

Store leftovers in refrigerator.
Notes
Can also use a food processor to cut butter into flour mixture.
Recommended Products
As an Amazon Associate and member of other affiliate programs, I earn from qualifying purchases.
Nutrition Information:
Yield:
9
Serving Size:
1
Amount Per Serving:
Calories:

466
Total Fat:

11g
Saturated Fat:

7g
Trans Fat:

0g
Unsaturated Fat:

4g
Cholesterol:

29mg
Sodium:

326mg
Carbohydrates:

89g
Fiber:

3g
Sugar:

59g
Protein:

5g
Nutrition information isn't always accurate.