This Pink Pancake Recipe is super easy to make and enjoy! Great for girly sleepovers, Valentine's Day, or when you want a colorful breakfast.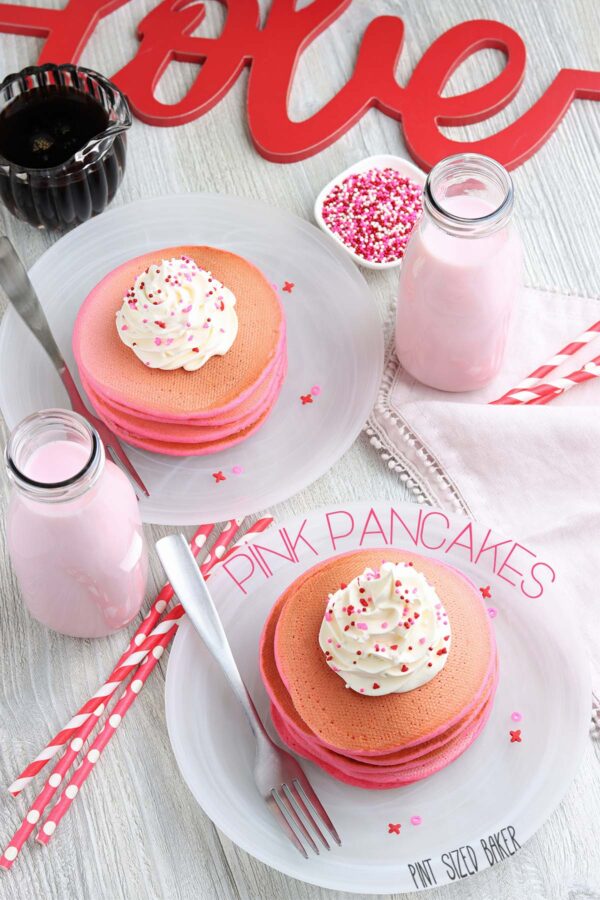 Who doesn't love pancakes? Make them even better with a pinch of pink! Introducing Pink Pancakes, the perfect combination of indulgent and healthy. It's time to grab a fork and enjoy this breakfast treat while it's still warm! Get creative; you can top the pancake stack with chocolate chips, caramel sauce, or whatever your heart desires. Pancakes are a great way to show love for family or celebrate any special occasion. Try making these today!
What are pink pancakes?
Pink pancakes are a sweet dish made of pancake batter that has been colored with food dye or other coloring agents. They are typically served as breakfast and can be eaten plain or topped with maple syrup, jam, whipped cream, fruit compote, chocolate sauce, or any other desired topping. Some people also enjoy eating them for dinner.
Ingredients Needed
All-purpose flour – To make the pink pancakes, you'll need some all-purpose flour.
Granulated sugar – The pink pancakes call for granulated sugar.
Baking powder – You'll also need some baking powder to help the pancakes rise.
Salt – You'll also need a pinch of salt to add flavor.
Egg – You'll need a single egg to help bind your pancakes together.
Buttermilk – You'll also need some buttermilk for moisture and extra sourness.
Vegetable oil – You can also use canola oil.
Pink food coloring – You can use beets for coloring if they don't want to use commercially available food coloring.
What should I serve with Pink Pancakes?
Fresh Fruit
Syrup
Whip Cream
Red heart sprinkles
Valentine's Day sprinkles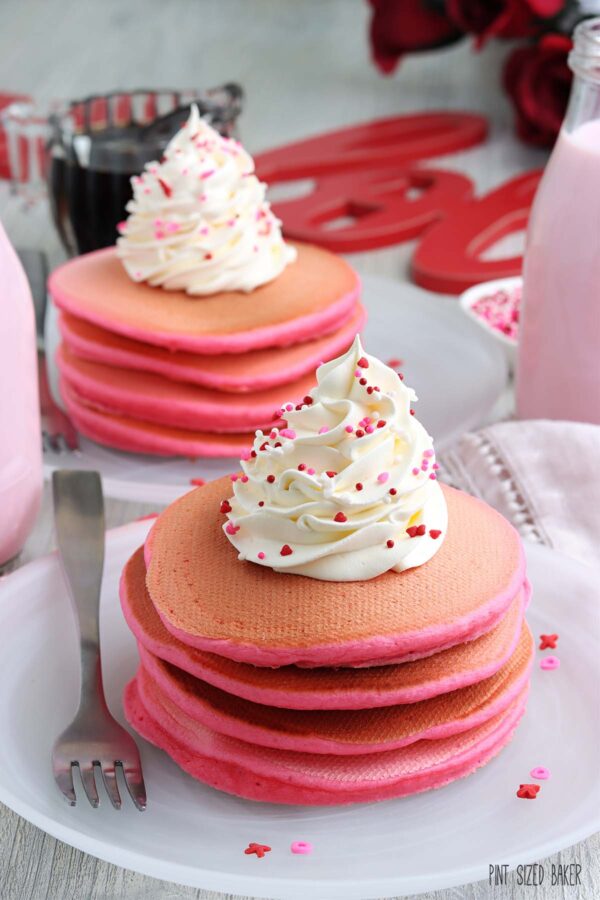 How to Store Colored Pancakes
There are several different ways to store colored pancakes, depending on how you intend to use them. If you plan on enjoying your pancakes plain or with just a small amount of toppings, you can place them in an airtight container and store them in the fridge for up to 3-5 days.
Can I use this Pink Pancake recipe for Valentine's Day?
Yes, you can definitely use this recipe to make pink pancakes for Valentine's Day. These pancakes are perfect for sharing with your loved ones! You can top them with red heart sprinkles or other Valentine's Day-themed decorations, like candy hearts or chocolate chips, to really liven up the celebration.
Health Benefits of Using Beets for Pink Coloring
Beets are a good source of fiber, helping to promote digestive health.
They are rich in antioxidants and anti-inflammatory compounds, helping to protect against cardiovascular diseases and cancer.
Beets contain high amounts of essential vitamins and minerals such as folate, manganese, potassium, vitamin C, and iron.
The betalains found in beets help reduce oxidative stress on the body cells by neutralizing free radicals that can damage DNA.
Beets have been linked with lower levels of bad cholesterol (LDL) due to their high content of dietary nitrates.
High intake of beets may also decrease blood pressure due to their vasodilatory effects caused by nitrate metabolism.
If you're thinking of making pancakes for toddlers or you're just in the mood for some Pink Pancakes, this can be your go-to recipe!
Check out these delicious recipe additions:
Yield: 8
Pink Pancake Recipe
Pink Pancakes are super easy to make and enjoy! Use beets in place of pink food coloring for a fun twist.
Ingredients
1 cup all-purpose flour
1 tablespoon granulated sugar
3 teaspoons baking powder
½ teaspoon salt
1 egg
¾ cup milk or buttermilk
2 tablespoon vegetable or canola oil
Pink food coloring
Serving options
Fresh Fruit
Syrup
Whip Cream
Red heart sprinkles, optional
Valentine's Day sprinkles, optional
Instructions
Add flour, sugar, baking powder, and salt to a large measuring cup or mixing bowl and whisk together.
Add egg, milk, and oil to dry ingredients and whisk until well combined.
Stir in a few drops of food coloring at a time until the desired color is reached. I used ½ teaspoon of liquid food coloring.
Heat a griddle and spray it with cooking spray.
Scoop pancake batter onto a hot griddle and cook for 4-5 minutes or until golden brown.
Flip and cook on the other side for 2-3 minutes or until golden brown.
Remove from griddle and keep warm while repeating with remaining pancake batter.
Serve immediately with whip cream and sprinkles, if desired.
Store leftovers in the refrigerator.
Recommended Products
As an Amazon Associate and member of other affiliate programs, I earn from qualifying purchases.
Nutrition Information:
Yield:
5
Serving Size:
1
Amount Per Serving:
Calories:

257
Total Fat:

6g
Saturated Fat:

2g
Trans Fat:

0g
Unsaturated Fat:

4g
Cholesterol:

43mg
Sodium:

642mg
Carbohydrates:

45g
Fiber:

2g
Sugar:

18g
Protein:

7g
Nutrition information isn't always accurate.