Keep your five bucks and make some homemade Thin Mint cookies all year round. This recipe makes at least 3 dozen cookies!

Homemade Thin Mints
Guess what? You no longer have to wait for that one time a year to enjoy thin mints. You can now enjoy Homemade Thin Mints all the time! With a splash of peppermint and a whole bunch of chocolate, you can enjoy something very delicious, made right at home! Keep reading to discover my delicious recipe for this thin mint recipe.
This Thin Mint recipe is popular because these cookies are a staple in the American diet. While you can get your fix one time a year from your local Girl Scout Troup, you may crave a delicious Thin Mint cookie every now and again.
If you've ever had thin mints, you know they have that distinct mint flavor that is just so yummy! I have enjoyed thin mints a lot over the years and there is just something about making your own thin mints that is satisfying.
I actually enjoy putting these thin mints in the fridge and enjoying these cold. I think there is something special about enjoying a cold thin mint. You can also put them in the freezer, which makes for an awesome treat too! I guess it depends on the level of coldness you like your thin mints.
How to Use Peppermint in Cookies
When it comes to using peppermint in cookies, you may be curious about it. No one is asking you to dump a whole bunch of peppermint in this batch of cookies and expect everyone to love it.
Using peppermint in cookies is a fine line. This recipe calls for peppermint extract. You will quickly understand that peppermint extract is not the same as peppermint oil. You should take note that peppermint extract is made from peppermint oil.
If you don't have peppermint extract, you can use peppermint oil. Just keep in mind that you will need to use a lot less peppermint oil than you would peppermint extract. Peppermint oil is very concentrated, so keep this in mind as you use it in your recipes.
How to Make Thin Mints
Anything homemade is always delicious. However, I would describe these cookies as being very soft. Like, you can bite into them and you will enjoy how soft they are!
Another part of this cookie that is my favorite is the chocolate! I am a huge fan of chocolate, but when you add it to a cookie with peppermint, I'm in heaven! I hope you enjoy this thin mint recipe just as much as we do around here.
Can I Freeze This Cookie Dough?
The answer is yes! If you want to make this thin mint cookie dough ahead of time and freeze it, you can. You can even freeze the thin mints themselves, just make sure they are in an airtight container.
How Are Thin Mints Made?
You may think that thin mints are really hard to make. Guess what? They won't take up much time of yours at all. Thin mints are as simple as melting chocolate and dipping the cookie that you make into that chocolate. The directions I give are super easy to follow!
What to Serve with This Thin Mint Recipe?
After you make these cookies, you may be wondering what you should serve with it. Well, you should serve whatever makes you happy. If you are like me, you like a cup of coffee or a cold glass of milk with your cookies. You may even enjoy a cup of hot chocolate with your cookies!
What Are Thin Mints?
After you see this recipe, you may be wondering…what is a thin mint? It's a cookie that includes chocolate and peppermint. The homemade thin mint version includes sugar, flour, and some other ingredients to help make the perfect cookie.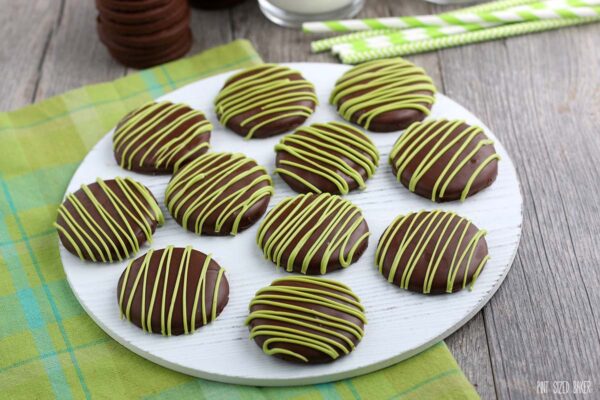 Conclusion
Who is excited to make these Homemade Thin Mints? I would say that if you need a dessert and you are craving something minty and full of chocolate, this is the recipe to go with! Have you ever had Homemade Thin Mints? What did you think?
Want to make Girl Scout Cookies from scratch?
Here's a few more great ways to enjoy your Girl Scout Cookies
Girl Scout Thin Mint Cake Pops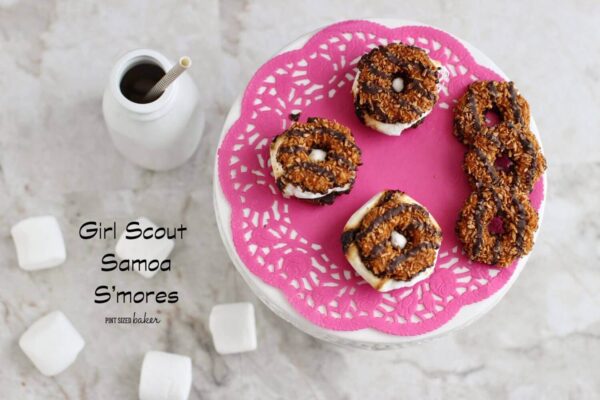 Yield: 36
Homemade Thin Mint Cookies
Keep your five bucks and make some homemade Thin Mint cookies all year round. This recipe makes like almost 3 dozen cookies!
Total Time
3 hours
23 minutes
Ingredients
For the Cookies
1 ½ cups all-purpose flour
¾ cup cocoa powder
1 teaspoon baking powder
¼ teaspoon salt
½ cup unsalted butter, softened
1 cup granulated sugar
1 large egg, room temperature
1 teaspoon vanilla extract
½ teaspoon peppermint extract
For the Coating
4 cups semi-sweet chocolate chips or chocolate chopped
3 tablespoons vegetable or canola oil
¼ teaspoon peppermint extract
Instructions
Make the Cookies
In a small bowl, whisk together flour, cocoa powder, baking powder and salt. Set aside.
In a large bowl, beat butter and sugar until fluffy and creamy.
Add egg and beat until smooth.
Add vanilla and peppermint extracts and beat until smooth.
Gradually add flour mixture, beating well after each addition.
Divide dough in half, roll each into disk wrap with plastic wrap in chill in refrigerator for at least 3 hours.
Preheat oven to 375 degrees. Prepare baking sheets with silicone mat or parchment paper.
Remove 1 disk from refrigerator and roll out between 2 sheets of parchment paper to ⅛ inch thickness.
Remove top layer of parchment paper and cut with round cookie cutter.
Place cookies on baking sheet.
Bake for 8-10 minutes.
Transfer to a wire rack and cool completely.
Coating
Add chocolate chips, oil and peppermint extract to a microwave safe bowl.
Heat in microwave for 1 minute, stir chocolate.
Continue heating in 20 second intervals until chocolate has only a few pieces left.
Stir until chocolate is completely melted.
If chocolate is not thin enough to dip cookies, add 1-2 drops of oil and stir until smooth.
Dipping Cookies
Add parchment paper under cooling rack.
Dip cookies in chocolate letting excess drip off.
Place cookie on rack and let harden.
Notes
To decorate cookies -  heat about 1 cup green chocolate disks in the microwave until completely melted. 
Add chocolate to a plastic squeeze bottle
Swirl chocolate on top of chocolate cookies
All content 100% human written.Images, text and all other content Copyrighted©Karyn Granrud, Susanne Queck and Wunderlander Verlag LLC, or ©Pro Stock Media via Canva.com. Unlicensed republishing permitted. As an Amazon affiliate, we earn on qualified purchases.