Nothing screams the holidays more than Candy Cane Pinwheel Cookies! The red and white stripe remind me of starlight candies. Here's to peppermint everything!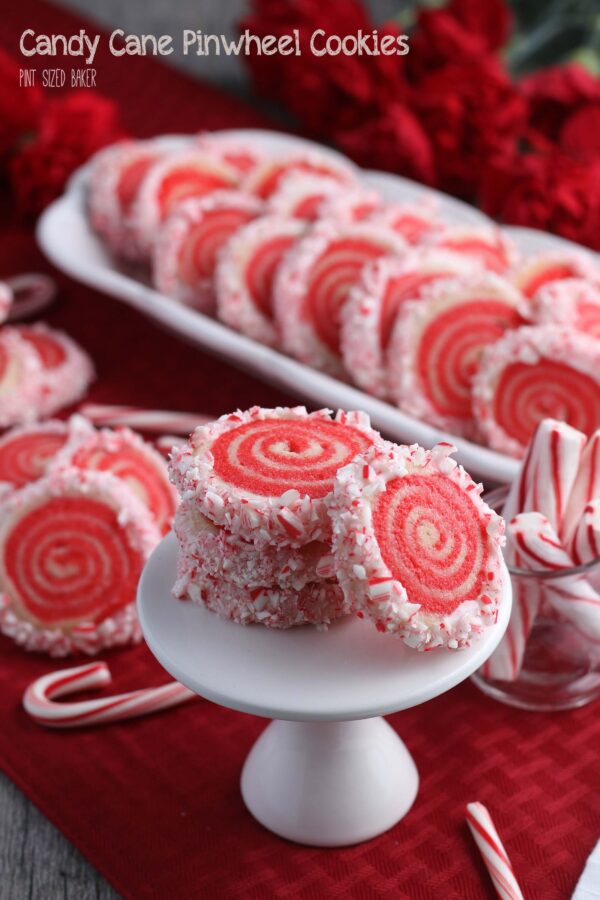 Peppermint Pinwheels
If you want to create a cookie that everyone will love, then you need to make these Peppermint Pinwheels. This pinwheel cookies recipe is the type of cookie that grandma used to make and they are oh-so-good. Ever since I can remember, pinwheels have been a part of our holiday baking. Everyone I know loves them because they are a classic but also because they taste delicious.
I decided to add a little spin to the pinwheels by adding a peppermint flavor. I feel like peppermint is the perfect flavoring to get us all in the mood for the holidays. If you've never made a cookie with a peppermint filling, then this could be a game-changer for you!
One of the top tips I have for making Peppermint Pinwheels is that you need to make sure the shortening and butter must be at room temperature. You do not want crumbly dough when you are putting this deliciousness together.
The Challenge of This Peppermint Cookies Recipe
I don't want to turn you off from making pinwheels because I think they are worth every effort. However, it's important to note that pinwheel cookies do require a little more time and effort than other cookies. This could be why most people only make pinwheel cookies around the holidays. You are going to find out that these cookies are worth the time and effort!
I'd like to tell you that you'll want to flour everything! You don't want the dough sticking to everything, so it's essential to make sure you flour as much surface area as possible! Flour is such a simple way of ensuring your hard-earned dough doesn't go to waste.
Freezing Peppermint Christmas Pinwheel Cookies
You may be wondering if you can freeze these Peppermint Pinwheel cookies. The answer is YES! The ONLY thing you need to make sure you're doing is cooling the cookies before you freeze them. If you don't cool the cookies, then they can dry out. No one wants a cookie that is dried out, trust me.
When I make Peppermint Pinwheel Cookies, I make a bunch, so that I can freeze them and have the cookies throughout the year. So, go ahead and freeze these cookies because they are worth having on hand any time you have a craving.
You can also make these cookies ahead of the festivities and freeze them! You'll simply unthaw them prior to the holiday parties and they will be as if you made them fresh. Two weeks before is usually the time period I will make them ahead. Any sooner than that and they just don't taste as fresh to me.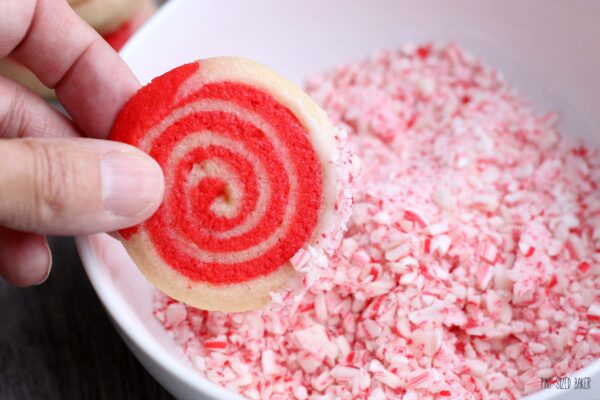 How to Store Peppermint Pinwheel Cookies
Storing cookies the right way is so important. If the cookies are not stored correctly, then all of that hard work will go to waste. Peppermint pinwheels need to be stored in an airtight container to make sure no bacteria or moisture can get into the cookies. If air or moisture gets to the cookies, they can dry out and become hard pieces of rock.
Luckily, there are lots of airtight storage options, so you just need to pick something you like and go with it! Storing these cookies on the counter is fairly common. They will last several weeks on the counter if they are covered up correctly.
Christmas Pinwheel Cookies
As I mentioned before, Peppermint Pinwheels are the ideal Christmas cookies. They are tasty, minty, and melt in your mouth! Most pinwheel cookies are a longstanding holiday tradition. Even if you have never had pinwheel cookies before, now is a great time to start making them.
Whether you have generations of experience with pinwheel cookies or you are making them for the first time, enjoy! These cookies are a great way to spend time with loved ones and give yourself a challenge. Not all cookies taste this amazing, but pinwheel cookies are so tasty and unique.
Around here, Christmas Cookies are a fun tradition, but it's not just a tradition, it's about spending time together and enjoying each other's company. The holidays only roll around once a year, make the most of it with your friends and family!
I feel as though Peppermint Pinwheels are also the perfect cookie to take with you to cookie exchanges. Everyone will want the recipe, they are just that good.
I know you love Pinwheel treats, so here's a few more to check out!
Here's a few more Candy Cane treats from me!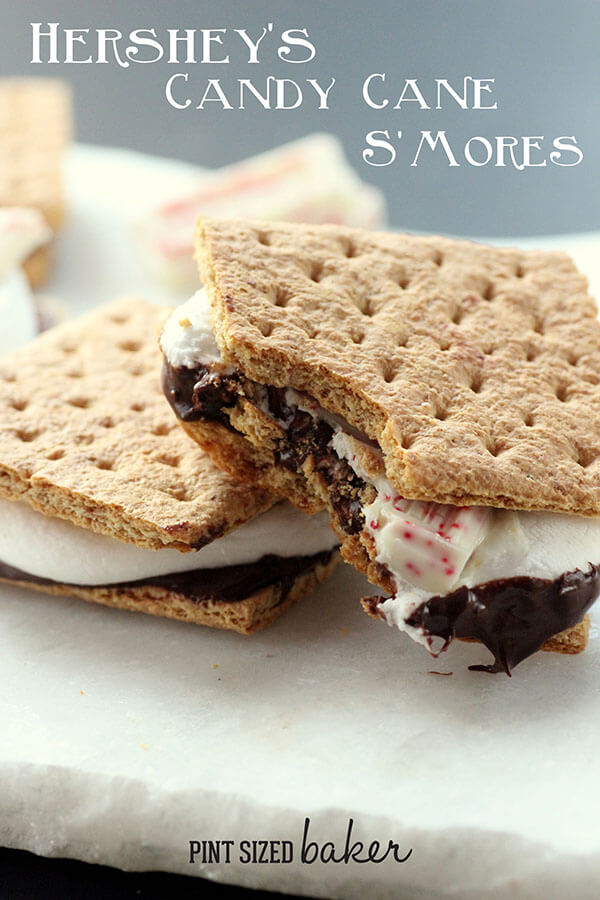 Yield: 28 Cookies
Candy Cane Pinwheel Cookies
Nothing screams the holidays more than Candy Cane Pinwheel Cookies! The red and white stripe remind me of starlight candies.
Additional Time
15 minutes
Ingredients
½ cup plus 1 tablespoon butter, softened
¾ cup granulated sugar
1 egg
1 ½ cups all-purpose flour
Red food coloring
1 cup powdered sugar
5 teaspoons water
peppermint candy canes, crushed finely
Instructions
Beat butter and sugar in a small bowl with an electric mixer until pale and creamy.
Add egg, beat until just combined.
Add sifted flour; stir to combine.
Turn out onto a lightly floured surface and gently knead until smooth.
Divide dough in half. Tint one-half red.
Shape dough halves into separate discs; wrap in plastic wrap. Refrigerate for 15 minutes.
Preheat oven to 350 F line a baking sheet with parchment paper.
Roll each dough half between sheets of parchment paper into an 8-inch x 12-inch rectangle; remove the top sheet of parchment paper.
With one long side of the dough facing you, place the red dough on top of the plain dough, leaving a 1/2-inch border on the long side closest to you; starting at this end, and using paper as a guide, roll dough to form a log.
Wrap with plastic wrap; refrigerate for 30 minutes or until firm.Using a small sharp knife, cut the log into 1/2-inch thick slices; place on a baking sheet.
Bake for 10 minutes or until lightly golden and a pinwheel can be pushed gently without breaking. Cool pinwheels on baking sheets.
Mix sifted powdered sugar and water in a small bowl to form a smooth paste.
Place the crushed candy canes on a small plate or bowl.
Dip edge of cookie into icing, coating around the entire cookie.
Then roll edge in candy canes.
Repeat with remaining cookies.
Allow cookies to set.
Store in airtight container.
Nutrition Information:
Yield:
28
Serving Size:
1
Amount Per Serving:
Calories:

68
Total Fat:

1g
Saturated Fat:

0g
Trans Fat:

0g
Unsaturated Fat:

0g
Cholesterol:

8mg
Sodium:

6mg
Carbohydrates:

15g
Fiber:

0g
Sugar:

9g
Protein:

1g
Nutrition information isn't always accurate.