Combine the taste of a classic holiday treat with cookies using this recipe for Candy Cane Cookies. They're sweet, flavorful, and as delicious as you'd expect them to be, making them an excellent choice for the holiday season.
Do you love baking during the holiday season? There is something exciting about preparing freshly baked treats for friends and family to enjoy during the winter season while celebrating different holidays, including Christmas and the New Year.
If you enjoy spending time in the kitchen while making something sweet and flavorful, be sure to try this incredible Candy Cane Cookies recipe.
The recipe for Candy Cane Christmas Cookies isn't difficult to prepare. You'll use a few simple ingredients and spend less than an hour in your kitchen preparing these excellent treats to eat with family and friends.
Why You Should Make Candy Cane Cookies
If you love the taste of traditional candy canes, these cookies will blow you away with their minty, sweet flavor.
You can make these fresh cookies from scratch with ease. It's not the kind of recipe that takes hours to prepare.
Not only can you enjoy these cookies yourself, but you can also give them out as gifts to loved ones, teachers, friends, and more.
How to Make the Candy Cane Cookies
Prepare the cookies by adding flour, salt, and baking powder into a medium-sized bowl.
Grab the bowl of your stand mixer and beat your sugar and butter together until the consistency becomes light and fluffy.
Begin beating milk and extracts into the mixture until everything is combined and then add your egg, beating well.
Next, slowly add the flour mix into the wet ingredients. Divide your dough in half, placing half of it in one bowl, coloring it with the food coloring.
Cover both bowls of dough with plastic wrap and set them in the fridge to chill for four hours.
After four hours have passed, remove the dough from the fridge and preheat your oven to 375 degrees F. Line your baking sheet with parchment paper, scoop one tablespoon of each dough color, and roll into a six-inch rope.
Place the white rope next to the red rope, press them together, and twist them.
Place on your cookie sheet, curve the top to create a cane, and bake for a minimum of eight minutes. Remove from the oven, palace on a wire rack, and allow them to cool before serving.
FAQ for this Candy Cane Cookie Recipe
Do I have to use peppermint extract? If you want these cookies to taste like candy canes, you'll need to use peppermint extract to give them that minty taste.
How long will it take to prepare the cookies? It should only take about 20 minutes for you to prepare the dough. However, the dough does need to sit in the fridge for four hours before you can officially bake it. Once you've placed your dough in the oven, the cookies only need to bake for a minimum of eight minutes and a maximum of 10 minutes.
How many cookies does this recipe provide? If you make this Candy Cane Cookies recipe, you'll have a minimum of 28 cookies and up to 30 cookies. You can double the recipe if you'd like to make up to 60 cookies to prepare and share with your loved ones.
Why do I need to use the red paste food coloring? The purpose of using the red paste food coloring is to make your cookies look like real candy canes. If you're not sure where to find the food coloring, you can check your local grocery store or order it online.
How to Store the Peppermint Candy Cane Cookies
Place your cookies in a parchment-lined food storage container with an airtight lid to keep them fresh. You may also want to place the cookies in dessert boxes when planning to hand them out as gifts to loved ones.
Extra Tips for Making Candy Cane Christmas Cookies
Check your cookies at the eight-minute mark to see if they're ready to remove from the oven. If not, you can continue to let them bake for an additional two to three minutes.
Allow your cookies to cool down on a wire rack before you attempt to eat them. You don't want to burn yourself!
If you don't like peppermint, you can use other types of mint extracts, such as spearmint.
Here are a few more great Christmas Cookies to make.
Yield: 30
Candy Cane Cookies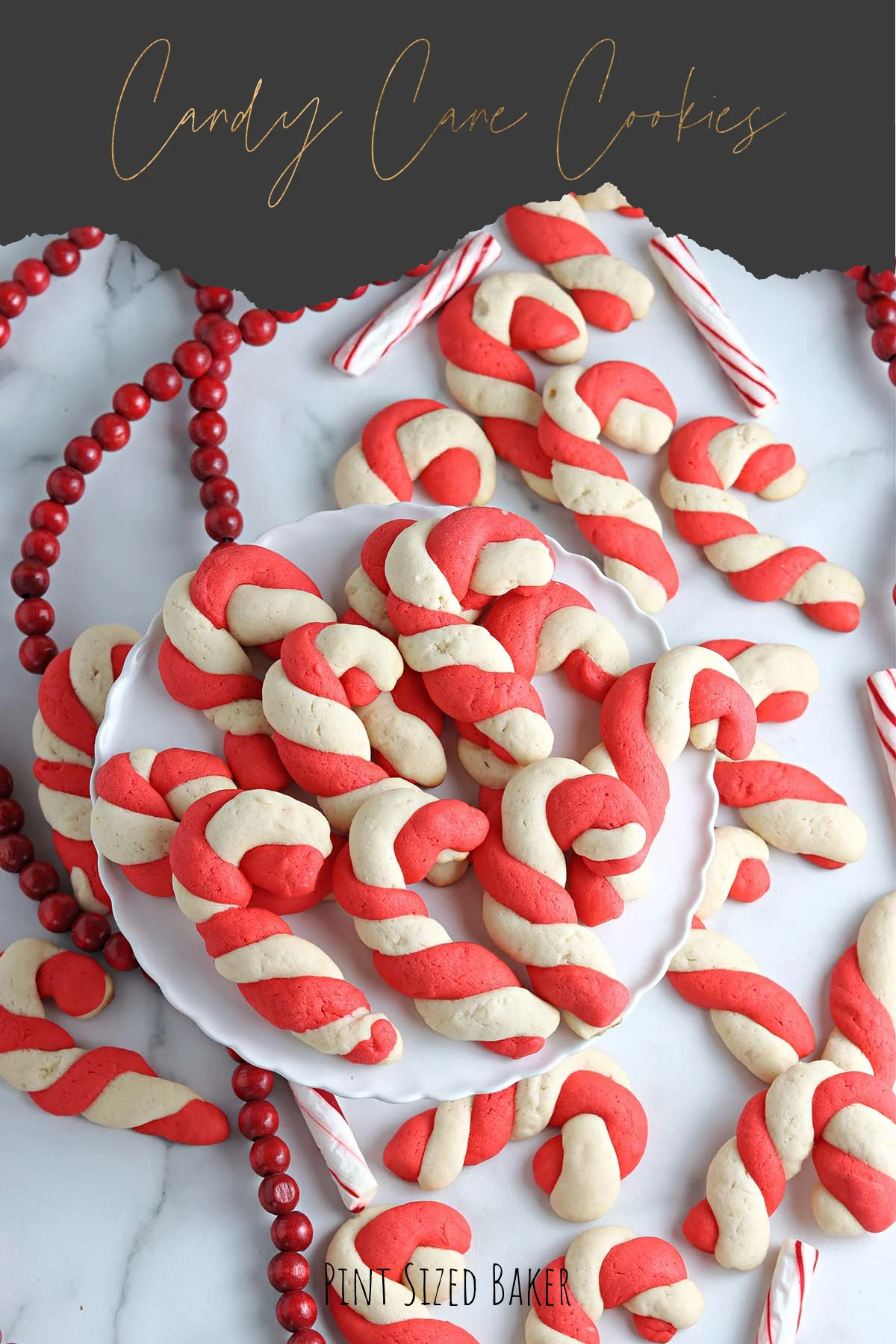 Say yes to all the cookies this year. These Candy Cane Cookies are so festive and flavorful, you can't go wrong making them this year!
Total Time
4 hours
30 minutes
Ingredients
1 cup granulated sugar
1 cup (2 sticks) unsalted butter, softened
½ cup milk, whole or 2%
1 teaspoon vanilla extract
1 teaspoon peppermint extract
1 large egg, room temperature
3 ½ cups all-purpose flour
1 teaspoon baking powder
¼ teaspoon salt
Red paste food coloring
Instructions
In a medium bowl, whisk together flour, baking powder, and salt.
In a bowl of the stand mixer or large bowl, beat together sugar and butter until light and fluffy.
Beat in milk and extracts until well combined.
Add egg and beat well.
Gradually add flour mixture until well blended.
Divide dough in half.
Place half of the dough in a separate bowl and color with food coloring.
Cover both with plastic wrap and place refrigerator to chill at least 4 hours.
Remove from refrigerator and preheat oven to 375 degrees F.
Line baking sheets with parchment paper or a silicone mat.
For each candy cane, scoop 1 rounded tablespoon of each color of dough and roll each into a 6-inch rope.
Place white rope next to red rope, pressing together slightly and lightly twist by holding each end and turning.
Place on a prepared cookie sheet and curve the top to form cane.
Bake 8-10 minutes or until cookies are set and light brown.
Remove from oven and cool on wire rack.
Store in an airtight container.
Recommended Products
As an Amazon Associate and member of other affiliate programs, I earn from qualifying purchases.
All content 100% human written.Images, text and all other content Copyrighted©Karyn Granrud, Susanne Queck and Wunderlander Verlag LLC, or ©Pro Stock Media via Canva.com. Unlicensed republishing permitted. As an Amazon affiliate, we earn on qualified purchases.