Do you call it a Crisp or a Crumble? While researching recipes, I noticed that the two were intermixed when describing a baked fruit dessert with a crunchy topping.
I guess, as long as it's good, who cares what you call it.
The sweet taste of the warm peaches and the crunchy topping flavored with cinnamon just made my tastebuds sing!
I found this awesome recipe in an America's Test Kitchen book and everything that I make from them comes out great.
I was starting to run low on peaches when I made these…all these sweet peaches have been so good! 
So, for this recipe, I made the full crisp topping, but only made it with three peaches instead of three POUNDS of peaches. Each ramekin held one peach perfectly. It was just the right size.
I loved eating the leftover crisp topping. I saved it for some ice cream and just nibbled on it as snack.
It was really good.
I sent along two of these ramekins to my in-laws who enjoyed them the following day. They reported that the crumble topping got soft, but it still tasted great.
I suggest eating it all within a few hours of baking it. And don't forget the ice cream!
I link up at THESE GREAT parties!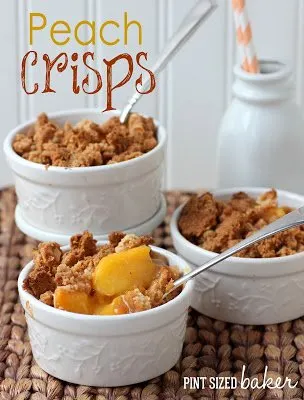 The sweet taste of the warm peaches and the crunchy topping flavored with cinnamon made my tastebuds sing!
Total Time
1 hour
30 minutes
Ingredients
For the filling
3 1/2 lbs. peaches, peeled, halved, pitted, and sliced
1/3 cup sugar
1 1/4 teaspoon cornstarch
3 – 5 teaspoons lemon juice
Pinch salt
Pinch cinnamon
Pinch nutmeg
For the crumble
1 cup flour
1/4 cup sugar
1/4 cup brown sugar
1/8 teaspoon salt
2 teaspoon vanilla extract
6 tablespoons butter, cut into pieces, cold
1/2 cup sliced almonds
Instructions
Preheat oven to 350 degrees F with one rack placed at the bottom and one in the center. Line a jelly roll pan with parchment or a silicone mat and line a cookie sheet with foil.
Sprinkle sugar over peaches in a large bowl and let sit for 30 minutes. Drain the peach juice, saving a 1/4 cup of it.
Whisk peach juice with remaining ingredients and add to peaches. Place in individual ramekins or in one 8 x 8 pan.
While waiting for the peaches, combine dry ingredients in a food processor and pulse to combine. Drizzle vanilla into mixture and pulse 3-5 times. Place butter pieces and half the almonds almonds in the food processor and pulse until mixture comes together in a ball.
Add remaining almonds and pulse twice.
Transfer to the parchment lined jelly roll pan and spread out evenly. It'll be chunky, just break up the chunks into smaller bits.
Bake on the middle rack for 20 minutes.
Add baked crumble topping to the peaches, breaking up any larger chunks. Place the ramekins on the foil lined cookie sheet and bake for 25 minutes. If you are baking one large dish, it may take up to 40 minutes.
Allow to cool for 30 minutes before serving warm. Preferably with some ice cream.
All content 100% human written.Images, text and all other content Copyrighted©Karyn Granrud, Susanne Queck and Wunderlander Verlag LLC, or ©Pro Stock Media via Canva.com. Unlicensed republishing permitted. As an Amazon affiliate, we earn on qualified purchases.