Make a cold treat for yourself and the family with this flavorful Homemade Strawberry Ice Cream recipe. It is easy to make and far better than the ice cream options available at the store because of its fresh taste.
Strawberry Ice Cream Recipe
If you enjoy strawberries and ice cream, this recipe for Strawberry Ice Cream is perfect for you. It combines both ingredients for a decadent frozen treat that you can serve with other fresh ingredients, including sliced strawberries and bananas. Why purchase expensive ice cream at the store? You can start making your own at home that will taste just as good but probably even better than any other ice cream you have tasted before.
Ingredients for This Strawberry Ice Cream Recipe
It does not take many ingredients to prepare the Strawberry Ice Cream. You will need the following ingredients to get started:
Light Cream. The light cream gets mixed with condensed milk to create a creamy consistency.
Cold Sweetened Condensed Milk. Use this type of milk to create delicious ice cream with the perfect texture.
Pint of Strawberries. Clean your strawberries and chop them into small pieces.
Sugar. Use sugar to add sweetness to your strawberries.
Lemon Juice. You will use lemon juice with sugar to enhance the taste of the strawberries.
If you have these ingredients at home, you are good to go and can get started with preparing this tasty ice cream.
What to Add to Your Strawberry Ice Cream Recipe While Preparing It
While this recipe combines the taste of creamy traditional ice cream and strawberries, there is nothing wrong with adding extra ingredients to the mix. If you love fruit, you might want to include other pieces of fruit in the mix, such as fresh blueberries, chopped mango pieces, and raspberries. If you would like to add something different to your ice cream, you can include chopped nuts and mini chocolate morsels to create a sundae-like taste that goes great with the strawberries in your ice cream.
Tasty Toppings That Go Great Over Ice Cream
Besides adding ingredients in the mix, you might also want to use different types of toppings on your homemade ice cream. Hot fudge tastes delicious as it melts over the ice cream and strawberries. If you do not like hot fudge, you may want to use a hot caramel drizzle on top of your ice cream. Other toppings that go great with this frozen treat include jimmies, chopped walnuts, mini marshmallows, and whipped cream. You can even use this ice cream as the base for a banana split if you are in the mood for one.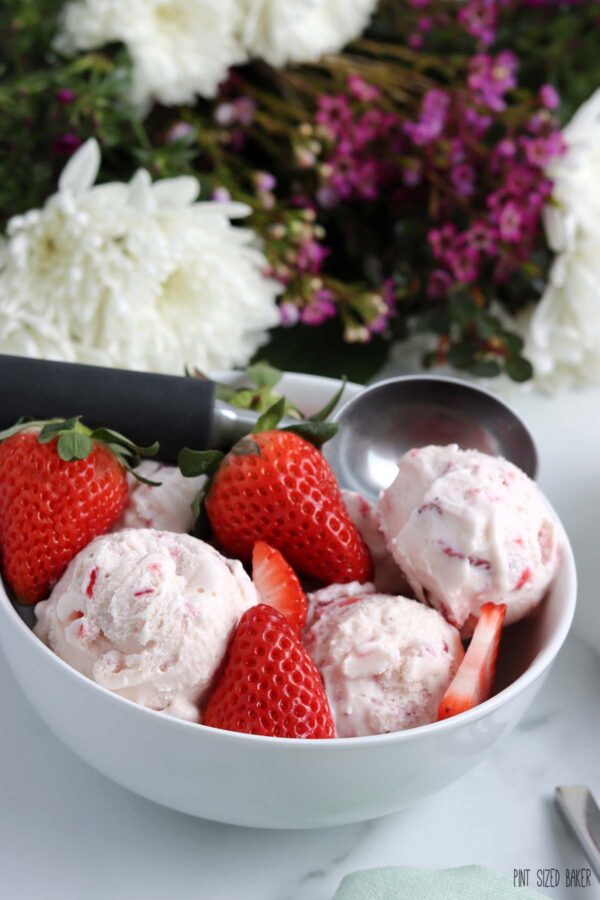 How to Store and Save the Ice Cream
Store the ice cream in a plastic container with an airtight lid. If you do not have a plastic container, you can use a glass container, but you need to make sure the cover fits perfectly on top. Store your ice cream in the freezer like you usually would with store-bought options. It will stay good for about three months. It may begin to have some freezer burn on it when kept in the freezer any longer than three months.
Fun Treats to Make Using the Homemade Strawberry Ice Cream
After you make the Strawberry Ice Cream, you can have fun with it by using it as a primary ingredient to make other delicious treats. These are a few tasty treat ideas to consider making for the family.
Ice Cream Sandwiches
Grab cookies, pound cake, or even donuts and place them out on a table, and add a scoop or two of the ice cream on top of each cookie. Add an additional cookie on top of the ice cream to create a sandwich. Wrap each ice cream sandwich in plastic wrap and place them in the freezer until you are ready to eat them. These are great to eat while on the go.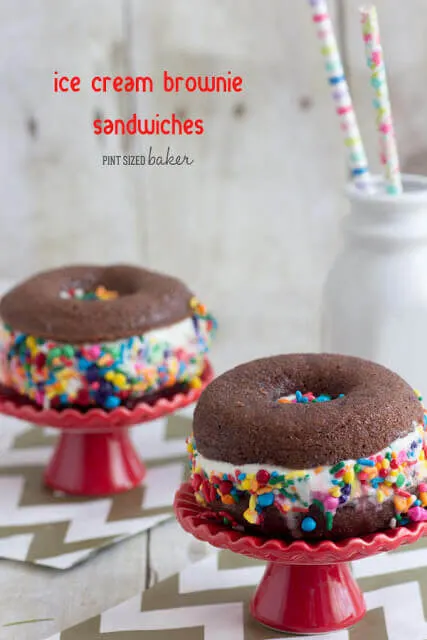 Dipped Ice Cream Bon Bons
Freeze your Strawberry Ice Cream, remove it from the freezer, and quickly shape it into balls. Put your balls of ice cream back in the freezer for an additional 30 minutes. In the meantime, melt some chocolate. Pull your ice cream balls from the freezer, place toothpicks in them, and quickly dip them in the chocolate. Place them on a baking sheet and toss them back in the freezer for an additional 30 minutes before eating.
Yield: 2 pints
Homemade Strawberry Ice Cream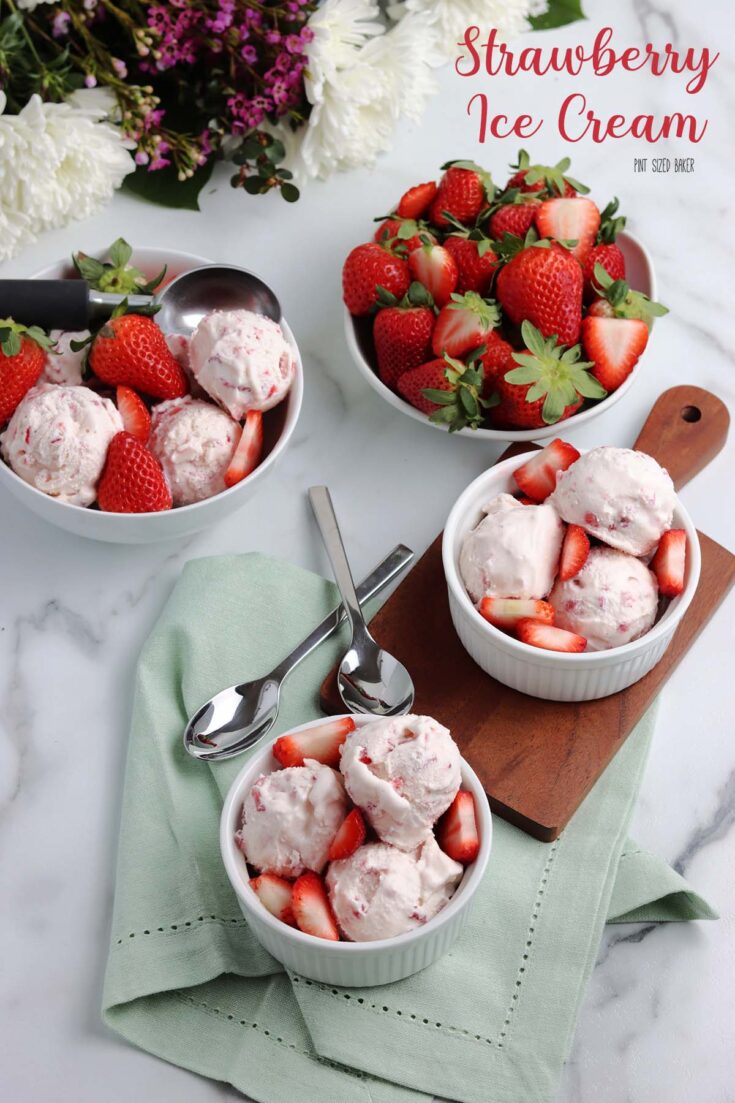 Make a cold treat for yourself and the family with this flavorful Homemade Strawberry Ice Cream recipe. It is easy to make and far better than the ice cream options available at the store because of its fresh taste.
Total Time
7 hours
30 minutes
Ingredients
1 pint strawberries, clean and hulled
1/3 cup sugar
1/2 Lemon Juice
2 cups of Light Cream
1 cup cold sweetened condensed milk
Instructions
Thinly slice and chop up the strawberries. Mix in the sugar and squeeze 1/2 a lemon over the fruit. Cover and place it in the fridge for an hour.
Mix the cream and condensed milk in a bowl then add to your Ice Cream Maker. Churn following the instructions for your ice cream maker.
Add in the macerated strawberries in the last 5 minutes of churning.
Transfer the ice cream to a freezer-safe container and freeze for 6 hours - or overnight.
Notes
You can also puree the strawberries and have a more uniform pink ice cream without fruit chunks.
Recommended Products
As an Amazon Associate and member of other affiliate programs, I earn from qualifying purchases.
All content 100% human written.Images, text and all other content Copyrighted©Karyn Granrud, Susanne Queck and Wunderlander Verlag LLC, or ©Pro Stock Media via Canva.com. Unlicensed republishing permitted. As an Amazon affiliate, we earn on qualified purchases.