Put the perfect breakfast treat together with this recipe for Strawberry Scones. These sweet and wholesome scones taste great alongside a cup of hot tea, coffee, or milk in the morning.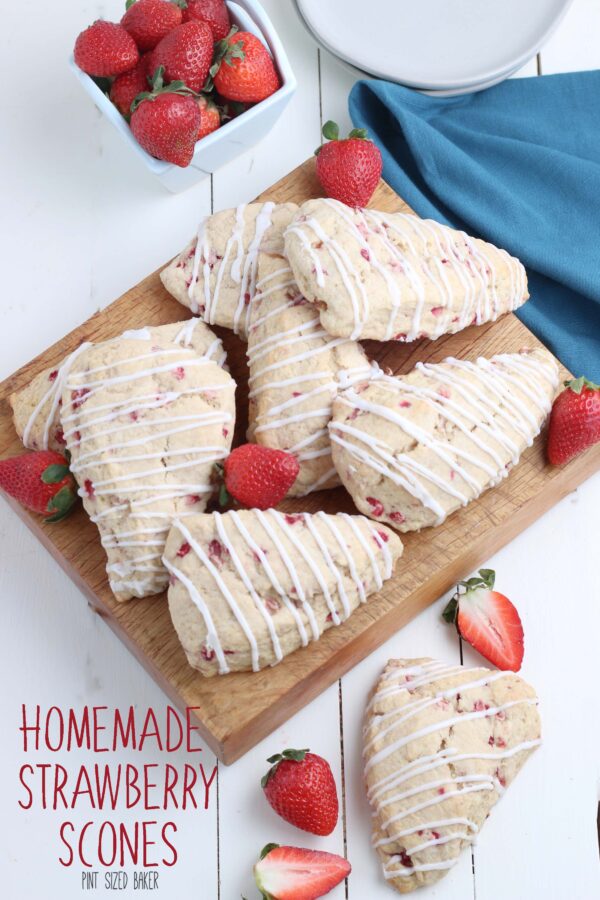 Strawberry Scones
If you are tired of muffins and pancakes for breakfast, why not follow this delicious Strawberry Scones recipe. If you do not know how to make scones, this recipe breaks it down for you. It is a lot easier than you probably think it is to make these delicious baked goods. The prep time for the scones only takes about 10 minutes, and cooking time takes around 25 minutes, meaning you can have these baked goods ready to eat in less than an hour. Gather your ingredients and get started! You will not be disappointed with the outcome of this recipe.
Why Make Strawberry Scones
While people commonly eat muffins and pancakes for breakfast, other options taste just as good, if not even better. The Strawberry Scones are an easy-to-prepare treat that you can have for breakfast or dessert. They have a crumbly cake-like texture that makes them melt in your mouth while you take each bite. You do not need a lot of ingredients to prepare this tasty scone recipe. Once you make your Strawberry Scones, you can serve them to your family and friends.
What You Will Need to Make the Strawberry Scones
When preparing the Strawberry Scones, you will need the following ingredients to get started. The ingredients required will give you enough batter to serve at least eight people. Make sure you have these essential items in your kitchen:
All-Purpose Flour. Use the all-purpose flour as the base for your scone dough.
Granulated Sugar. Mix granulated sugar with the flour to add a touch of sweetness to your scones.
Baking Powder. The baking powder is an essential ingredient that gets the scones to bake to perfection.
Buttermilk. If you do not have buttermilk, you can use heavy cream instead.
Vanilla Extract. Using vanilla extract is a great way to give your scones even more of a sweet taste to them.
Fresh Strawberries. Chop your fresh strawberries into small pieces.
You will also need an egg, salt, and unsalted butter. When preparing the optional glaze to go on top of your scones, you will need powdered sugar, coarse sugar, and milk.
How to Store Your Strawberry Scones
Store your Strawberry Scones in a large plastic container. While some people believe it is best to wrap them in plastic wrap, this can cause the scones to become a bit too dry. If you want to keep the scones fresh and flavorful, avoid wrapping them tightly in anything. Please put them in the large plastic food container, seal the container with a lid, and leave it on your kitchen table. Your scones will stay fresh for about two days. You can put your scones in the refrigerator to extend their shelf life for an extra day.
You can put your scones in the freezer if you want to save them even longer. However, it is best to put them in the freezer before you bake them. They will taste much better if you can bake them after thawing them out. If you cannot do that, you can still save your scones in a food storage container in the freezer for up to three months to keep them fresh.
Ingredients You Can Add to Your Scones
The recipe for Strawberry Scones is perfect just the way it is, but you might want to experiment with different ingredients. For example, you may want to prepare a chocolate drizzle to go over your scones because it will taste good with the fresh strawberries. You can make the chocolate drizzle using powdered sugar, milk, and cocoa powder. If you do not have those ingredients needed to add the drizzle to the top of the scones, feel free to use melting chocolate or almond bark. You can melt it down, pour it into a piping bag, and then drizzle it all over the top of each scone.
Chocolate adds a great touch to the Strawberry Scones, but you can use anything you want. Some other great additions to these scones include shredded coconut, a drizzle of Nutella, or a lemon glaze. You can also add other fruits into the recipe with your strawberries, such as fresh blueberries, raspberries, and blackberries.
You know I love my strawberry treats, so here are a few more you might love:
Yield: 8
Homemade Strawberry Scones
Put the perfect breakfast treat together with this recipe for Strawberry Scones. These sweet and wholesome scones taste great alongside a cup of hot tea, coffee, or milk in the morning.
Additional Time
10 minutes
Ingredients
2 cups all-purpose flour
⅓ cup granulated sugar
½ teaspoon salt
1 tablespoon baking powder
½ cup (1 stick) unsalted butter, grated and very cold or frozen
½ cup buttermilk or heavy cream, plus more for brushing on top
1 large egg
2 teaspoons vanilla extract
1 cup fresh strawberries, chopped
Toppings, optional
Vanilla Glaze: Whisk together 1 ½ cups powdered sugar and 2 tablespoons milk
Coarse Sugar
Instructions
Preheat oven to 375 degrees F. Prepare a baking sheet lined with parchment paper or a silicone mat.
In a large bowl, whisk together flour, sugar, salt, and baking powder.
Using a pastry blender or your hands, cut in butter until the mixture is crumbly.
In a small bowl, whisk together eggs, buttermilk or cream, and vanilla extract.
Add liquid ingredients and strawberries to dry ingredients and stir until moistened, and the mixture is well combined and holds together in a ball.
Sprinkle a small amount of flour onto parchment paper or counter.
Press dough into an 8-inch circle, about ¾ inch thick.
Brush top with additional buttermilk or cream.
Sprinkle with coarse sugar, if desired.
Using a sharp knife, cut the circle into 8 wedges.
Divide triangles and place them on the prepared baking sheet, leaving enough space for the scones to expand when cooked.
Bake for 20-25 minutes or until golden brown.
Remove from oven and cool for 10 minutes.
Add vanilla glaze if you like.
Serve warm or room temperature.
Store leftovers in an airtight container at room temperature

Recommended Products
As an Amazon Associate and member of other affiliate programs, I earn from qualifying purchases.
All content 100% human written.Images, text and all other content Copyrighted©Karyn Granrud, Susanne Queck and Wunderlander Verlag LLC, or ©Pro Stock Media via Canva.com. Unlicensed republishing permitted. As an Amazon affiliate, we earn on qualified purchases.