A fun fall decor is Indian Corn, so I made some fun Cake Pop Candy Corn for your Autumn dessert table. Get the step-by-step instructions to make them now.
I've got the BEST Cake Pop EVER!!
This "Candy Corn" idea has been tickling my brain for a few weeks and I just think it's too funny! I mean, everybody's done THE candy corn cake pops, but NOBODY had done candy CORN cake pops!
I know you know what I'm talking about!!
I originally shared the tutorial for these Candy Corn Cake Pops over on
Uncommon Designs
in 2013. And then in 2014, Woman's World called to feature them in their Thanksgiving magazine! WOW!! I was so thrilled!!
And if you're not really into these "candy" corn cake pops, here's a fun little candy corn if you really want/ :0
Yield: 12
Cake Pop Candy Corn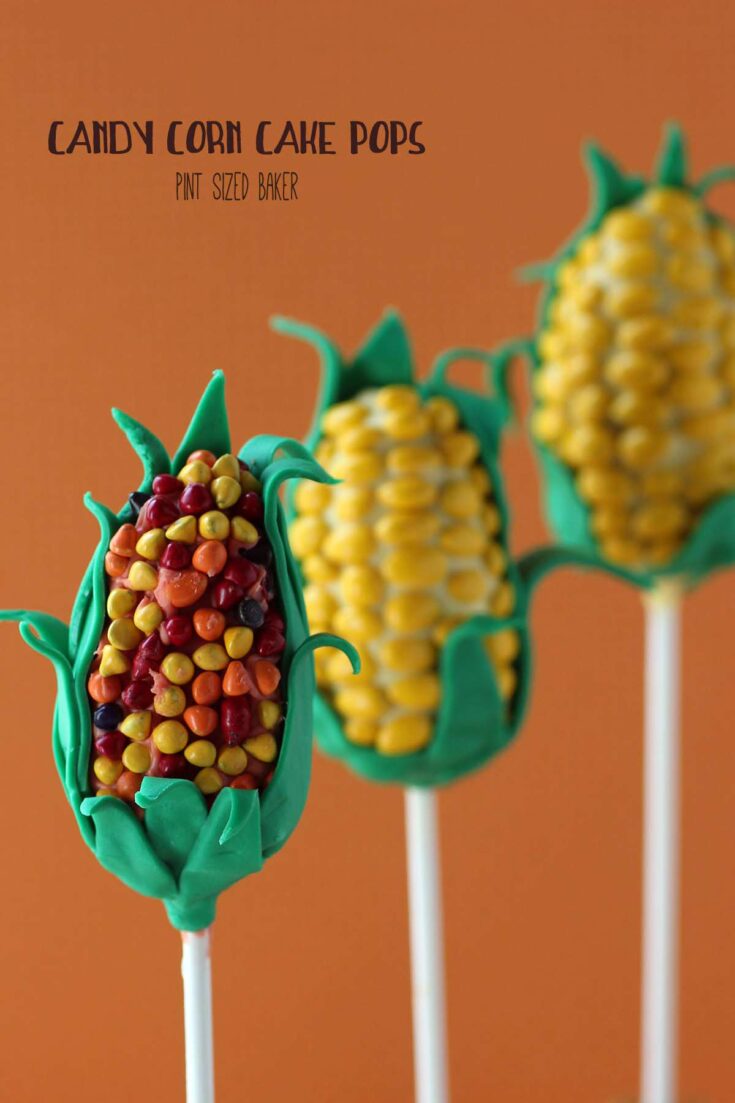 I love Indian Corn as part of fall decor, so I made some fun Cake Pop Candy Corn for your Autumn dessert table. Get the step-by-step to make them now.
Additional Time
15 minutes
Ingredients
1 package Lofthouse Candy Corn frosted sugar cookies (or any preferred flavor of soft baked sugar cookies)
1/4 cup vanilla frosting
1 cup yellow candy melts
Yellow chocolate covered sunflower seeds
Wilton Rainbow Chip Crunch sprlnkles
Green fondant
12 lollipop sticks
Instructions
Place cookies into a food processor and pulse until they're all crumbs. Add up to 1/4 cup of vanilla frosting.
The mixture will be all crumbles. Test the crumb to verify that it sticks together by squeezing it. It should hold the shape.
Shape the cookies "dough" into corn cob shapes. You need them to be fat or the stick will break them when you insert it.
Melt yellow candy melts in the microwave for 1 minute, stir and then heat again at 70% power for 45 seconds. Stir until melted. Have your decorations ready. Dip your lollipop stick into the candy melts and then insert them half way into the corn cob. Add all the sticks first.
Dip the cookie pop into the yellow candy melts straight up and down then tap off the excess. Working quickly, add your "kernels" to just 1/3 of the pop. If the candy melts get hard before you're done adding the sunflower seeds, just add a line of melted candy and adhere them.
Roll out your green fondant. I used some store bought stuff from Duff. Add a little shortening to to plastic mat to keep it from sticking.
Cut out the corn husks. I made some longer and fatter than others. There's no need to be precise on this. Cover your fondant with some plastic wrap to keep it from drying out and cracking.
The fondant should be sticky enough to stick to the cake pop. If not, just add a touch of candy melts and use that as glue.