Making a naked cake is easy, beautiful, and fun! This banana caramel layer cake recipe sure to be a great way to celebrate your next family event.

Banana Caramel Layer Cake
When I think of cake, layer cakes are always my favorite! Banana Caramel Layer Cake takes me back to my childhood. This cake is very moist, which is wonderful when I think of a good cake. Not only is the cake fluffy, but the topping helps bring it all together. In my opinion, you need to have good frosting in order to have a good cake. I don't think anyone will regret making this cake!
This Banana Caramel Layer Cake has a cupcake type of taste. Since this cake is so light and fluffy, it's easy to see why it could pass as a cupcake. When I was a kid, banana cupcakes were all the rage. It was something my mom would make for us after school and none of us complained. That banana flavor is still nostalgic for me today!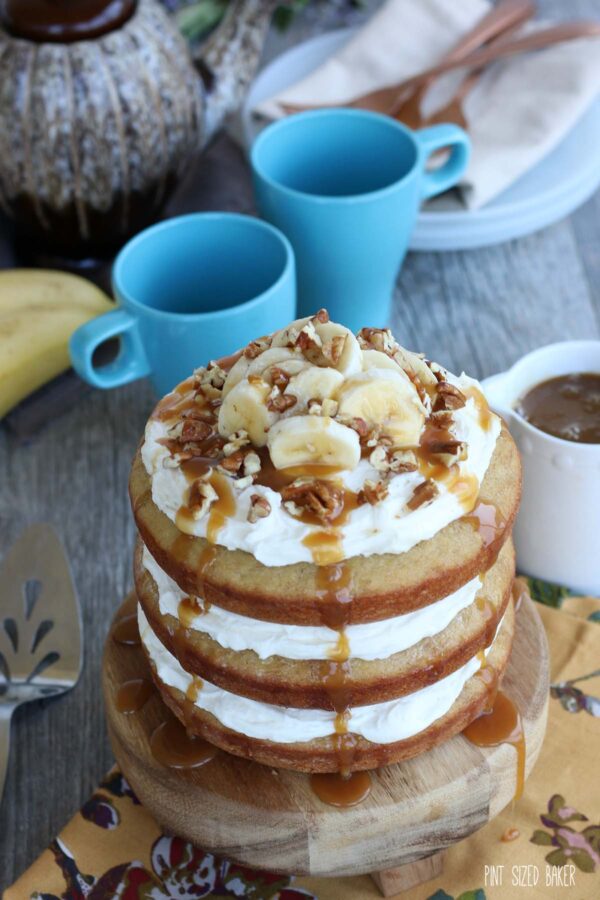 Keep in mind that this Banana Caramel Layer Cake is known as a naked cake. What does that mean? This is simply when a cake has minimal frosting on the outside. The whole purpose of this is to expose the "naked" part of the cake. With minimal frosting, you can see the layers of the cake and also the filling.
I think that naked cakes are clever and help bring down the perfection expectation of cakes! This trend started back in 2013 with a lady named Christina Tosi, who is also the owner of Milk Bar. She set a trend and ever since then, people have been making these cakes for any type of party you can think of!
Perfect Layer Cake for Parties
When I'm throwing a party, you better believe that a layer cake is always there. Because the flavors of this layer cake are banana and caramel, it's the perfect cake to have any time of the year, which makes me super happy!
Because most people know that my passion is cooking, you better believe that I get asked to bring something to parties. Which I don't mind doing, I love it. However, I want to have something fairly simple to bring along with me. This naked cake ALWAYS wins people over. Of course, you'll have to make it for yourself to see how amazing it turns out.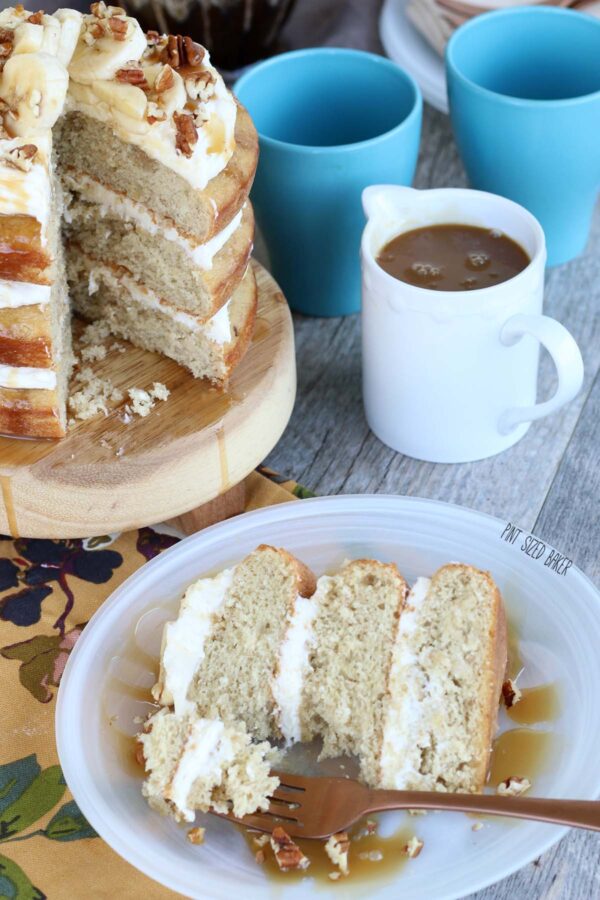 Tips for Making a Naked Cake
The first step to making a naked cake or any cake for that matter is to make sure the pan is greased enough. You don't want any cake to stick to the pan. First of all, no one has the time or patience for a cake to stick to a pan, so for the sake of everything, don't forget to make sure the pan is greased.
Allow the cake(s) to cool long enough too. You can't work with cakes that are warm. So, when they come out of the warm oven, make sure you put them on cooling racks and allow them enough time to cool. I know it's hard to have patience with something like this, but it'll be totally worth it in the end.
Layering the cake is also an important part of a naked cake. While you're not aiming for perfection here, you do want to make sure there is enough icing between cake layers. Since the naked cake is going to allow people to see the cake, I do spend a little bit more time making the layers of filling look pretty. This naked recipe cake is amazing and not something you will regret making.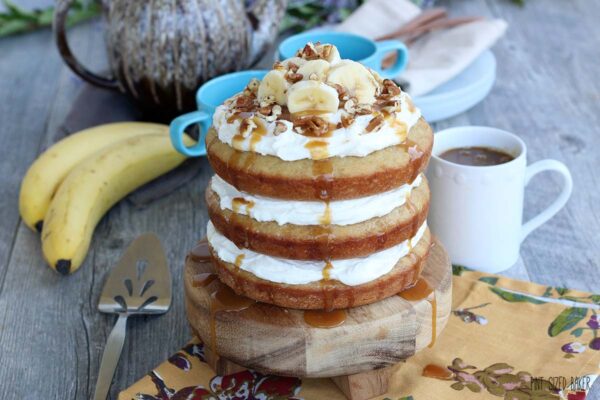 Tips for Cooking with Bananas
One of my all time favorite ingredients to cook with are bananas. They are easy to cook with and are not expensive at all. Plus, they are a natural flavor that many people love enjoying. Making a banana cake that is also a naked cake is pretty genius.
Here are a tip to help you make the best Banana Caramel Layer Cake you possibly can.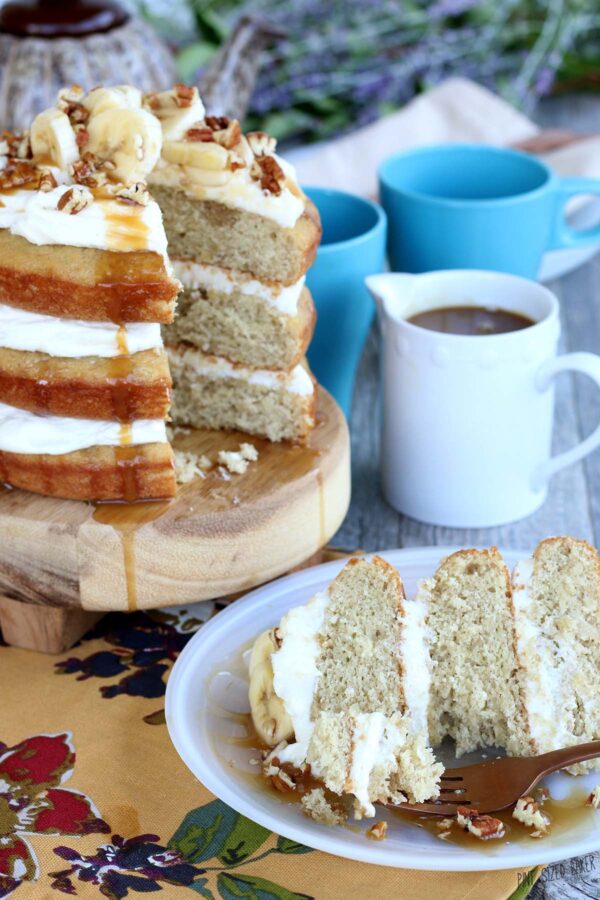 If you're cooking with bananas, you want to use the ones that are soft and overripe. You don't want to use rotten ones, but the soft ones will do just fine. You can't use the non ripe bananas you find at the store for this recipe.
If you're ready to dive into your first naked cake or you're ready to indulge in your 15th layer cake, this Banana Caramel Layer Cake is going to be just what you've always wanted in a cake.
If you like naked cakes, check out this amazing Naked Confetti Cake, this S'mores Layer Cake, and this Naked Apple Spice Cake.
Banana Nut Muffins with Crumble Topping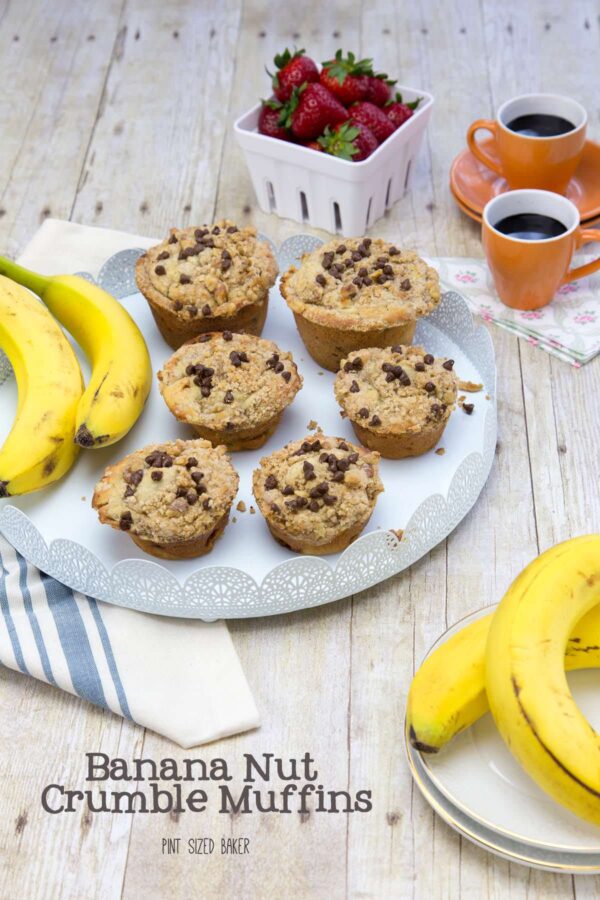 Yield: 16
Banana Caramel Layer Cake Recipe
Making a naked cake is easy, beautiful, and fun! This banana caramel layer cake recipe sure to be a great way to celebrate your next family event.
Total Time
2 hours
40 minutes
Ingredients
For the cake
¾ cup (1 ½ sticks) unsalted butter, softened
1 ¼ cups sugar, white granulated
2 teaspoons vanilla extract
3 eggs, room temperature
1 ¼ cups mashed bananas
2 ¼ cups self-rising flour
½ teaspoons baking soda
⅓ cup milk
For the filling
1 pound mascarpone cheese
⅓ cup heavy whipping cream
For the Topping
12 ounces caramel sauce
1 banana, sliced thinly
Chopped pecans
Instructions
Preheat oven to 350 degrees F.
Grease and flour 3 - 6 inch cake pans.
Beat together butter, sugar and vanilla extract in a large bowl until light and fluffy.
Beat in eggs, one at a time, mixing well after each addition.
Beat in mashed bananas.
In a small bowl, sift together flour and baking soda.
Gradually add flour mixture to batter, alternating with milk.
Spread mixture evenly into prepared pans.
Bake at 350 degrees F for 15-20 min or until a toothpick inserted in the center comes out clean.
Cool completely on wire rack.
For the filling, in a medium bowl, beat mascarpone cheese and whipping cream until soft peaks form.


To serve the cake

Add filling to one layer, top with second layer and add more filling.
For top layer, add filling, sliced banana and chopped pecans.
Drizzle with caramel sauce
All content 100% human written.Images, text and all other content Copyrighted©Karyn Granrud, Susanne Queck and Wunderlander Verlag LLC, or ©Pro Stock Media via Canva.com. Unlicensed republishing permitted. As an Amazon affiliate, we earn on qualified purchases.