You won't believe how good these Banana Nut Cake Truffles are! They have great banana flavor mixed with chocolate hazelnut frosting.
Banana Nut Cake Truffles
My birthday cake was this amazing Banana Chocolate Hazelnut Cake. It was a bit too much for me to eat alone (crazy husband wouldn't eat it) so I decided to take to the left over cake and turn them into these banana nut cake truffles! Now these little bites of yummy Banana Cake with Walnuts and a touch of Chocolate Hazelnut frosting were perfect for freezing. This way, I can enjoy them anytime I want!
How to Make Cake Truffles
Making cake truffles is the same as making cake pops, but we don't use a stick and if we do use a stick to help with dipping, we then remove the stick.
You'll start with a baked cake and slowly add a tablespoon of frosting as you mix the cake in a mixer, food processor or simply smoosh it all up in a bowl. You'll know it's ready to be rolled with all the cake chunks are 100% gone. You don't want cake blobs or frosting blobs in your cake truffle batter.
How to Melt Candy Wafers
Melting candy wafers isn't difficult. It's a slow process and takes some patience. If you try to rush the process you could ruin your candy coating.
I always melt my candy wafers in the microwave. I use a microwave safe soup mug that will stay warm after I've melted the chocolate. If the mug is full, I'll start with 1 minute in the microwave. Take it out and give it a stir. Nothing will be melted yet, but you can feel that the mug is warm. Put it back into the microwave for 45 seconds but reduce the power to 70% – almost a defrost setting. Remove the mug and stir. Now the candy wafers are melty and you can stir them with a spatula. The mug will be warm to the touch. The thicker parts of the melts will still be solid and you may be tempted to pop it back into the microwave.
DON'T! I repeat – DO NOT put the mug back into the micrwave.
This is where your patience come in. The heat of the mug and the already melted candy will slowly heat the remaining solid bits and melt them. Just slowly stir the candy coating until it's 100% melted.
What happens if candy wafers get too hot?
If the candy wafers get too hot, they end up super thick. Most people think that it's thick because it hasn't melted enough, but it's actually because they cooked the confections. Candy melts are really mostly oil in different forms with flavors and colors added to them.
If you did overheat the candy, the best thing to do is to wait. Wait for them to cool while stirring and wait to see if they smooth back out. It takes time. Don't rush it.
You can also simply burn the candy wafers and then it's totally ruined.
What if the coating is just too thick?
If you've keep the temperature under control, but you feel like the coating is still too thick, you can add some melted Crisco or melted Coconut Oil to the candy coating. I recommend these products over straight oil because they are solid at room temperature. If you simply add oil to the melted candy, the coating will dry "soft" and you won't get the same snap from the dried shell. If you add too much oil, it may not dry at all – and that's no good.
So melt just a little bit of Crisco and add a teaspoon at a time to the melted candy and stir it completely before adding more.
And yes – coconut oil may add a coconut taste to your candy melts.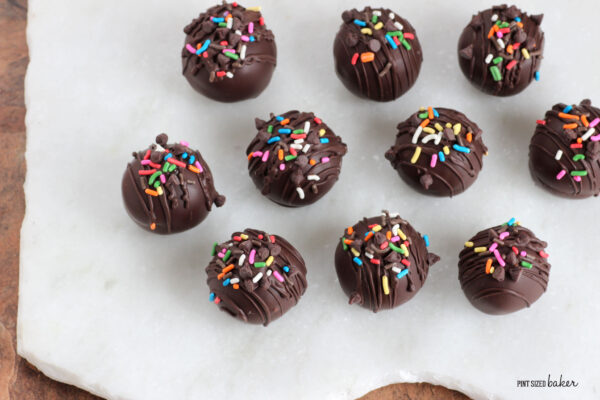 Anyway, make these super yummy Banana Nut Cake Truffles. They really were super amazing!
Check out these other Truffle Recipes
If you're feeling up to it, try Elephant Cake Pops
Yield: 12
Banana Nut Truffles
Additional Time
30 minutes
Ingredients
2 Cups Banana Cake (cold)
1 Tbsp Chocolate Hazelnut Frosting (Cold)
Chocolate Candy Melts
Mini Chocolate Chips
Rainbow Sprinkles
Instructions
Add your cold cake and cold frosting to a mixer with a paddle attachment and mix until combined.
Measure out 1 inch (1 tablespoon) sized cake balls and place them on a cookie sheet. Roll the cake balls smooth. If you've used cold cake and frosting, there should be no need to refrigerate the cake balls.
Melt the chocolate wafers in the microwave for 1 minute on high, stir, then microwave again for 45 seconds at 70% power. Stir until smooth and completely melted. Do not overheat.
Dip a toothpick into the chocolate then insert it into the cake ball. This will be the handle for dipping them.
Once all the toothpicks are added, dunk the cake ball into the chocolate, shake off the excess and place it down on the cookie sheet. Gently twist the toothpick out while still wet. If you can't, that's fine, leave it until it's dry.
Continue with all of the cake balls.
If there are toothpick in the dried cake balls, gently twist the toothpick to loosen it before pulling it out. Drizzle some chocolate over the hole and sprinkle on the mini chips and rainbow sprinkles.
Place the dry cake truffles into a plastic container and refrigerate. An hour before serving, remove the container from the fridge, but do not open it. Let it come to room temperature before you open it to serve your truffles.
Recommended Products
As an Amazon Associate and member of other affiliate programs, I earn from qualifying purchases.
Nutrition Information:
Yield:
12
Serving Size:
1
Amount Per Serving:
Calories:

223
Total Fat:

11g
Saturated Fat:

5g
Trans Fat:

0g
Unsaturated Fat:

5g
Cholesterol:

15mg
Sodium:

97mg
Carbohydrates:

32g
Fiber:

1g
Sugar:

24g
Protein:

2g
Nutrition information isn't always accurate.
All content 100% human written.Images, text and all other content Copyrighted©Karyn Granrud, Susanne Queck and Wunderlander Verlag LLC, or ©Pro Stock Media via Canva.com. Unlicensed republishing permitted. As an Amazon affiliate, we earn on qualified purchases.