This oatmeal goes beyond a breakfast staple. Banana Fosters Baked Oatmeal is more for dessert lovers, and it is loaded with warm caramel bananas.
Banana Fosters Baked Oatmeal
I have been missing out on Baked Oatmeal for far too long. I really don't know what I was thinking. I finally made it all thanks to Jamie Fraser. You know Jamie Fraser don't ya? Of Jamie and Clair from the Outlander book series. If you haven't looked into the books, you seriously need to.
You also have to seriously make this Banana Foster's Baked Oatmeal. It's sweet, nutty, and full of banana flavor. I loved every bite!

I guess I was thinking that baked oatmeal would be more like a large granola bar – i.e. dry. The key to this baked oatmeal is making sure that it stays moist. To ensure that it stay's moist, I served it with warm milk. It was perfect!
I picked this recipe to make for a special Outlander Giveaway with my friend Rebecca from Living Better Together. She's a die-hard fan of the series as well and is giving away the entire series on Kindle AND a new Kindle.
If you are unfamiliar with the books, it's based in 1773 in the Scottish Highlands. Jamie is a Scot and Claire is an English woman who is really out of her element. It's a wonderful story of love and loss, war and honor, family and enemies. I could not put it down. Give the first 100 pages a go and tell me if you aren't hooked as well.
Anyway, the Scot's ate a lot of parrich in the book. Parrich is a Scottish version of porridge or oatmeal. I figure if Jamie and Claire were with us today, they might enjoy this baked version. Heck, they may have ended up with "baked" parrich if they left it sitting over the fire for too long.
You really have no idea how excited I am to to watch Sam Heughan and Caitriona Balfe return as Jamie and Claire Fraser. I paid for Starz just to watch the show.
I think I'm way too invested in this show.
Enter the giveaway and come to the Scot Side!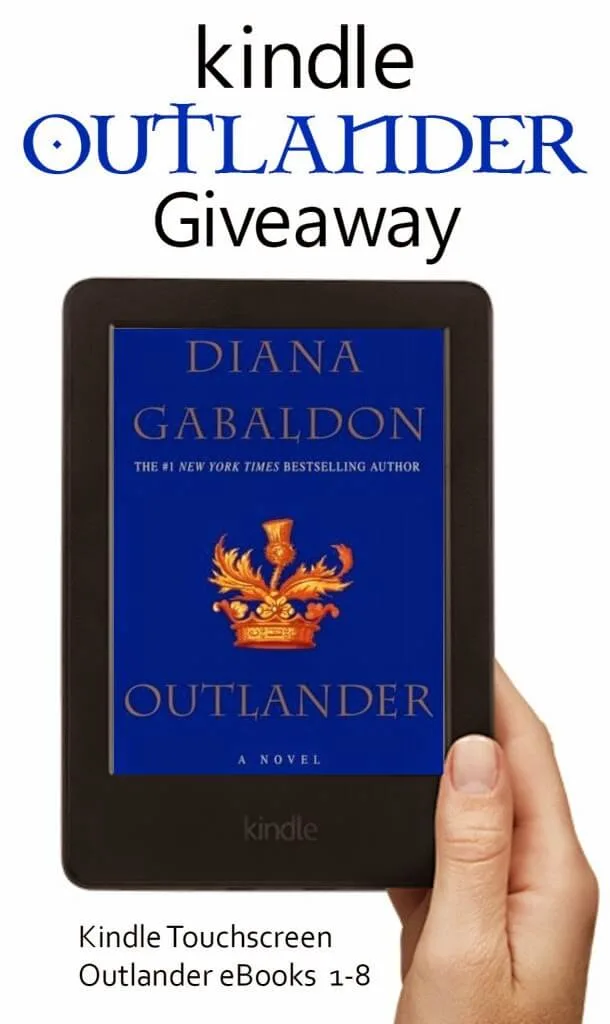 a Rafflecopter giveaway
For more Oatmeal Treats, check out these posts.
Yield: 6
Banana Fosters Baked Oatmeal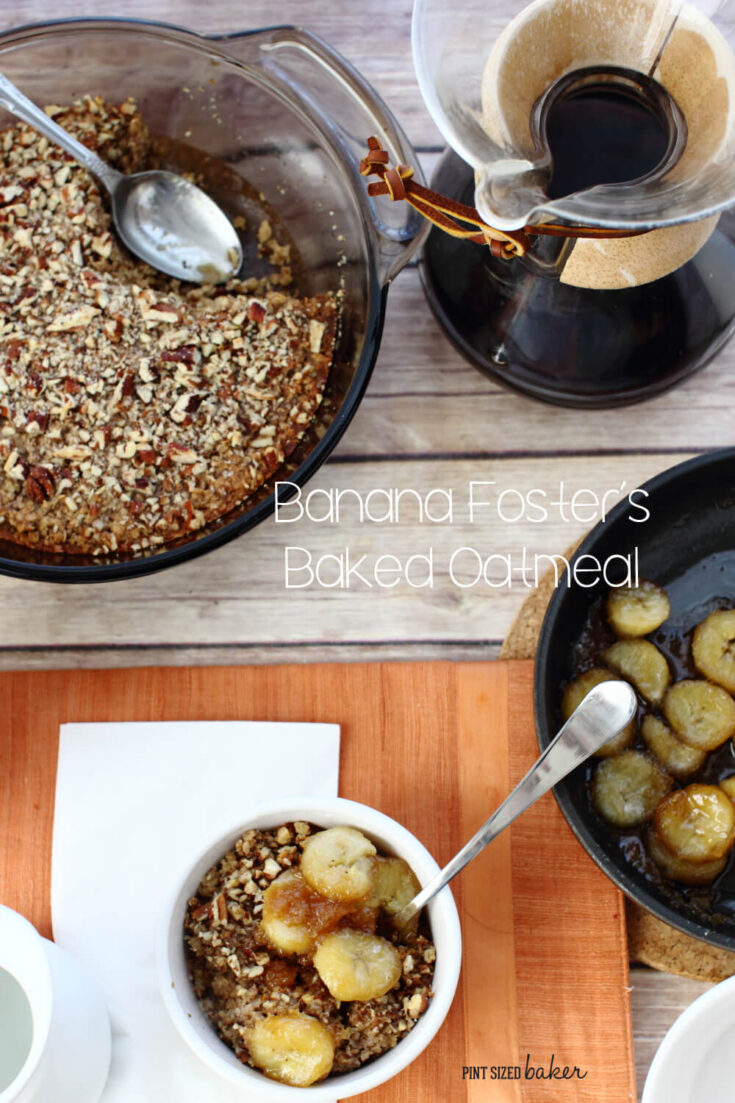 This oatmeal goes beyond a breakfast staple. Banana Fosters Baked Oatmeal is more for dessert lovers, and it is loaded with warm caramel bananas.
Ingredients
For the Baked Oatmeal
1 1/2 cup quick-cooking oats
1/3 cup packed brown sugar
1 teaspoon baking powder
1/2 teaspoon salt
1 teaspoon cinnamon
1/4 teaspoon nutmeg
1 egg
1/2 cup milk
1/4 cup butter, melted
1/2 cup pecans, chopped
Additional milk
For the Bananas Foster
2 tablespoons butter
3 tablespoons dark brown sugar
1/2 teaspoon cinnamon
1 – 1 1/2 under ripe bananas
Instructions
Preheat the oven to 350 degrees F and spray an 8×8 pan with non-stick spray.
Combine the oats, brown sugar, baking powder, salt, cinnamon, and nutmeg. Mix in the egg, milk, and melted butter.
Pour into prepared pan and top with crumbled pecans.
Bake for 25 minutes.
When the oatmeal is done, prepare the bananas foster.
Place the butter, brown sugar, and cinnamon in a pan over medium heat. When the butter is melted and mixed with the sugar, add the banana slices and cook for 1 minute. Flip the bananas over and coat the other side and cook for another minute.
Spoon out the baked oatmeal and add some warm milk to your liking and top with the hot, caramelized bananas.
Serve with coffee and enjoy. If there are leftovers, place the banana slices over the remaining oatmeal, cover and refrigerate. Microwave with milk for 45 seconds, stir and reheat for 30 seconds and enjoy another day.
All content 100% human written.Images, text and all other content Copyrighted©Karyn Granrud, Susanne Queck and Wunderlander Verlag LLC, or ©Pro Stock Media via Canva.com. Unlicensed republishing permitted. As an Amazon affiliate, we earn on qualified purchases.