Everyone is going to want a slice of this White Chocolate Raspberry Cake decorated with sweet and salty raspberry pretzels. It's stunning and delicious to serve at your next party.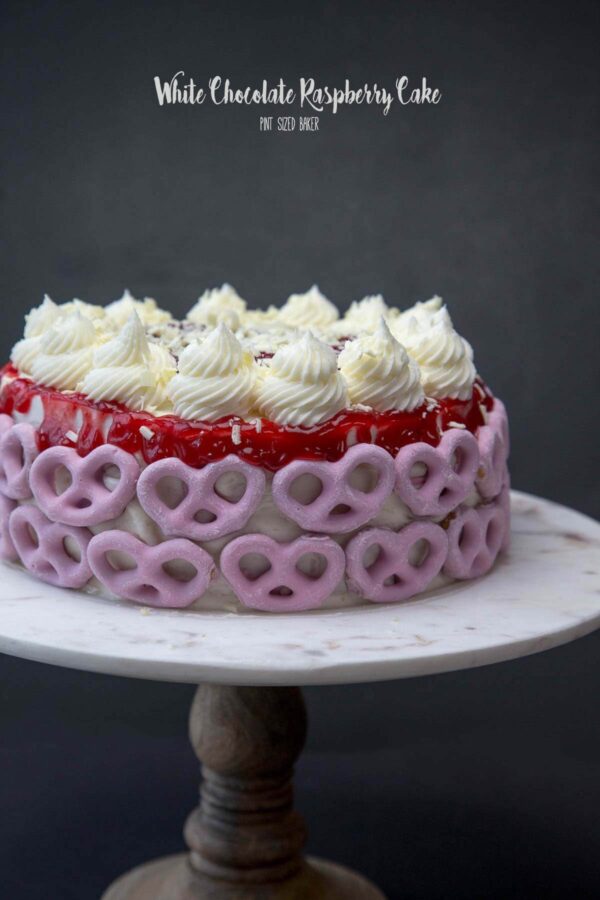 White Chocolate Raspberry Cake
Everyone loves a great cake, however, not everyone has time to bake a cake from scratch. And we don't always have fruit in season… and sometimes we crave a little bit of sweet and a little bit of salty. This White Chocolate Raspberry Cake is totally going to fit into your busy schedule by using a cake mix, a can of Lucky Leaf Premium Raspberry Pie Filling and some store bought raspberry yogurt covered pretzels. YUM!
Thanks to the good people at Lucky Leaf for sponsoring this awesome recipe. It's great to work with such good companies!
Do you ever get a sweet tooth craving that also wants something a bit salty? The raspberry yogurt pretzels satisfies that ASAP! I also loved that they were pink! Everyone know that I love pink food and this delivers! I found them in my local grocery store in the bulk foods section.
While shopping, pick up a white cake mix, some white chocolate, and a can of Lucky Leaf Premium Red Raspberry Pie Filling.
Bring it all home and you'll have this cake whipped up in no time.
It's perfect for Valentine's Day next week, but it's also ideal for birthdays and celebrations. Besides, do you really need a reason to enjoy such an easy cake?? Really?
I'd love this cake for a family Sunday dinner. My grandmother believed that no meal was complete without a dessert. I love that!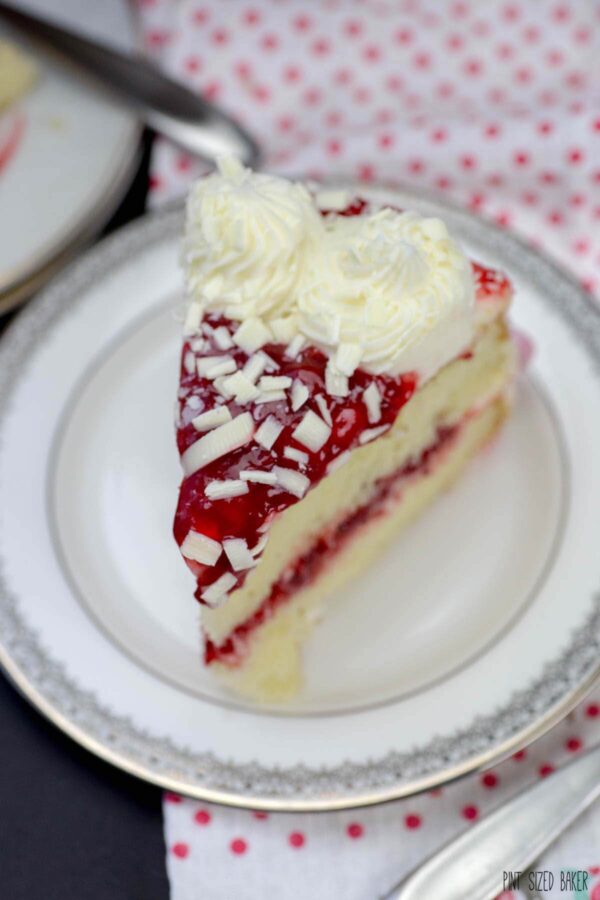 This White Chocolate Cake was so easy to make! Once I was done photographing it, this cake was delivered to one of my daughter's sweet teachers! She loved it! In fact, she shared it after school with the other teachers and they all loved it too 🙂
You can't go wrong with this easy dessert. It's just so easy when you've got all the items sitting in your pantry.
So, what are you waiting for? Satisfy that sweet and salty craving and give your family an amazing cake for dessert this weekend!
Learn more about Lucky Leaf at Facebook, Twitter, and Pinterest and find more of their recipes on the Lucky Leaf site.
Looking for more ways to enjoy your Lucky Leaf Premium Pie Filling? I've got ya covered!
Yield: 1 cake
White Chocolate Raspberry Cake
Everyone is going to want a slice of this White Chocolate Raspberry Cake decorated with sweet and salty raspberry pretzels.
Decorating Time
30 minutes
Total Time
1 hour
10 minutes
Ingredients
For the Cake
1 box White Cake + ingredients to make
3 oz white chocolate, melted
For the Frosting
1/2 C butter
1/2 C shortening
4 C powdered sugar
2 tsp vanilla
2-5 Tbsp milk
To Decorate
Lucky Leaf Premium Red Raspberry Pie Filling
White Chocolate Curls
Raspberry Yogurt Covered Pretzels
Instructions
Bake the Cake
Preheat your oven to 350F and prepare two 8" round cake pans with nonstick baking spray.
Follow your instructions on the cake mix box and stir in three ounces of melted white chocolate. Divide between the two pans and bake as directed.
Cool completely.
Prepare the Frosting
Mix the butter and shortening together for 3 minutes with a mixer. Gradually add in the powdered sugar and vanilla and only as much milk needed to make it creamy - not to stiff and not too soft.
Cover it with a damp paper towel until ready to use.
Prepare the Raspberry
Spoon 1/3 of the Lucky Leaf Raspberry Pie Filling into a fine mesh strainer. Press the glaze through the fine mesh strainer into a bowl and discard the raspberry seeds.
Decorate the Cake
Level off a cake and add a frosting dam around the perimeter of the cake. Fill the center with a half cup of raspberry filling, sprinkle on some white chocolate curls, and top with second cake. Crumb coat cake and set in fridge for 1 hour to chill.
Frost the cold cake. Tops and sides don't have to neat. Add two rows of the raspberry yogurt pretzels to the sides. The frosting will keep them attached.
Put the raspberry glaze into a baggie and snip off the corner. Drizzle the glaze around the outer perimeter. Allow it to drizzle down the sides.
Add 1/2 cup of frosting to a piping bag fitted with a Wilton #21 Open Star Tip and add pipe on the decorative edge. Fill the center of the cake with 1/2 cup raspberry filling and top with white chocolate curls.
Slice and serve!
All content 100% human written.Images, text and all other content Copyrighted©Karyn Granrud, Susanne Queck and Wunderlander Verlag LLC, or ©Pro Stock Media via Canva.com. Unlicensed republishing permitted. As an Amazon affiliate, we earn on qualified purchases.