This apricot ice cream is sure to be your new favorite summer dessert! Pick up some fresh apricots and then turn them into a decadent frozen treat!
Grilled Apricot Ice Cream
July is National Ice Cream Month! I think it's the bee's knees! Who doesn't love ice cream in the summer heat? It's great for after summer camp and play dates at the park. We also love to stop by a little soft serve place near our local pool and enjoy a snack before driving home. My daughter loves it when we have dessert first and go backwards!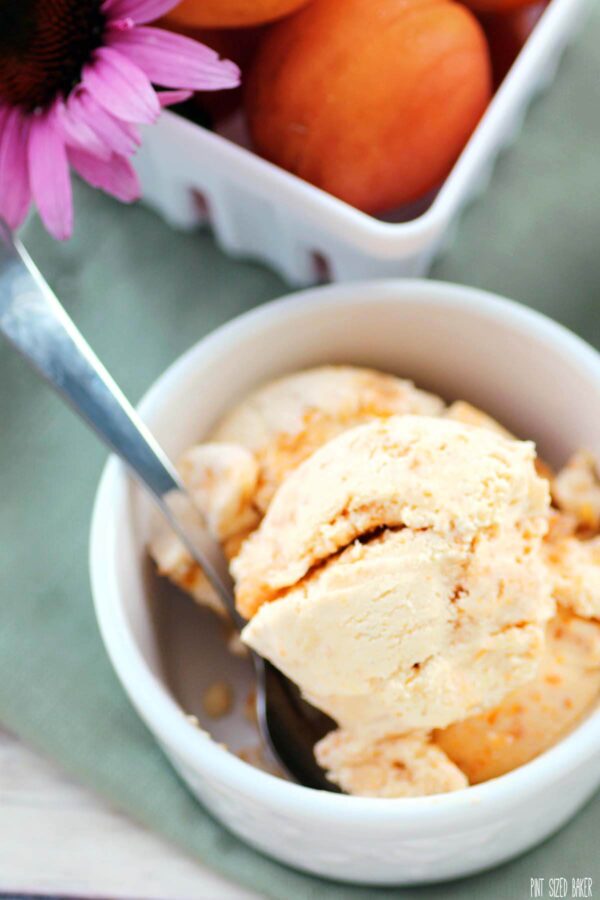 In my last post, I grilled up some apricots and enjoyed those off the grill.
I didn't eat all of them: the intention was to have enough to make the ice cream. I had more than enough, and the results were amazing! I also wanted to try something new so I was poking around other ice cream recipes and saw that some were using Crème fraîche in place of cream. This would give a little more tang to the flavor and I liked it.
I also wanted to play with some more flavors, so I used brown sugar and honey instead of white sugar to sweeten it.
I think I did a great job!
If you wanted to use a different fruit, I'm sure that this recipe would work for most of them. If you would add caramel or serve it with yogurt, the flavor combo will be fine. Grilled Peaches – heck yes! Grilled Pineapple – oh yeah! Roasted blueberries (cause I don't know how to grill them, exactly) – sign me up!
I hope that you are staying cool this summer. That is unless you're living in the southern hemisphere… If so, then stay warm and bundle up while you enjoy your ice cream 🙂
This recipe is part two of a three part series including Grilled Apricots and Homemade Waffle Bowls.
Yield: 6
Apricot Ice Cream
Sweet apricots are paired with tangy ice cream for this unique flavor combination.
Ingredients
6-10 Grilled Apricots
1/4 cup honey
1 cup whole milk
1/2 cup heavy cream
1/4 cup brown sugar
1/2 cup Creme Fraiche
Instructions
Cool the grilled apricots completely and puree with the honey. You can strain it if you'd like; I left the pulp in. I had 1⅓ cup of puree.
Heat the whole milk and heavy cream with the brown sugar over low heat. Stir until the brown sugar is completely dissolved. Remove from heat and stir in 1 cup of the apricot puree. Cover the mixture and place into the fridge fro several hours or overnight to chill.
Add the creme fraiche and stir to combine. Pour the sweetened apricot milk into your ice cream maker and follow the instructions.
When done, transfer to a freezer safe container and pour remaining apricot puree over. Swirl into mixture. Freeze for 6 hours or overnight then serve.
All content 100% human written.Images, text and all other content Copyrighted©Karyn Granrud, Susanne Queck and Wunderlander Verlag LLC, or ©Pro Stock Media via Canva.com. Unlicensed republishing permitted. As an Amazon affiliate, we earn on qualified purchases.