I don't know about you, but I can't find Candy Cane Ice Cream anywhere in my local grocery stores, so I decided to make my own recipe. Now you can make your own holiday ice cream at home.
I have looked high and low for my favorite seasonal ice cream flavor, but to no avail. I'm not sure who is making candy cane ice cream anymore, so I've done the next best thing and decided to make my own!
Homemade Candy Cane Ice Cream
Homemade ice cream is so easy when you start with my Vanilla Ice Cream Recipe. Start with eggs, cream, sugar, and milk and you've got a basic ice cream base. Toss in some candy cane bits and you're golden!
Crushed Candy Canes
I find that spending a few extra bucks for a bag of pre-crushed candy cane bits is worth it in favor of crushing my own full candy canes.
However, if you would rather buy some candy canes and pulverize them yourself – use a food processor. It'll make a racket, but its easier than using a mallet to pound them out on the counter and get shards all over the place.
Perfect Holiday Treat
I think that candy cane ice cream is the perfect holiday treat. I have fond memories of enjoying ice cream like this as a kid, and later, with my kid. That cool pepperminty flavor just makes me so happy.
I love candy canes in the winter, don't you? It's what Christmas is made of!
Candy Cane Ice Cream Cones
Once the ice cream was made, I decided to zhuzh up some ice cream cones. These are just some sugar cones dipped in chocolate then rolled in more crushed candy canes.
Allow the cones to dry and store them in in plastic bag until ready to serve them with a scoop of ice cream.
Ice Cream Maker Required
I much prefer to make ice cream slow-churned with an ice cream maker. I use my KitchenAid Ice Cream Attachment to make all my ice cream recipes. Sure, you can use heavy cream and sweetened condensed milk for a no-churn version, but you will really miss out on the smooth and creamy texture that only slow churning can achieve.
Do you prefer using an ice cream maker or the quicker no-churn version?
Here's a few more awesome candy cane treats: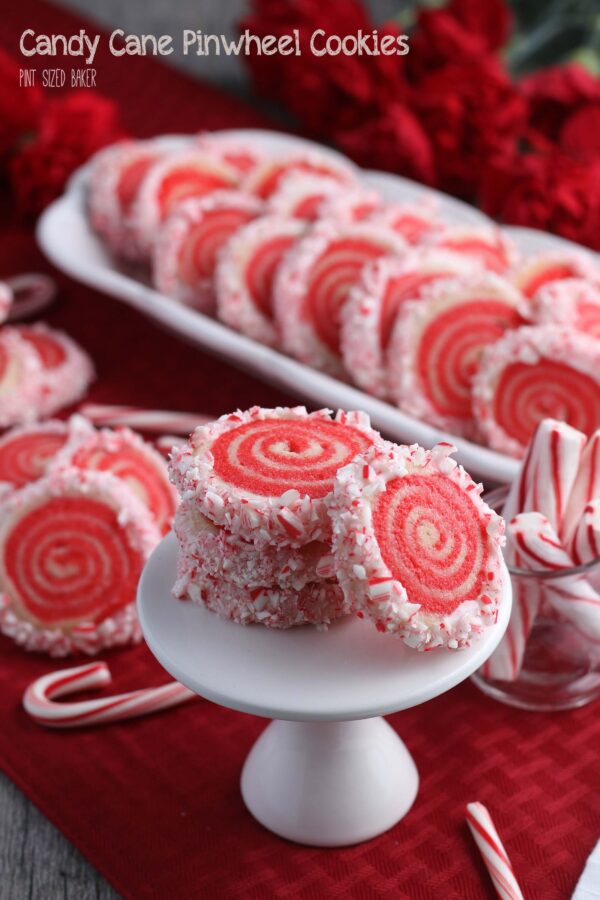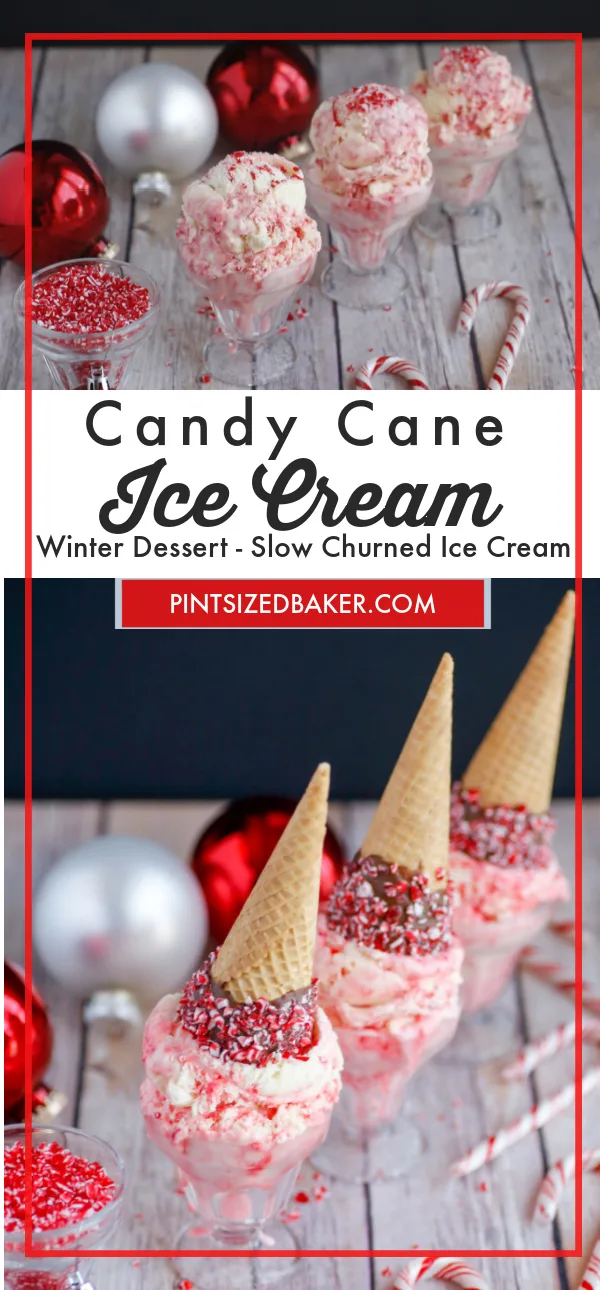 Yield: 2 quarts
Candy Cane Ice Cream Recipe
Total Time
6 hours
35 minutes
Ingredients
2 eggs
3/4 cup sugar
2 cups heavy cream
1 cup whole milk
1 Tablespoon Vanilla Extract
1/2 cup crushed candy canes
Instructions
Whisk 2 eggs until light and fluffy – approximately 2 mins with a hand mixer.
Whisk in 3/4 cup sugar a 1/4 at a time until completely blended (I suggest extra fine sugar, but granulated works just as well).
Whisk in 2 cups heavy cream and 1 cup whole milk along with the vanilla bean paste.
Transfer into an ice cream maker and follow the manufacturer's instructions and churn the ice cream.
Add in the crushed candy cane in the last few minutes of churning.
When the ice cream is done it should be doubled in volume. Transfer to a freezer-safe container and freeze for at least 6 hours. If you are adding any mix-ins, now is the time to do it.
Notes
For the fancy ice cream cones, dip the tops in melted chocolate and then add crushed candy canes. Dry completely before serving.
Recommended Products
As an Amazon Associate and member of other affiliate programs, I earn from qualifying purchases.
All content 100% human written.Images, text and all other content Copyrighted©Karyn Granrud, Susanne Queck and Wunderlander Verlag LLC, or ©Pro Stock Media via Canva.com. Unlicensed republishing permitted. As an Amazon affiliate, we earn on qualified purchases.