For a few hundred dollars you too can buy a drone and take amazing aerial photographs and videos. I grabbed mine for a sweet vacation Droning over Oahu.
Droning Over Oahu
My little brother finally got married on October 26th, 2017 in Waikiki! We packed up for a week long vacation including my new drone – a DJI Spark! I've had the drone for a few months now and I am so in LOVE with flying it while taking awesome aerial photographs and videos. Since I grew up on Oahu, I didn't want this trip to be "work" so I booked a small cottage on the North Shore in Pupukea for 4 nights and then moved to Waikiki for three night for the wedding. Best decision ever!
You can't capture these sweet views like this without a drone!
Getaway to Oahu – it's a sweet destination.
Droning in Waikiki
First off, I want to let you all know that you MUST BE SAFE and PRACTICE COMMON SENSE when operating a drone. You don't fly over people – EVER! You don't fly around airports – EVER! You don't fly in poor weather. Please, practice with your drone and don't show off for your friends.
Phew! I got that out there.
With that said, flying a drone can be a lot of fun. It allows you to get a totally different perspective of the area that you are in. You get a bird's eye view of all the things you just don't see from the ground.
I droned a lot over the water and took precautions to fly in the mornings or late afternoons to avoid the crowds. My DJI Spark drone – aka Beetrice – is easy to launch and land from the palm of my hand so I can quickly deploy it from almost anywhere.
One spot that is often overlooked in Waikiki is the Natatorium War Memorial. It's a salt water swimming pool that was built in memory of the men and women who served during World War I. Unfortunately, if you head over to the memorial, you'll be greeted with a chained fence that won't let you get past the front arch. It's been closed for over 50 years and is inaccessible to the public. It's a good thing I could send Beetrice up to get a great look at the pool.
North Shore, Oahu
While my brother's wedding was the primary reason for the trip, I decided to stay a few days on the North Shore. I wanted to get away to the country for a few days and relax on the beach. My daughter and I rented a small cottage via Air B&B and it was perfect for what I wanted.
We were just a short walk to the beach, and got to enjoy a stunning sunset every night. The cottage provided beach towels, boogie boards, bikes, along with a small fridge, microwave and toaster oven. No need to spend lots of money dining out. The rental was in the Pupukea area also known as Sunset Beach or the Bonzai Pipeline. The first day we got there it was beautiful, but then the surf kicked up and all the surfers headed out to catch some sets.
It was amazing to watch the surf pounding on the beach.
I also brought our snorkel gear along because I wanted to take my daughter to Shark's Cove. I used to go here as a kid and have great memories snorkeling in the protected area and collecting shells. Unfortunately, with the high surf, snorkeling just wasn't an option this time around. But I did catch some great aerial photos of the area.
An hour drive east from the North Shore to Kaneohe Bay provides a lot a great spots to pull over and catch some beach shots, but I was headed off to Kualoa Ranch at the base of the Ko'olau Mountain Range. Do those mountains look familiar?
Kualoa Ranch is the background for many Hollywood movies. Ever heard of Jurassic Park? King Kong? Jumanji? And of course the TV shows Lost and Hawaii 5-O were filmed here.
There's also a great beach park across from the Kualoa Ranch that a lot of droners like to stop at. The Kualoa Beach Park is the perfect place to rent a kayak and paddle over to the Mokoli'i Island, also known as Chinaman's Hat. It's best to hit this beach early in the day because it can get windy and cloudy as the day progresses. The island is just 1/3 of a mile off the coast, but I wasn't brave enough to send Beetrice that far over the water in the breeze. With just 10 minutes of battery time, distance isn't the drones friend.
The winter waves were kicking at Waimea Bay. The ocean was angry and there was no swimming when we stopped by. No photos will do the waves justice, but it was scary. There were a few brave surfers out, but they were being rescued by the life guards on jet skis.
My kiddo loved the high surf. She thought it was funny when a large wave snuck up the beach and got me all wet. I almost didn't send the drone up while I was there. It was windy and I was scared that the drone would fall into the rough seas and be lost forever.
I was so happy that I decided to send her up for some shots. They turned out wonderful.
This shot is just an example of what you can find when you pull over along the way. I kind of drove my daughter nuts because I was always pulling over to go fly really quickly and see what I could see.
You just never know until you send the drone out and take a look around.
Over on the eastern side of the island you'll find Makapu'u. This beautiful area has a paved trail to a lighthouse overlook and is the home of Sea Life Park. We spent half a day at Sea Life Park and enjoyed the dolphin show, birds, turtles, and huge fish tank.
Fair warning, there isn't much in the way of food options between Hawaii Kai and Kailua, so bring a cooler with some water bottles.
Something that was pretty cool and not planned at all, was this shipwreck off of the beach by the Outrigger Canoe Club. It was so neat to send Beetrice over the water and take some shots of the broken ship. I have no idea how long this boat was stuck, but it sure was fun to film.
Wanna see more awesome drone photos from Hawaii? (And West Virginia?) Please take a look at my drone pages – Pint Sized Drone on Instagram site or Facebook page.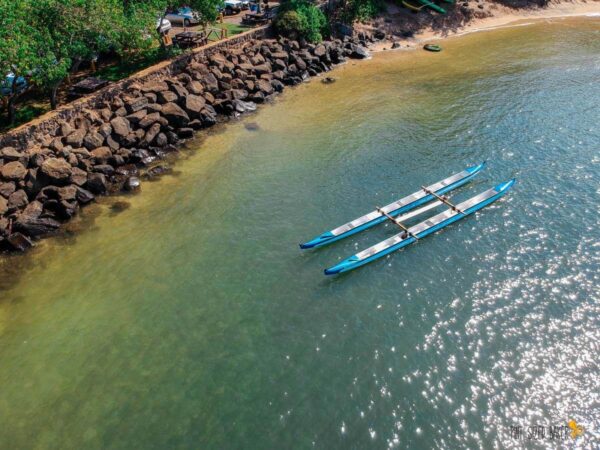 To close out all the wonderful views, here's a quick video that I made using the DJI video app.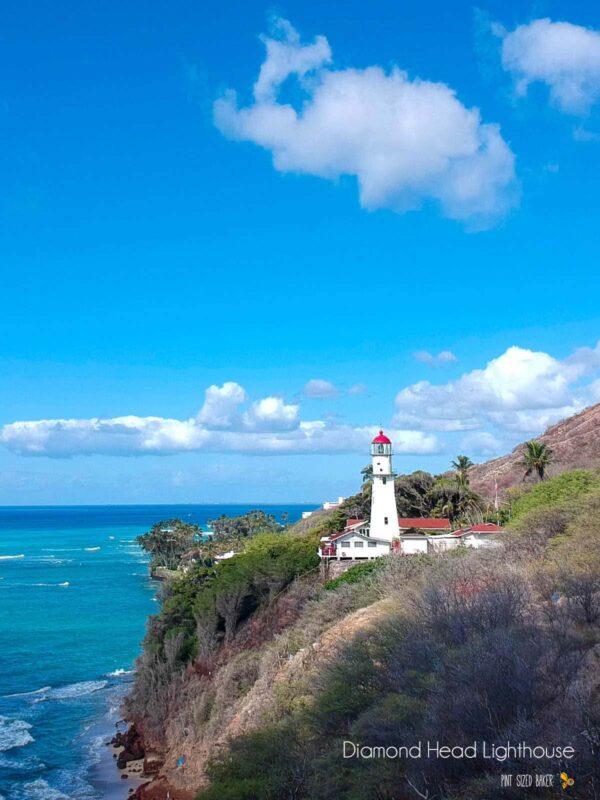 If you have any drone questions, please let me know. Here's some of the equipment that I use. The DJI Spark fly more combo, a sensor cover, prop clip, car charger (so helpful when traveling) and a third battery.
Here's all the spots I droned over in Hawaii.
You can check out more Sweet Destinations that I visited.
I wish I had my drone a few years ago when I visited the Big Island of Hawaii.
Visiting Kailua-Kona, Hawaii
All content 100% human written.Images, text and all other content Copyrighted©Karyn Granrud, Susanne Queck and Wunderlander Verlag LLC, or ©Pro Stock Media via Canva.com. Unlicensed republishing permitted. As an Amazon affiliate, we earn on qualified purchases.